Does RV Insurance Cover Delamination?
RV
/
Does RV Insurance Cover Delamination?
RV delamination occurs when the fiberglass, gel coating or another outer layer of an RV or travel trailer begins to separate from the plywood or walls on the exterior, resulting in what can amount to major damage and major headaches.
It takes a specific level of care to prevent delamination from happening, but sometimes it can strike suddenly and unexpectedly without warning. Can your RV insurance policy help you along the way? Let's find out.
Does RV Insurance Cover Delamination?
RV insurance will only cover delamination to your RV or travel trailer if you have comprehensive coverage included in your policy and if the delamination occurred suddenly and unexpectedly, deriving from a scenario that didn't involve a lack of upkeep or general negligence.
Since sun and water damage are usually the most common culprits of RV delamination, oftentimes proper maintenance and upkeep will do the trick in preventing it, especially if you store your RV in the baking sun or live in a predominantly wet climate like Southeast or Pacific Northwest.
Often remarked as full coverage RV insurance, comprehensive coverage is the portion of your policy that pays to repair your RV if it sustains damage that's considered out of your hands. This could be a hurricane that sends a tree crashing down on its roof, a flash flood that sweeps it away or tips it over, an accidental one-vehicle collision with an overpass or a similar instance.
Let's say each one of those instances causes immediate delamination to your RV. The comprehensive coverage portion of your RV policy would pay to repair the lamination on your RV (and any other damage it sustains).
Your policy's comprehensive coverage amount should match the value of your RV or travel trailer. So if your rig were worth $60,000 and you have $60,000 worth of comprehensive coverage, you'd be covered for up to $60,000 in damages.
If your RV is worth $60,000 and you only opt for $40,000 worth of comprehensive coverage, you'd be underinsured by $20,000 and would be at risk of having to fork over the difference if your RV were considered totaled by your insurer.
Vacation Liability Coverage
If said damage occurred while you're on the road and parked at a designated campsite or RV resort, and you opted for vacation liability coverage, your policy could provide up to $10,000 toward expenses if your rig needs to be repaired immediately.
These funds are designed to pay for a hotel or rental property, as well as a rental vehicle for the duration of your vacation.
When Is RV Delamination Covered?
For your RV delamination claim to be covered, the damage must have occurred suddenly and unexpectedly. The most common instances of covered claims involving RV delamination are caused by natural disasters, such as the ones listed above, and one-vehicle collisions.
Let's utilize those examples. If that hurricane we mentioned earlier caused a tree to crash down on your RV's roof, ripping off the lamination and allowing water to leak into your RV, you'd be covered for both the repairs to the structure of your rig and the damaged contents inside. The same can be said about a flash flood that causes a tree, fence or another object to pass by and scrape off your RV's lamination.
Those instances would likely be considered by your insurer to be sudden and accidental. Therefore, they'd likely be covered under the comprehensive portion of your policy and your provider would reimburse you the full amount to repair the delamination to your rig.
When Is RV Delamination Not Covered?
RV delamination isn't covered if the damage was deemed to be caused by improper upkeep of your rig, general wear and tear or neglect. In those instances, your insurance provider will likely determine the delamination could've been prevented and, ultimately, it's your responsibility for repairing the damages yourself.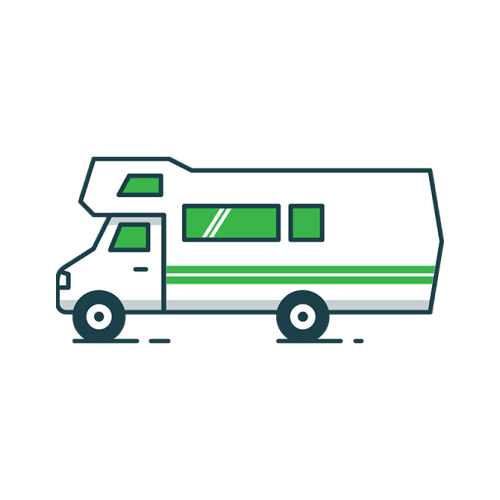 Protect Your Rig With RV Insurance
Cruise more and stress less with an all-types custom RV insurance policy that keeps you on the road longer.
The editorial content on Clovered's website is meant to be informational material and should not be considered legal advice.
Similar Articles