Does RV Insurance Cover Roof Leaks?
RV
/
Does RV Insurance Cover Roof Leaks?
While RVs can be the ultimate home on wheels long-term or while enjoying your vacation, they still face a number of difficulties. And when you're thousands of miles from home or in some remote part of the country, those difficulties tend to be compounded. Luckily, if you have RV insurance and your roof starts leaking, you could be covered. Let's take a look at all the different aspects.
Does RV Insurance Cover Roof Leaks?
Comprehensive RV insurance covers roof leaks if the damage was caused by a covered incident and deemed to have occurred suddenly and accidentally. So you'd be covered if a tree falls on your RV's roof or you hit the bottom of an overpass and rainwater leaks in. But you wouldn't be covered if the roof leak was due to something like a manufacturer error, general wear or tear or lack of maintenance.
As with any insurance policy, including the auto policy you have on your vehicle, the damage must have occurred due to a covered peril. And you must have comprehensive insurance on your RV policy. Regular liability coverage won't cover the damage because it's designed to pay for damages to other vehicles and medical bills to other people if you're at fault in an accident.
If all those factors don't add up, your insurance will leave you high and dry while your RV gets wet due to the roof leak. Let's take a look at how comprehensive coverage, and other facets of your policy, may be able to help you deal with roof leaks to your RV.
Comprehensive coverage is designed to pay for damages to your RV that are either out of your control or not caused by another driver. It helps pay for cosmetic or mechanical damages to your RV whether you're parked on your property, at a local campsite, if you're driving down the road and everywhere in between.
The most common forms of damage covered by the comprehensive portion of your RV policy are caused by natural disasters, falling objects, fires or getting involved in a one-vehicle accident. Since RVs are larger, less maneuverable and tend to be more expensive than everyday drivers, it's imperative you strongly consider opting for comprehensive coverage in your policy.
It's also important to get as much comprehensive coverage as your RV is worth, in case it's totaled by a covered peril. So a $60,000 RV would need $60,000 in comprehensive coverage to be fully protected. Here are the most common perils covered by comprehensive RV insurance.
Damage caused by natural disasters, such as hurricanes, tornadoes and hail storms

Damage caused by hitting an object, such as animals or overpasses

Damage caused by falling objects, such as tree branches or icicles 

Fire damage

Vandalism
Personal Effects Replacement Coverage
Unlike your daily driver, you probably keep personal belongings inside your RV at all times — or at least while you're on the road. While comprehensive coverage takes care of your RV's cosmetic and mechanical issues, as well as the items that are built into your rig (like couches, tables and cabinets), personal effects replacement coverage (PERC) is designed to cover the belongings you keep inside your RV that aren't built into it.
So things like your clothes, cooking materials, TVs and those 1,000-count Egyptian sheets with the memory foam mattress tucked into it would be covered by PERC if your RV sustained a roof leak caused by one of the perils listed above.
Many RV insurance policies cap your coverage at $5,000 worth of PERC per claim. So if you have more than $5,000 worth of personal belongings in your RV while you travel, you'll need to ask your insurer if you can increase your coverage. You may also be able to add an endorsement to your policy that extends coverage to $100,000 or more, but it will cost you extra.
You may also be surprised to find out that homeowners insurance can also cover your RV in some instances. If one of the previous instances of damage, such as a tree falling on your RV's roof or a fire that erupts due to a downed powerline, your homeowners insurance can cover your RV as long as it's parked on your property (or in a storage facility).
If it's protected by your other structures coverage, it will likely only be covered for up to 10% of your policy's dwelling coverage. So if your house has $300,000 worth of dwelling coverage, you'd have a maximum of $30,000 worth of coverage to pay for the damages.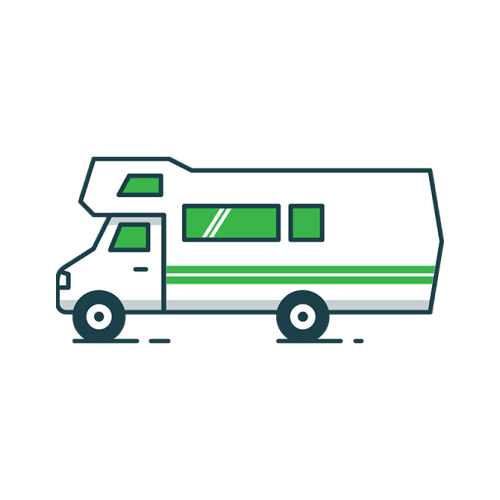 Protect Your Rig With RV Insurance
Cruise more and stress less with an all-types custom RV insurance policy that keeps you on the road longer.
The editorial content on Clovered's website is meant to be informational material and should not be considered legal advice.
Similar Articles