Flood Insurance in Indiana
Flood
/
Flood Insurance in Indiana
It might be easy to overlook flood insurance in a state like Indiana, far from oceans and hurricanes. But, the National Flood Insurance Program reports that over 20% of its flood claims come from properties outside high-risk flood zones.
Flooding is the most common and costly natural disaster in the nation. Just about every county in every state has experienced a flood event in your lifetime.
The only way to protect your house is with a flood insurance policy. This page goes over everything you need to know to find the best flood insurance in Indiana.
How Much Is Flood Insurance in Indiana?
The average flood insurance cost in Indiana is $917 annually, but it will increase to $1,361 per year under the National Flood Insurance Program's new rating method.
The NFIP is a government program managed by the Federal Emergency Management Agency (FEMA) that offers flood insurance to all citizens. It is the largest flood insurer in the country by far, with over 20,1000 active policies in Indiana alone.
Due to their size and reporting requirements as a government agency, their statistics for flood insurance rates in Indiana are the most comprehensive and representative available when looking at flood insurance costs in the state.
The table below depicts the average flood insurance cost in Indiana by county before and after the enactment of Risk Rating 2.0, the NFIP's new rating methodology that it began implementing in 2021.
Average Cost of Flood Insurance in Indiana
County
Adams
Allen
Bartholomew
Benton
Blackford
Boone
Brown
Carroll
Cass
Clark
Clay
Clinton
Crawford
Daviess
De Kalb
Dearborn
Decatur
Delaware
Dubois
Elkhart
Fayette
Floyd
Fountain
Franklin
Fulton
Gibson
Grant
Greene
Hamilton
Hancock
Harrison
Hendricks
Henry
Howard
Huntington
Jackson
Jasper
Jay
Jefferson
Jennings
Johnson
Knox
Kosciusko
La Porte
Lagrange
Lake
Lawrence
Madison
Marion
Marshall
Martin
Miami
Monroe
Montgomery
Morgan
Newton
Noble
Ohio
Orange
Owen
Parke
Perry
Pike
Porter
Posey
Pulaski
Putnam
Randolph
Ripley
Rush
Scott
Shelby
Spencer
St. Joseph
Starke
Steuben
Sullivan
Switzerland
Tippecanoe
Tipton
Union
Vanderburgh
Vermillion
Vigo
Wabash
Warren
Warrick
Washington
Wayne
Wells
White
Whitley
Policies in Force
32
379
298
129
129
132
47
160
65
354
21
26
12
7
40
32
16
244
19
245
50
104
129
22
26
14
52
23
427
120
38
124
25
95
40
109
62
17
55
15
300
47
303
97
109
697
27
163
1,688
30
129
32
124
24
93
29
137
20
26
28
10
29
129
100
54
37
28
48
9
19
7
123
57
152
36
60
129
28
115
89
129
365
38
375
46
129
105
129
56
30
75
52
Current Cost
$803
$944
$863
$833
$833
$958
$1,162
$1,280
$1,037
$1,059
$1,120
$935
$1,403
$606
$878
$949
$1,128
$885
$747
$952
$969
$1,113
$833
$1,036
$888
$616
$1,007
$1,027
$883
$949
$1,336
$936
$855
$896
$697
$761
$828
$904
$1,214
$890
$926
$697
$628
$851
$664
$818
$1,311
$922
$1,027
$845
$833
$796
$899
$1,003
$896
$997
$675
$1,070
$1,144
$1,254
$736
$1,049
$833
$642
$840
$1,024
$1,008
$752
$1,112
$776
$725
$1,028
$740
$672
$759
$725
$833
$849
$941
$890
$833
$876
$995
$876
$843
$833
$889
$833
$1,025
$765
$1,114
$720
Risk-Based Cost
$1,179
$1,293
$1,147
$1,016
$1,016
$1,245
$2,670
$2,507
$2,123
$1,531
$1,526
$1,929
$3,728
$1,068
$1,130
$2,253
$1,674
$1,287
$1,058
$1,205
$1,772
$2,014
$1,016
$3,279
$1,294
$623
$1,790
$2,298
$1,261
$1,102
$2,688
$1,884
$1,232
$1,355
$1,303
$1,014
$1,482
$1,298
$2,103
$2,499
$1,325
$902
$682
$1,058
$689
$1,213
$2,238
$1,421
$1,357
$1,221
$1,016
$2,088
$1,559
$2,084
$1,934
$1,655
$794
$2,645
$2,138
$2,236
$1,064
$2,171
$1,016
$816
$1,131
$1,284
$3,148
$1,402
$2,462
$1,012
$983
$1,250
$948
$891
$1,208
$837
$1,016
$1,861
$1,726
$1,263
$1,016
$1,241
$1,483
$1,169
$1,380
$1,016
$1,329
$1,016
$1,494
$1,545
$2,591
$914
RR 2.0 rates were in place for all new NFIP policies starting on October 1, 2021. RR 2.0 rates began to take effect for existing policyholders on April 1, 2022, but, depending on the size of your rate increase, it may take some time to realize your full, new risk-based premium since increases are capped at 18% per year.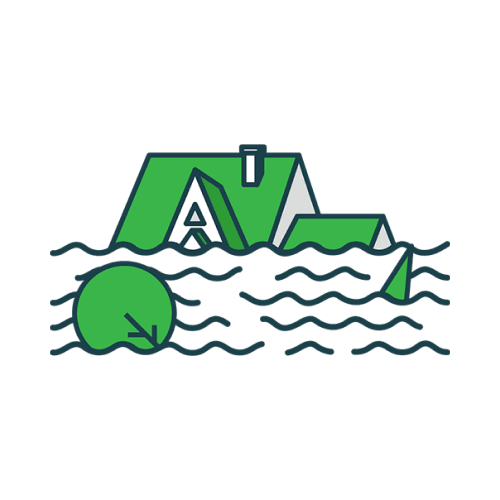 Stay Above Water With Flood Insurance
Do you want to pay for costly and common flood damage yourself or have an insurance policy pick up the tab?
Where Is the Cheapest Flood Insurance in Indiana?
Under RR 2.0, the counties with the cheapest flood insurance in Indiana, and the only counties with average rates under $1,000 annually, will be:
Knox ($902)

Whitley ($914)

Spencer ($948)

Scott ($983)
Despite the statewide average rate increase, 46% of NFIP policyholders in Indiana will see their premiums decrease. However, that means 54% will see increases in the coming years.
Most increases will be under $120 annually, but you could see this increase year after until you reach your new RR 2.0 premium.
What Does Flood Insurance in Indiana Cover?
Flood insurance covers your home's structure and belongings inside from flooding. FEMA defines a flood as "a general and temporary condition of partial or complete inundation of 2 or more acres of normally dry land." Common examples of covered flood incidents include storm surges, mudslides, sudden coastal erosion, or sudden accumulation of heavy rain.
The coverage provided by flood insurance policies can be separated into two areas:
Building Coverage
Building coverage in flood insurance policies protects the structure of your home and many of its permanently attached fixtures from damage. Covered areas include your walls, flooring, foundation, water heater, wiring, and more, although coverage for basements is limited.
Contents Coverage
Contents coverage in flood insurance financially protects your belongings in and around your property, such as clothing, furniture, tools, electronics, art, and more.
Generally, flood damage comes from sources outside your home and Mother Nature, while water damage comes from sources inside your home.
How to Get the Best Flood Insurance in Indiana
The NFIP is a common option for many, but it isn't your only choice for coverage. Depending on your location and coverage needs, the best flood insurance in Indiana for your circumstances may be through a private flood insurance company.
NFIP Insurance in Indiana
The NFIP provides roughly 90% of the nation's residential flood insurance policies. A sa government offering, it's available to everyone who wants it. They try to keep prices reasonable, although it's becoming harder for them to do so since they always pay out in claims more than they bring in.
The NFIP loses hundreds of millions every year. As a result, they're unable to fully accommodate all policyholders. NFIP policies have strict limits of $250,000 in building coverage and $100,000 in contents coverage.
There are three ways you can buy flood insurance:
From the NFIP directly

From a private company that writes NFIP policies

From a private company offering its own coverage
FEMA-Approved Flood Insurance Providers in Indiana
One important distinction to make about private flood coverage is that just because a company is selling flood insurance doesn't mean it's private coverage. The NFIP has partnered with private companies under the Write Your Own (WYO) program, allowing private firms to sell NFIP policies. The private carrier handles claims and customer service, while the NFIP still provides the financial backing and payouts.
Companies approved to write NFIP insurance in Indiana are:
Allstate

American Family

American National

Assurant

Auto-Owners

Farmers

Hartford

Homesite

Liberty Mutual

National General

NGM Insurance

Pacific Specialty

Philadelphia Indemnity

Privilege Underwriters

QBE Insurance Corp

Selective Insurance

USAA

Windsor Mt. Joy

Wright National
These FEMA- approved flood insurance providers in Indiana will offer you an NFIP policy. Shopping flood insurance with these carriers won't yield different rates. You're still subject to the strict $250,000 and $100,000 NFIP limits and abide by their rate calculations.
Private Flood Insurance in Indiana
The private flood insurance market is growing thanks to technological improvements. Private companies operate very differently than the NFIP and may offer better coverage limits at competitive rates.
A major benefit of private carriers is their higher coverage limits. Private flood policies often have building limits of up to $1 million or more, and you can get contents coverage of $500,000 or more. Private companies also often offer additional coverage not available in NFIP policies, such as increased coverage for other structures and additional living expenses protection.
You also don't have to worry about a waiting period. NFIP policies have a 30-day window from when you buy to when coverage kicks in. Private policies, on the other hand, typically don't have as long of a waiting period. Private companies may also offer increased coverage for basements.
However, private flood coverage isn't available anywhere. And, you may be subject to higher rate increases or non-renewals with a private company if they deem your property to risk to insure. The NFIP caps its rate increases at 18% per year, and they'll never non-renew you (unless you stop paying).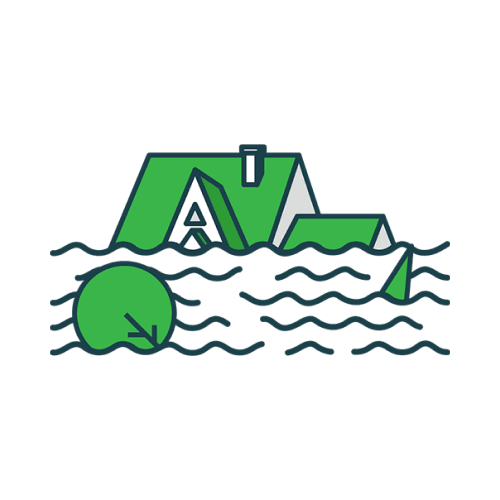 Stay Above Water With Flood Insurance
Do you want to pay for costly and common flood damage yourself or have an insurance policy pick up the tab?
Factors Affecting Flood Insurance Rates in Indiana
The average cost of flood insurance in Indiana will be $1,361 annually under RR 2.0. Several factors influence flood insurance rates in Indiana, such as your location, home details, and policy specifics.
Flood insurance companies are concerned with your property's likelihood of flooding. Anything that increases this will increase your premiums.
Naturally, your home's location is crucial to its risk. Houses near water sources like rivers and lakes generally have higher chances of flooding than inland homes. No county in Indiana is at risk of storm surge, but there are still high-risk flood zones in the state known as Special Flood Hazard Areas (SFHAs).
FEMA maintains flood maps that determine nationwide flooding risk by location. Homes in SFHAs have the greatest chances of maintaining serious flood damage.
Companies will also look at your home's features, such as its elevation. Homes higher off the ground are less likely to be affected by rushing floodwaters. Thus, they often have lower premiums.
Your coverage limits also impact premiums. Higher coverage limits cost more. You can also raise or lower your policy deductible to change your premiums. You choose your deductible – the amount of money damage must exceed for a claim. Choosing a higher deductible will lower your premiums.
Is Flood Insurance Required in Indiana?
If you get a mortgage or plan on building a home in a FEMA-designated high-risk flood zone, your lender will require you to get flood insurance. This protects their (and your) investment in your home if a flood wrecks your house.
Banks accept NFIP and private flood insurance policies as long as they meet your home's replacement cost (or the NFIP maximum).
How to Get Flood Insurance Quotes in Indiana
It may seem daunting to get flood insurance quotes even when you have all the information you need. At Clovered, we'd be happy to help you. As an independent insurance agency, we work with several companies to find you the coverage you need at the price you want.
We specialize in all types of property insurance, and if you want a flood insurance quote in Indiana, all you need to do is submit our straightforward flood insurance quote form. One of our licensed agents will get back to you with your options.
You can also call us at 833-255-4117 during business hours if you'd prefer to quote over the phone with an agent. You can also email us at agent@clovered.com.
What to Know About Flood Insurance in Indianapolis
Indianapolis is Indiana's largest city. It isn't without its flood risks. For example, the city website reports that the White River is a significant cause of flooding in the city.
Indianapolis is in Marion County, where the average flood insurance rate is $1,357 annually under NFIP's RR 2.0. This is right on par with the statewide average of $1,361.
Indianapolis participates in the NFIP's Community Rating System, meaning city management actively mitigates against unnecessary flood damage through floodplain management, conservation, and other efforts. Communities that participate in the CRS get discounts for their NFIP policyholders. As of 2021, there are over 3,000 NFIP policyholders in Indianapolis.
However, we still recommend getting private flood insurance quotes in Indianapolis to ensure you get the best deal.
What to Know About the Cost of Flood Insurance in Fort Wayne
The average cost of flood insurance in Fort Wayne, Indiana's second-largest city, is $1,293 per year. This is slightly cheaper than the state average of $1,361 annually.
Fort Wayne, like Indianapolis, is not near the coast, and residents don't have to worry about flooding from any oceans or Great Lakes. However, water features in and around Allen County do pose a flood risk, primarily from overflows of the Maumee, St. Joe, and St. Mary's rivers and their tributaries, according to the county website.
Fort Wayne also participates in the CRS, so you should be eligible for discounts on an NFIP policy in the city. Compare policies from private insurers with NFIP plans to see who has cheap flood insurance in Indiana.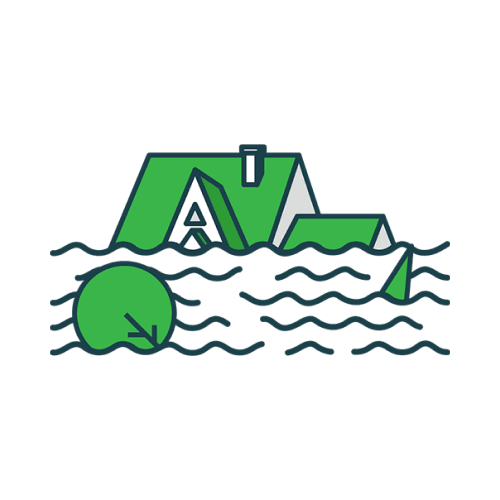 Stay Above Water With Flood Insurance
Do you want to pay for costly and common flood damage yourself or have an insurance policy pick up the tab?
The editorial content on Clovered's website is meant to be informational material and should not be considered legal advice.