Flood
/
Indiana Flood Insurance
From the forks of local rivers and streams to the banks of Lake Michigan and ponds all across the state, they all seem to flood multiple times per year: when the snow melts in spring and when the rains roll in a few months later. An Indiana flood insurance policy can protect your home and personal belongings against many weather-related flood instances.
Some of the most common flood occurrences in Indiana in recent years have been the overflowing of nearby bodies of water. When a river or pond overflows, that water spills over and can either seep into the ground or make its way into nearby homes.
Before the snow melts and the rainy season begins, protect your home with an Indiana flood insurance policy. You need to act sooner rather than later, too, because it takes 30 days for a policy to go into effect after its purchase date.
What Flood Insurance in Indiana Covers
From overflowing rivers and other bodies of water like ponds and streams, or torrential rains that seep in through the ground and many other instances involving liquid perils, an Indiana flood insurance policy can help to protect your home and personal belongings.
☘ Your home's physical structure and its foundation, meaning the essential pieces that make up your home, are covered by flood insurance. This can be anything from flooring and drywall to built-in cabinets and electrical wiring.
☘ Flood insurance can help pay to repair or replace your personal belongings that were damaged or destroyed directly by flooding. This coverage extends to things like TVs, computers and other electronics to furniture and clothes.
☘ When floodwaters enter a home, they tend to damage or destroy a handful of appliances in your home. Luckily, flood insurance can help replace many of those appliances, like your HVAC unit, water heater, dishwasher and much more.
How Much Does Flood Insurance Cost in Indiana?
Flood insurance in Indiana costs about $700 per year, but depending on where you live on the flood insurance rate map in Indiana, you could pay significantly less or slightly more. No matter how much you pay, buying flood insurance is a worthwhile investment.
You could potentially get a better rate with Clovered by calling one of our many licensed agents and allowing us to give you a few quotes. Just remember to call soon. If you do need to file a flood insurance claim, you'll have to have had your policy for at least 31 days for it to go into effect.
How to Get Cheap Flood Insurance Indiana
There are two Indiana flood insurance options you can choose from: a private policy from a company like Clovered or a government policy from FEMA's National Flood Insurance Program. The latter is geared toward a last-resort option for homes that are extremely susceptible to floods — and may cost much more for less coverage.
The better option is to call one of many licensed agents and have them help you find flood insurance in Indiana that suits your coverage needs and your fiscal budget.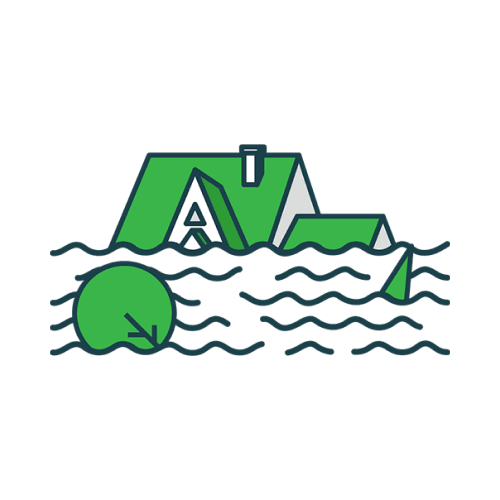 Stay Above Water With Flood Insurance
Do you want to pay for costly and common flood damage yourself or have an insurance policy pick up the tab?
The editorial content on Clovered's website is meant to be informational material and should not be considered legal advice.