Flood Insurance in North Carolina
Flood
/
Flood Insurance in North Carolina
The eastern part of North Carolina is exposed to flooding from coastal erosion and storm surges after hurricanes and tropical storms. While you might be further from the Atlantic in the western areas of the state, you're never totally safe from flooding.
Flash floods and mudslides after heavy rains imperil mountainous regions of North Carolina. And, the Federal Emergency Management Agency (FEMA) reports that 100% of every county in every state can suffer from inland flooding.
We created this guide to help homeowners find the best flood insurance in North Carolina to protect their properties.
How Much Is Flood Insurance in North Carolina?
The average cost of flood insurance in North Carolina is $1,363 under the National Flood Insurance Program. The program's Risk Rating 2.0 methodology increased North Carolina flood insurance rates by about 72%, up from $791 annually before 2021 to $1,363.
The NFIP is the largest flood insurer in the country, but it's not a typical insurance company. The NFIP is a government program managed by the Federal Emergency Management Agency (FEMA). FEMA runs the program at a loss in an attempt to cover as many citizens as possible with affordable flood coverage.
Unfortunately, flooding risks are extensive nationwide and are worsening over time. The NFIP recalibrated its rate calculation method to more accurately reflect property flood risks in an effort called Risk Rating 2.0. RR 2.0 rates increased premiums for many policyholders.
The table below shows flood insurance rates in North Carolina by county before and after RR 2.0 premiums take full effect.
Average Cost of Flood Insurance in North Carolina
County
Alamance
Alexander
Alleghany
Anson
Ashe
Avery
Beaufort
Bertie
Bladen
Brunswick
Buncombe
Burke
Cabarrus
Caldwell
Camden
Carteret
Caswell
Catawba
Chatham
Cherokee
Chowan
Clay
Cleveland
Columbus
Craven
Cumberland
Currituck
Dare
Davidson
Davie
Duplin
Durham
Edgecombe
Forsyth
Franklin
Gaston
Gates
Graham
Granville
Greene
Guilford
Halifax
Harnett
Haywood
Henderson
Hertford
Hoke
Horry
Hyde
Iredell
Jackson
Johnston
Jones
Lee
Lenoir
Lincoln
Macon
Madison
Martin
Mcdowell
Mecklenburg
Mitchell
Montgomery
Moore
Nash
New Hanover
Northampton
Onslow
Orange
Pamlico
Pasquotank
Pender
Perquimans
Person
Pitt
Polk
Randolph
Richmond
Robeson
Rockingham
Rowan
Rutherford
Sampson
Scotland
Stanly
Stokes
Surry
Swain
Transylvania
Tyrrell
Union
Vance
Wake
Warren
Washington
Watauga
Wayne
Wilkes
Wilson
Yadkin
Yancey
Policies in Force
203
14
13
1,133
83
104
2,002
83
138
11,582
453
62
281
89
432
6,308
1,133
155
163
99
189
91
26
329
3,684
1,227
2,392
8,425
153
42
445
818
475
357
57
212
41
28
26
76
436
76
262
347
213
47
107
1,133
630
140
167
363
160
94
244
71
124
45
53
48
1,688
16
13
348
381
8,821
17
3,367
322
1,198
1,172
3,207
316
8
921
39
68
18
637
29
116
59
92
47
32
13
11
51
136
285
313
13
2,149
21
135
223
609
17
336
1,133
83
Current Cost
$858
$944
$713
$834
$981
$863
$714
$682
$775
$770
$903
$1,020
$843
$1,035
$698
$915
$834
$889
$750
$966
$780
$1,064
$1,171
$749
$806
$690
$738
$654
$820
$748
$705
$802
$727
$844
$733
$888
$659
$1,282
$564
$658
$854
$881
$745
$1,073
$648
$806
$609
$834
$612
$767
$850
$723
$736
$963
$786
$719
$1,082
$1,144
$704
$1,106
$798
$1,134
$1,033
$802
$909
$820
$626
$837
$870
$743
$697
$987
$739
$801
$664
$816
$813
$629
$790
$1,011
$923
$1,208
$825
$717
$989
$650
$840
$1,364
$777
$794
$756
$677
$770
$711
$725
$969
$659
$1,147
$791
$834
$1,139
Risk-Based Cost
$1,424
$4,355
$1,910
$1,099
$2,994
$1,470
$1,300
$987
$1,000
$1,347
$1,446
$2,229
$2,363
$1,848
$1,024
$1,603
$1,099
$1,651
$1,180
$2,152
$1,641
$2,562
$1,610
$977
$1,170
$1,080
$1,078
$966
$1,729
$1,921
$965
$1,301
$1,092
$1,567
$1,170
$1,695
$761
$1,948
$913
$1,099
$1,512
$1,300
$1,153
$1,758
$988
$1,374
$720
$1,099
$1,084
$1,523
$1,956
$1,438
$1,427
$1,631
$1,032
$1,114
$1,979
$2,259
$1,134
$2,433
$1,676
$2,355
$2,382
$1,245
$1,528
$1,424
$1,345
$1,613
$1,998
$1,451
$1,048
$2,052
$1,518
$1,510
$974
$1,714
$1,259
$1,003
$1,111
$1,470
$1,884
$2,665
$1,351
$1,069
$1,589
$1,975
$2,383
$2,244
$1,235
$1,010
$1,744
$1,289
$1,443
$1,401
$1,016
$1,813
$880
$1,961
$1,212
$1,099
$1,771
RR 2.0 rates became active for all new NFIP policyholders who got a policy after October 1, 2021. Existing policyholders have been phased into the new rates since April 1, 2022. The NFIP limited the rate increase you can experience at 18% annually, so it may take some time to realize your RR 2.0 rate, depending on your increase.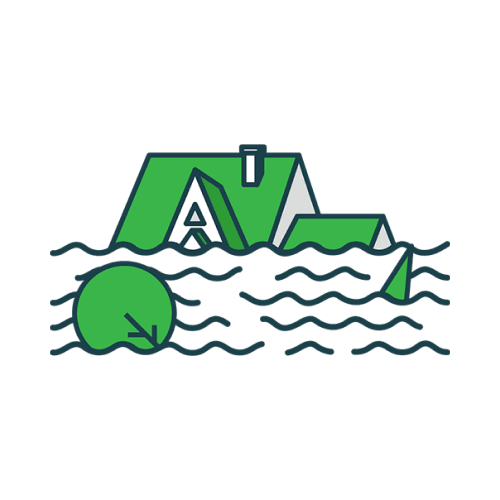 Stay Above Water With Flood Insurance
Do you want to pay for costly and common flood damage yourself or have an insurance policy pick up the tab?
Where Is the Cheapest Flood Insurance in North Carolina?
The cheapest flood insurance in North Carolina per year under RR 2.0 will be found in:
Hoke ($720)

Gates ($761)

Wayne ($880)

Granville ($913)

Duplin ($965)

Dare ($966)

Pitt ($974)

Columbus ($977)

Bertie ($987)

Henderson ($988)
Every county other than these has average premiums above $1,000 annually. 86,000 NFIP policyholders will have rate increases under RR 2.0. But, over 21,000 people are experiencing a rate decrease, as well.
Despite the statewide increase in flood premiums, North Carolina remains one of the cheaper states in the country for flood coverage. Only 13 states have cheaper average flood insurance rates.
What Does Flood Insurance in North Carolina Cover?
Flood insurance in North Carolina financially protects your home and belongings from flood damage. If a flood, such as a mudslide, storm surge, flash flood, or coastal erosion, damages your home, your insurer can reimburse you.
The coverage in flood insurance policies typically looks as follows:
Building Coverage
Building coverage in flood insurance guards the physical structure of your home and its components, like the flooring, walls, countertops, wiring, plumbing, and more.
Contents Coverage
Contents coverage in flood insurance policies covers the personal property in and around your home, such as furniture, electronics, clothing, tools, jewelry, and more.
Flood insurance policies normally provide limited coverage for basements due to the likelihood of a basement suffering damage during any flooding event. NFIP policies won't cover most items in a finished basement.
How to Get the Best Flood Insurance in North Carolina
NFIP vs. Private Flood Insurance
The NFIP simply can't afford to cover all policyholders fully. As a result, NFIP policies are capped at $250,000 in building coverage and $100,000 in contents coverage for all single-family homes.
While the limits are restrictive, the NFIP is available in most areas, including especially flood-prone locations where a private company may charge extremely high rates or not offer coverage at all.
Also, the NFIP won't ever non-renew you (unless you stop paying). A private insurer can non-renew your policy if it deems your property too risky.
However, if you find affordable coverage from a private company in your area, you can look forward to higher limits and additional coverages.
Private flood insurance plans often offer building coverage limits exceeding $1 million and contents coverage limits of several hundred thousand dollars or more. They can also have additional protection not found in NFIP policies, such as loss of use coverage.
Can You Get Hurricane and Flood Insurance in North Carolina?
Homeowners insurance covers most instances of hurricane damage, such as wind and debris damage. Home insurance might also cover water damage during a hurricane, like if rain starts pouring in after the wind rips off part of your roof.
But, homeowners insurance never covers flood damage. In coastal areas, storm surges from rising waters during a hurricane or tropical storm can flood your home and ruin all your belongings. Even though it occurred during a hurricane, this damage would be excluded in just about all cases.
This is because you need flood insurance to cover flood damage. Flood insurance can cover storm surges, mudslides, and much more. Floods are more common and costly than you might imagine. The average flood insurance claim is roughly $30,000 more than the average home insurance claim.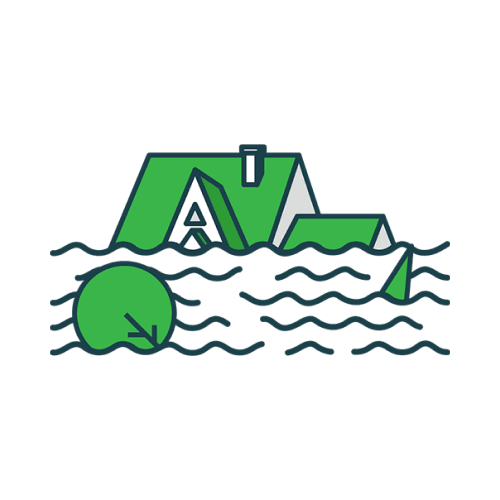 Stay Above Water With Flood Insurance
Do you want to pay for costly and common flood damage yourself or have an insurance policy pick up the tab?
Price Factors of North Carolina Flood Insurance Rates
Flood insurance rates in North Carolina rose from $7 to $1,363 from the NFIP. But, not every policyholder's premiums will increase. Several factors that make your home more or less susceptible to flooding affect the cost of flood insurance in North Carolina.
Location: your home location is a primary determinant of your premiums. FEMA creates flood hazard maps for the country, and if your home is in a FEMA-designated flood zone, your house has greater chances of suffering flood damage and having higher premiums. You can check your flood zone with a flood insurance rate map in North Carolina provided by FEMA.
Homes in high-risk flood zones, called Special Flood Hazard Areas (SFHAs), generally have the highest rates. These are often near bodies of water and begin with A or V on flood maps. You can check your food zome at FEMA's Map Service Center.
According to FEMA, 99% to 100% of NFIP policyholders in the following counties are at risk of suffering storm surge damage:
Carteret

Hyde

Pamlico

Passquatank

Perquimans

Tyrell

Washington

Beaufort

Camden

Chowan

Craven

Currituck

Dare
Elevation: flood insurance companies examine the first-floor height of your home and its height relative to nearby water bodies to determine if your home is susceptible. Naturally, higher homes above ground are less likely to suffer flood damage.
Home characteristics: specific characteristics of your home's construction also impact rates. Having existing flood mitigation measures, like flood vents and sump pumps, can lower premiums. House construction materials are also relevant. Masonry homes generally withstand floodwaters better than wooden frame houses and may have lower premiums.
Is Flood Insurance Required in North Carolina?
Mortgage lenders must protect their investments, so they require homeowners to carry home insurance. But, home insurance doesn't cover flood damage. Thus, lenders also require homeowners in FEMA-designated high-risk flood zones (SFHAs) to have flood insurance.
Banks accept NFIP and private coverage as long as the policy limits reach your home's value or max out at the NFIP's $250,000 if necessary.
Do People in North Carolina Have Flood Insurance?
Yes, the National Flood Insurance Policy has over 73,000 active flood insurance policies for single-family homes in North Carolina and over 139,000 plans in total at the inception of Risk Rating 2.0. A smaller number of people also have private flood insurance.
Flood insurance is a good idea even when you're not required to have coverage, as floods are quite possible even in low-risk flood zones. FEMA reports every policyholder in the state has a chance of experiencing inland flooding, and thousands of properties in North Carolina are exposed to storm surge and coastal erosion risks.
How to Get a Flood Insurance Quote in North Carolina
You should get flood insurance quotes in North Carolina from private companies and the NFIP when looking for the best coverage at the best price. At Clovered, our job is to make finding the right insurance easier for you. We'd love to help you find the coverage you need at the price you want.
You can submit our flood insurance quote form to find rates from private flood insurance companies in North Carolina. It takes only minutes to fill out, and one of our team members will get back to you with your insurance options as soon as possible.
You can also quote and bind with a licensed agent over the phone by calling us at 833-255-4117 during business hours. Feel free to email us, too, at agent@clovered.com.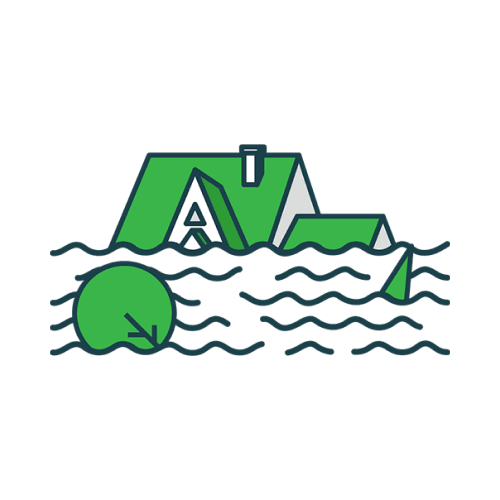 Stay Above Water With Flood Insurance
Do you want to pay for costly and common flood damage yourself or have an insurance policy pick up the tab?
The editorial content on Clovered's website is meant to be informational material and should not be considered legal advice.