North Carolina Flood Insurance
Flood
/
North Carolina Flood Insurance
With its many rivers and streams flowing majestically through the mountains and beyond, and its beaches filling up with the Atlantic Ocean's salty waters, North Carolina residents don't have to go far to find the nearest body of water. While that's great to take advantage of during the spring thaw and summertime heat, it also has the potential to cause flooding across the state. Only North Carolina flood insurance can protect your property and belongings from floodwaters, too.
If you're a homeowner in the Tar Heel State, flood insurance in North Carolina provides protection for your home's structure and your personal belongings. For renters, it provides sufficient coverage for the latter. Keeping in mind that just 1 inch of floodwaters causes about $25,000 worth of damage, having a flood policy in place is incredibly important.
What Flood Insurance Covers in North Carolina
The first thing you must know about North Carolina flood insurance is that it takes 30 days to go into effect after purchasing. That means you'll need to buy a policy well before the winter snow melts, the torrential rain begins or hurricane season starts. It's also important to know that flood insurance in North Carolina covers instances of flooding like overflowing rivers, streams and ponds.
☘ Your home's physical structure and its foundation, meaning the essential pieces that make up your home, are covered by flood insurance. This can be anything from flooring and drywall to built-in cabinets and electrical wiring.
☘ Flood insurance can help pay to repair or replace your personal belongings that were damaged or destroyed directly by flooding. This coverage extends to things like TVs, computers and other electronics to furniture and clothes.
☘ When floodwaters enter a home, they tend to damage or destroy a handful of appliances in your home. Luckily, flood insurance can help replace many of those appliances, like your HVAC unit, water heater, dishwasher and much more.
How Much Is Flood Insurance in North Carolina?
Since flooding isn't all too common in the Tar Heel State, the average cost of flood insurance in North Carolina is about $400 per year. That's a ridiculously great price when you consider the average policy provides you with $200,00 worth of dwelling coverage and $30,000 worth of personal property coverage.
Do I Need Flood Insurance in North Carolina?
Flood insurance in North Carolina isn't required by law, but it may be required by your mortgage lender if you still owe payments on your home. However, given the exorbitant cost of average flood damage and its unpredictability, having a sufficient North Carolina flood insurance policy in place should be common practice with every resident in the state.
How to Get the Best Flood Insurance Rates in North Carolina
By calling one of our friendly licensed agents at Clovered, we can assist you in finding the best flood insurance policy that meets your coverage needs and your budget. We've teamed up with the state's top insurers, so you can always count on us to get the best policy at the best price.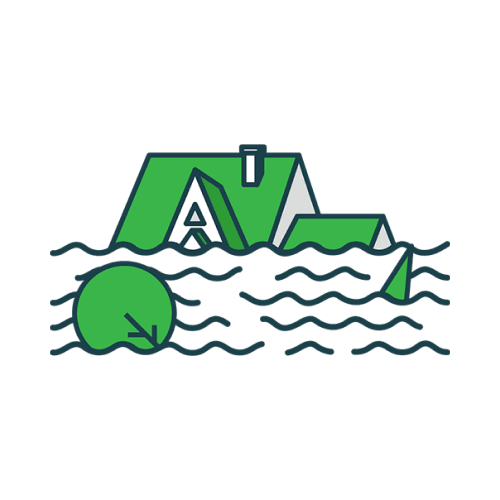 Stay Above Water With Flood Insurance
Do you want to pay for costly and common flood damage yourself or have an insurance policy pick up the tab?
The editorial content on Clovered's website is meant to be informational material and should not be considered legal advice.