Everything You Should Know About Full Time RV Insurance
RV
/
Everything You Should Know About Full Time RV Insurance
There are many reasons to opt for a life of full time travel in your RV. It allows you to see more of the beautiful world we live in without the hassle of finding and paying for a hotel each night. There are also some pretty important basics you'll need to know about full time RV insurance, including the coverages you'll need and what qualifies you as a full timer.
What Is Full Time RV Insurance?
Full time RV insurance is a more comprehensive type of RV insurance policy that's specifically designed for those people who spend more than 150 nights per year in their RV. It's kind of like a mix between an auto insurance and homeowners insurance policy, protecting the RV, the people and belongings inside it and many other external factors.
What's Included With Full Time RV Insurance Coverage?
Full RV insurance coverage includes everything you need to be protected, whether you're on the road or stopped at your new favorite campsite. It covers the liability aspect in case you cause damage to someone else's vehicle or property or cause injury to someone else. It also protects your RV from a multitude of things, and may even provide you with a new RV if yours is totaled.
Best RV Insurance for Full Timers
Bodily Injury Liability: Similar to your auto insurance, this liability coverage is designed to pay for injuries you cause during an accident and is typically required in every state. It's only applicable to drivable RVs since towable models carry the liability coverage of the vehicle towing them.
Property Damage Liability: This liability coverage is designed to pay for damage you cause to other vehicles or property during an accident and is also typically required in every state. Again, it's only applicable to drivable RVs since towable models carry the liability coverage of the vehicle towing them
Uninsured/Underinsured Motorist: If you get into an accident that was caused by a driver who either doesn't have insurance or has an insufficient amount of insurance, these interchangeable coverages will help pay for the damage caused to your RV and injuries to anyone inside it.
Collision Coverage: If your RV is damaged due to an accident, even if you're not at fault, collision coverage will pay to repair or replace your RV. This differs a bit from your auto insurance because it can also pay to replace any personal belongings you're traveling with that may have also been damaged.
Total Loss Replacement: This coverage is typically extra and is designed to replace your RV if it's totaled. If it's totaled within its first four years on the road, it can provide you with a new or comparable model. If it's totaled in years five through seven, it will reimburse you the actual cash value or original purchase price (whichever is higher). After the seventh year, it will reimburse you the RV's actual cash value, which includes depreciation in its pricing factor.
Personal Effects Replacement: Going back to the personal belongings you keep inside your RV, this coverage will pay to replace them. The standard coverage limit for combined belongings is typically up to $5,000 per claim, but you may be able to add an endorsement for up to $100,000 worth of personal property coverage.
Medical Payments: Also called MedPay, it helps to cover medical expenses for injuries to you or anyone in your RV after an accident — whether you're at fault in the accident or not.
Roadside Assistance: If your RV breaks down, gets a flat, runs out of gas, needs to be jump-started or you need some other sort of assistance, this coverage is designed to pay for 24-hour help that you need.
Towing & Labor: If your rig breaks down and you need a tow, this will help pay for the towing and could help pay for the labor associated with the breakdown.
Gap Insurance: So if your rig is worth $20,000 but you're still paying $20,000 toward a $40,000 loan on it, gap insurance can cover the extra $20,000 you still owe to your lender if your RV is totaled. However, total loss replacement coverage can act similarly if your RV is less than 4 years old, but gap insurance will handle it if your RV is more than 7 years old.
Differences Between Part Time and Full Time RV Insurance
While all the coverages above can be applied to both full timers and part timers, vacation liability coverage is the only coverage full time RVers likely won't have. Hints the name, it pays for up to $10,000 worth of vacation expenses if your rig is damaged at its temporary spot, like a campsite. Since full timers live in their rigs, there isn't any "vacationing" involved.
Full Time RV Insurance Cost
While there's no exact amount it will cost everyone, full time RV insurance is undoubtedly more expensive than regular RV insurance because those full timers are spending more time driving their rig and, therefore, are more likely to get in an accident or sustain damage.
Where to Get Full Time RV Insurance
With Clovered, getting full time RV insurance is easy. Simply fill out a few details about your RV and driving history and one of our licensed in-house agents will pair you with a policy that fits your unique needs at a price you like.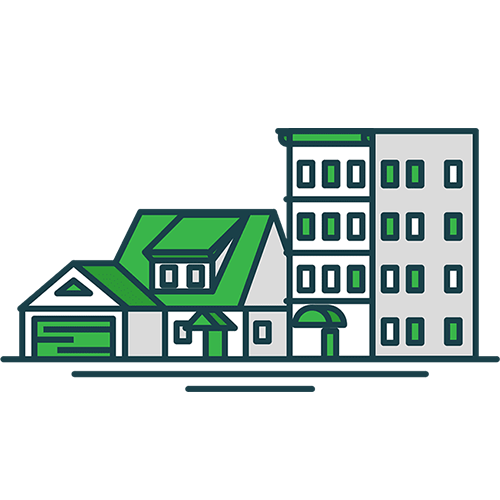 Home Protection Is Just a Click Away
We partner with the nation's top home insurance companies so you can get an excellent policy at an affordable price.
The editorial content on Clovered's website is meant to be informational material and should not be considered legal advice.