5 Factors That Affect Your Homeowners Insurance Rates
Insurance 101
/
5 Factors That Affect Your Homeowners Insurance Rates
Purchasing a new home may be one of the most exciting and daunting tasks of your life. Even before you fork over more money than you probably would've liked and got the keys to your place, there are a few key things you should know about external factors affecting your home insurance rates.
Instead of crossing your fingers and hoping for the best, here are seven measurable factors that could be affecting your home insurance without you even realizing it.

Your home insurance deductible is the amount of money you'll be required to pay toward your home insurance claim before the insurance company steps in to pick up the remaining amount up to your policy's maximum.
Regular home insurance deductibles are typically anywhere from $500 to $2,000. Although, if you live in a hurricane-prone area, you'll need to have a hurricane deductible, which will increase or decrease your premium.
Hurricane deductibles are based on a percentage of your overall dwelling coverage instead of a set dollar amount. So homeowners with $250,000 and a 5% hurricane deductible will have to pay $12,500 toward a claim involving hurricane damage. However, if the claim wasn't due to a hurricane, they'll still pay the $500 to $2,000 deductible.
The higher your deductible, the lower your premium. However, that doesn't mean you should default to a higher deductible without thinking about the overall costs of potential claims.
Similar to your credit score, insurance companies issue insurance scores to people based on a variety of factors. Things like having a lower debt-to-income ratio, avoiding tax liens or bankruptcy and keeping your debt out of default are all ways your personal finances can have a very tangible impact on your property insurance premiums.
3. Age, Construction & Renovation of Your Home
If you've already purchased your property, you may not be able to do much to manage the impact of your home's age and construction type on your home insurance premiums. But it's still an important aspect to consider.
By default, an older home may cost more to insure because the cost of replacement on older construction is higher. This is especially true if your home qualifies as a historical property or maintains certain historical elements. 
Keep in mind that any upgrades or repairs you do to an older home can have a positive impact on your premiums. Things like replacing the roof can help to minimize the chances of experiencing major damages and increases the likelihood of a lower rate. 
On the other hand, while many people have the idea of remodeling their home, they have no idea the impact it has on their homeowners insurance.
Turning an outdated kitchen into an open-concept space with updated appliances is a dream, but it might cost you more than contractors and materials. Those kinds of renovations can increase the value of your home, which will increase your home insurance premiums.
Once your renovation is complete, you'll want to make sure your home insurance company knows what you've updated. This makes sure the new value of the appliances or materials are then covered under your home insurance policy.
The location of your house matters more than you can imagine. And that includes the impact on your property insurance premiums. Living close to emergency services, like a fire or police station, means it would take far less time for them to respond to a fire or burglary at your home.
What does that mean for your home? It means you'd likely sustain less damage, which could get you a hefty discount on your home insurance premiums.
If your TV got stolen out of your home and you have a $1,000 deductible, it makes more sense to pay to replace the TV yourself. Chances are good that the TV wasn't worth $1,000 and that small claim will follow you for five years.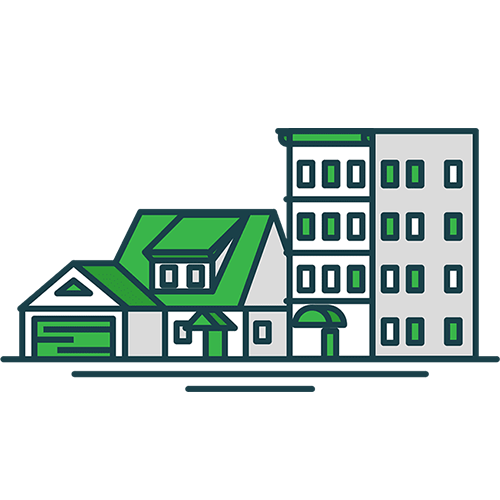 Home Protection Is Just a Click Away
We partner with the nation's top home insurance companies so you can get an excellent policy at an affordable price.
The editorial content on Clovered's website is meant to be informational material and should not be considered legal advice.
Similar Articles