What Is Increased Cost of Compliance in Flood Insurance?
Flood
/
What Is Increased Cost of Compliance in Flood Insurance?
The National Flood Insurance Program is funded and managed by the federal government. As a result, many activities that occur with paying out NFIP claims require some level of government interaction and compliance.
To qualify for the NFIP, local and community governments must adopt and enforce floodplain management ordinances set by the Federal Emergency Management Agency (FEMA), the department that runs the NFIP, to regulate building development in flood hazard areas. The goal is to reduce flood damage for properties overall.
Ultimately, the government wants to pay out as few flood claims as it can. Thus, it makes rules and regulations on house construction in flood zones to make people build their homes in ways that protect them from floods as best as FEMA can hope for.
If you live in a high-risk flood zone in a participating NFIP community and you suffered flood damage, you may be able to file an increased cost of compliance claim with the NFIP. An increased cost of compliance claim can grant you more money – separate from your standard flood claim – to floodproof your home.
What Is Increased Cost of Compliance in Flood Insurance?
Increased cost of compliance coverage is a part of NFIP flood insurance policies that can help cover costs of mitigating your property to reduce future flood damage. Although it's included in most policies, ICC coverage only kicks in if your home has been damaged substantially or repeatedly by floods and a community official rules that you should rebuild to meet local flood management regulations to help your house avoid more damage in the future.
ICC coverage provides up to $30,000 to help cover the costs of bringing your home up to local floodplain management codes. To be eligible to receive an ICC claim payment, two things must occur:
Your home must suffer substantial damage from a flood or repetitive losses to floods

A local community official, a government official, or a local NFIP administrator, must rule that your home needs to be rebuilt to comply with local flood prevention ordinances.
Substantial or Repetitive Flood Loss
The NFIP defines substantial damage to your home as damages directly caused by a flood that exceed 50% of the value of the insured building. For example, let's say your home is worth $300,000. You'd need to suffer $150,000 or more of flood damage to be eligible for ICC money.
Alternately, your home could also suffer repetitive damage from more than one flood to make you eligible for an ICC claim. The NFIP defines a qualifying repetitive flood loss to mean that you suffered flood damage and received an NFIP claim payment at least two times in 10 years. Also, the cost of the repairs from the combined damage must be at least 50% of the home value.
For instance, you can suffer flood damages equivalent to 15% of your home value one year, then a few years later suffer flood damage that equates to 40% of your home value. Together, the damage adds up to over 50%, which means you'd be able to file an ICC claim after the second bout of damage.
Notice From Community Official
In addition to one of those conditions, a local community building official must verify the damage and state that you need to rebuild to meet local flood codes. This would likely occur when you file the permits to rebuild or repair your home after the flood.
The official would notice that your house has been wrecked and that you should rebuild differently to mitigate future flood damages. They'd send you a letter outlining that you need to rebuild to meet code, and you'd send this letter to the NFIP as part of your ICC claim.
It's important to note that if your home is currently in compliance with all the latest ordinances regarding flood mitigation, even if you live in a special flood hazard area, you won't be eligible for ICC claims after damage unless there's a change in the building code.
What Can You Do With an ICC Claim?
ICC payments will help cover the cost of mitigating your home against future floods, but what exactly does that mean? Often, it involves elevating your home, but the uses for ICC insurance coverage generally fall into one of four categories: elevation, demolition, relocation, and floodproofing.
When you're notified that you need to comply with current floodplain regulations, the official who notifies you will typically state what exactly you need to do. They'll usually mention what type of materials you should use, how mechanical, plumbing, gas, or electrical systems must be installed, or how high your lowest floor must be.
So, when you receive FEMA ICC assistance, you're authorized to use the money in ways that directly help bring your home up to compliance which the building official will mention. This typically happens in one of four ways.
Changing your home's elevation is the most common way to reduce its flood risk. ICC coverage can cover the costs of raising your home above the base flood elevation level near you.
For every special flood hazard area in the country, FEMA has determined a base flood elevation. A BFE is essentially a height that FEMA expects floodwaters to reach in your area in case of a serious flood. It serves as a baseline. Floods could reach higher or lower than the BFE, but based on historic weather data FEMA believes this determined elevation is a good indicator for flood threats to property.
You can use ICC funds to raise the elevation of your home above the BFE. This is usually done by raising your foundation so that the top of your lowest floor is above where floodwaters are expected to rise. Some communities have even stricter standards than the NFIP and require you to elevate your home even higher than just above the BFE. FEMA calls this freeboard construction, and it's also covered by ICC.
If the community official decides relocation is the best move for your home, increased cost of compliance coverage would cover costs directly associated with this relocation. This would be moving your home to another location or another spot on your property that's higher.
In this case, ICC can cover preparing the new site and building new foundations, moving buildings, attaching buildings to new foundations, connecting utilities, removing and disposing of old foundations, and restoring the vacated sites.
If your house is severely damaged to the point that it's most feasible to demolish it and start over instead of renovating or repairing it, ICC insurance coverage can cover much of the demolition costs. Demolishing the building, removing the foundation and utilities, filling the basement, and clearing building debris can all be covered by increased cost of compliance funds.
Note that removing other structures on your property, like sheds, detached garages and driveways may not be covered.
This sounds like the most general course of action after floods have damaged your house, but in terms of ICC coverage, floodproofing only applies to non-residential buildings. Relocating a business or a large commercial building may be relatively more difficult than relocating or rebuilding a house.
Examples of covered floodproofing measures covered under ICC include installing watertight shields, sealants, sump pumps, and drainage systems in non-residential buildings. This isn't an option for homeowners.
How to File a FEMA ICC Claim
An increased cost of coverage claim is filed and adjusted separately than a standard NFIP claim. You can only file an ICC Claim after a community official tells you that your property needs to be rebuilt to meet the local floodplain management provisions in your area.
Once a city or county official notifies you of this, you can contact your insurer and request to make an ICC claim using the notice from the official as proof. Your insurance company will verify the claim and assign an adjuster (likely different from the adjuster who worked on your NFIP claim) to assist you with your ICC claim. You can request to get some money from your ICC claim in advance, up to $15,000, to cover some of the costs to begin work.
Once the repair or rebuilding efforts of your home are complete, local officials will confirm that the new construction meets the floodplain regulations with a certificate or document of some kind. Then, you send this document to your insurer, who will reimburse you for the rest (or all) of the repairs.
You have 60 days from when a community official tells you to rebuild your house up to the latest flood standards to notify your insurer of your intent to file an ICC claim. And, you must complete your ICC construction within six years after the flood loss.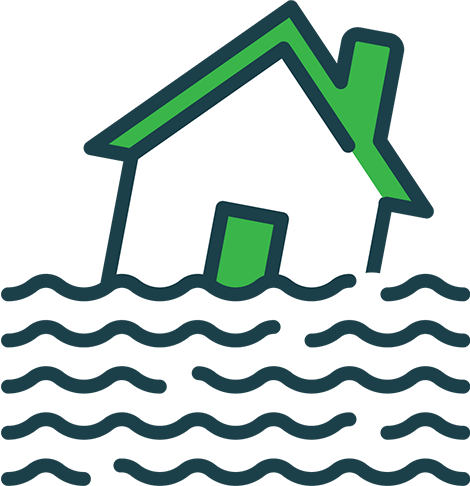 Stay Above Water With Flood Insurance
Do you want to pay for costly and common flood damage yourself or have an insurance policy pick up the tab?
The editorial content on Clovered's website is meant to be informational material and should not be considered legal advice.
Similar Articles