7 Most Common Types of Home Insurance Claims
Insurance 101
/
7 Most Common Types of Home Insurance Claims
While nobody dreams of needing to file a home insurance claim, the fact of the matter is that accidents happen — whether you want them to or not. You purchased home insurance because you wanted to protect your biggest investment, personal belongings and financial wellbeing.
But even if you're the most careful person on the planet, there are just some damage scenarios you simply can't avoid. While we hope you never have to file a home insurance claim, these are the seven most common types of home insurance claims people face on an everyday basis, according to data compiled by the Insurance Information Institute.
The most common home insurance claims filed yearly are those involving wind and hail. Just give it a thought. Both perils are common across the United States and not much can be done to combat them. Sure, you can put up hurricane shutters and get your wind mitigation inspection if you live along the coastline.
But hurricanes tend to damage nearly everything in their path — no matter if your home is prepared or not. And then there are tornadoes, which are far more unpredictable than hurricanes and cause extensive catastrophic damage.
When major wind storms like tornadoes and hurricanes roll through, there's almost nothing that can be done to stop them.
Hail damage is thrown into the same category because the weather conditions must be ripe to produce hail, and it oftentimes is associated with heavy wind storms.
While wind and hail damage claims are the most common, they're far from the most costly claims on average. They make up nearly 40% of all home insurance claims but the average claim filed is about $10,200.
2. Fire and Lightning Damage
As you may have guessed, fire and lightning damage are by far the most costly home insurance claims. Unfortunately, they're also one of the most common claims. Nearly 35% of home insurance claims filed are for fire and lightning damage, and each claim averages nearly $70,000.
Lightning damage typically results in fires and, whether it's a kitchen fire or entire house fire from lightning or another source, fires tend to ravage everything they touch, resulting in extensive damage and extremely costly claims.
The holiday season is a particularly busy time for home insurance fire claims, but there are many things you can do to combat the chaos and stay safe.
3. Water and Freezing Damage
Whether it's a pipe that freezes and bursts or a pipe that slowly leaks and creates extensive water and mold damage, or it's a home appliance that just can't quite find the right drain, damage from water and freezing is quite common and can be costly.
The average water and freezing home insurance claims tip the scale at around $10,000 and account for nearly 20% of all home insurance claims each year.
Besides electricity, water is the most common thing flowing through your home. It's flowing through the pipes inside your walls to your faucets, showerheads, dishwasher, clothes washer, sump pump and many other things. Again, besides electricity, water is the second-most used commodity in your home — and you probably didn't even realize it.
4. Miscellaneous Property Damage
Miscellaneous and unexpected property damage happens. It's just a part of life. It could be a tree that falls on your fence, a baseball that goes through the window (and the neighbor's kid counts it as a home run) or a wayward vehicle that makes the rounds through your garage door.
Whatever the case may be, miscellaneous property damage happens to the best of us. These kinds of claims only account for 4% of claims and total up to just under $6,000 per claim. While that can seem costly in the grand scheme of things, having home insurance makes taking care of these ordeals that much easier.
Liability claims are seemingly rare, but they are pretty costly. Both bodily injury and property damage liability claims fall into this category, which accounts for about 2% of all home insurance claims and total just over $26,000 per claim.
Yes, liability claims can be quite expensive. But a contributing factor is that many liability claims, such as dog bites, also result in lawsuits. When you add up the medical bills, court costs and lawyer fees associated with liability claims, these tend to get quite expensive quite quickly.
6. Theft and Vandalism of Property
Accounting for just about 1% of home insurance claims, theft and vandalism to homes and personal property are rather rare. They're also one of the least costly claims on record, tipping the scale at just over $4,200 per claim.
However, even though these claims do occur, they can be prevented by installing a security system in and around your home. Plus, installing a centrally monitored security system could save you money on your home insurance premiums as well.
Flood damage isn't technically considered a home insurance claim, but you'd be surprised at the number of people who try to file a flood claim with their home insurance provider. Unfortunately, flood damage isn't covered by home insurance companies. You'll have to secure a separate flood insurance policy to combat that damage.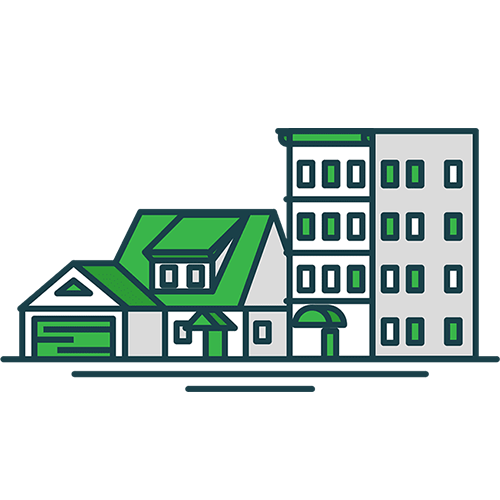 Home Protection Is Just a Click Away
We partner with the nation's top home insurance companies so you can get an excellent policy at an affordable price.
The editorial content on Clovered's website is meant to be informational material and should not be considered legal advice.
Similar Articles