Does Your Home Insurance Cover Your College Student?
Insurance 101
/
Does Your Home Insurance Cover Your College Student?
Whether you're a parent sending your kid off to college or a student who's moving out for the first time, college move-in day can be pretty hectic — and emotional.
There are so many things to consider that you'll likely forget one or two items (even if they were intentionally left out so you can visit your child, who's now a grown-up away at college, earlier than anticipated.
But the one thing you may not need to worry about is getting renters insurance. That's because college students are covered under their parents' policy in certain situations.
This is what you need to know about your child and your home insurance policy, so you can breathe easy knowing they're going to be just fine on their own.
Students and Their Parents' Homeowners Insurance
Many parents don't realize their child has renters insurance under their parents' homeowners policy while they're away at college. But there are some stipulations.
Homeowners insurance coverage usually extends to college students who are attending school full time, are under 26, were a resident of the policyholder's household before going off to college and are related to the policyholder.
Another stipulation is that homeowners coverage is the only policy that offers protection to college students who don't live at home anymore. If your student still lives at home, your homeowners, renters and condo insurance should already cover them, so they don't need their own student renters insurance.
Do You Need Renters Insurance for a College Dorm?
Many insurance companies follow the above guidelines, but some limit coverage strictly to college students living in on-campus housing, including what's referred to as dorm insurance. In this case, your college student would not need to purchase their own renters insurance coverage!
Renters Insurance for College Students in Off-Campus Apartments
Since some home insurance companies limit coverage to college students who live in on-campus housing, those students who live in unaffiliated off-campus apartments may need to purchase their own renters insurance for college students.
If the apartment is located off campus but is affiliated with the school, your insurance company may cover your student. However, it's always best to contact your agent or consult your policy documents to check if they're covered or not.
Which Home Insurance Coverage Extends to College Students?
Personal Property Coverage
Personal property coverage protects your belongings even when they're outside of your home. So it's only fair that it covers your student's belongings when they're away at college.
College students may not think they have enough possessions to need personal property coverage. But when you start thinking about a laptop, headphones, bicycle, expensive school books, clothes and that coveted mini-fridge, the money really starts to add up.
Personal Liability Coverage
Similar to personal property coverage, college students are also protected by personal liability coverage under their parents' homeowners insurance policy.
Since parties are kind of a big thing in college (while we hope your student is responsible and doesn't throw any wild ones), you can rest easy knowing that injured guests, damage to school property or lawsuits stemming from an injury are likely covered.
Medical Payments to Others
If a minor injury occurs in your students' dorm or apartment, medical payments to others is the best bet as resolving the action quickly. This coverage pays for medical bills relating to a minor injury (usually under $5,000).
This coverage can extend to your student if they accidentally injure someone outside of their living quarters and are deemed liable. But if a lawsuit occurs, that's when personal liability coverage will kick in.
What Amount of Coverage Do Students Have?
While your homeowners insurance policy may provide coverage of $80,000 in personal property, $250,000 in personal liability and $5,000 in medical payments to others, that doesn't mean your student will be covered for the same amount.
College students who aren't living with their parents are typically designated up to 10 percent personal property coverage and up to 100 percent of personal liability and medical payments to others of the policy's overall coverage.
So, if you maintained the previous coverage amounts, your student would likely only have $8,000 in personal property coverage and may only have $100,000 in personal liability coverage. It's always best to consult your insurance agent to confirm the coverage amounts before you need to use them.
While renters insurance is usually less than the cost of a single overpriced schoolbook, it's always good to save some money. And now that you know your college student is covered when they live on campus (and may be covered even if they live off campus), you can still watch over them from afar.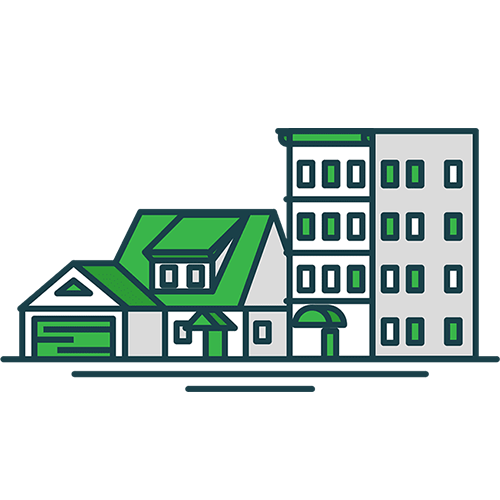 Home Protection Is Just a Click Away
We partner with the nation's top home insurance companies so you can get an excellent policy at an affordable price.
The editorial content on Clovered's website is meant to be informational material and should not be considered legal advice.
Similar Articles