Who Is Liable When a Tree Falls on a Neighbor's Property?
Insurance 101
/
Who Is Liable When a Tree Falls on a Neighbor's Property?
Trees giveth and taketh away. They make your property look spectacular and they can also damage it. If the trees on your property topple over and come crashing down on your or your neighbor's property, homeowners insurance could step in to save the day.
But insurance doesn't always step in. And whether or not it does largely depends on if the tree damages anything and whose tree fell. Let's take a look at some common scenarios of tree damage and whether or not they're covered by your policy.
Who Is Liable When a Tree Falls on a Neighbor's Property?
Whoever's property the tree was planted on and fell from is usually held liable for any damages it causes. That means liability could fall on either you, your neighbor or, if the tree fell from a property that's being rented, the landlord of either property.
If you own the property and a tree on your property falls on your neighbor's property, you'd be responsible to pay for the damages. If you're renting, your landlord would likely be responsible to cover the damages. And if your neighbor's tree fell on your property, they'd likely be liable to pay for the damages it causes.
However, there can be some debate as to who's liable if the tree was planted by a previous homeowner and toes the property line. It's always a wise idea to talk to your neighbor and try to sort things out, especially if the tree didn't cause significant damage.
Does Homeowners Insurance Cover a Tree Falling on a Neighbor's House?
If one of your trees falls on and damages your neighbor's house, unattached structures on their property or personal belongings, your homeowners insurance policy can pay to repair the damages. On the other side, your neighbor would also be financially responsible
The most common way for a tree to fall is due to a windstorm, which is more than likely to be considered a covered peril. Depending on where the tree came from and who's coverage picks up the tab, it'll also be covered under the dwelling or liability portions of your policy.
However, if the tree wasn't properly maintained, any insurance company could deny the claim altogether. They can deny claims due to improper upkeep, lack of maintenance and general negligence. So if the tree was tilting out of the ground for some time, you could be out of luck anyway.
If your own tree falls on your own home, your policy's dwelling coverage will step in to pay for the damages to your home. But if your neighbor's tree falls on your home, they'd be the ones who are responsible to pay for the damages. However, if they don't have home insurance, things can get sticky.
In the event they don't have home insurance on the property, your policy's dwelling coverage could still kick in to pay for the repairs. If things like a fence were destroyed, it would be other structures coverage kicking in. And if your personal belongings were destroyed, it would be personal property coverage kicking in.
If they own the home, they'll likely have homeowners insurance. But even if they rent the home, their landlord should have landlord insurance. In either scenario, there's no sense in paying for damages someone else is liable for. That's why they have liability coverage.
If a tree falls on a neighbor's property, whether it came from your property and damaged the neighbor's home or vice versa, the part of any home insurance policy that would likely step in to pay for the repairs is liability coverage.
Liability coverage is found in every home insurance policy, so the person who owns the property on which the tree fell from should have coverage. It's designed to pay for accidental damage caused to other people's property, among other things.
In this instance, it could pay for any damage a tree causes to a neighbor's house, structures on their property and personal belongings. Policies typically come standard with $100,000 in coverage. Unless the tree comes crashing through a neighbor's roof and damages half their home, that should likely be enough coverage to pay for the home insurance claim.
Who Is Responsible When a Neighbor's Tree Falls in Your Yard?
When a neighbor's tree falls in a yard, the person who's held legally and financially responsible would be the person who owns the property the tree fell from. The responsibility would fall on the homeowner or, if the property is rented out, the landlord.
Who Is Responsible for Fallen Tree Removal?
If a tree falls due to a covered peril and damages property, the insurance company in which the claim was filed with will likely also pay a specific amount for tree removal. However, if no damage occurred when the tree fell, insurance likely wouldn't foot the bill for removal. Instead, the property owner the tree fell from would be financially responsible.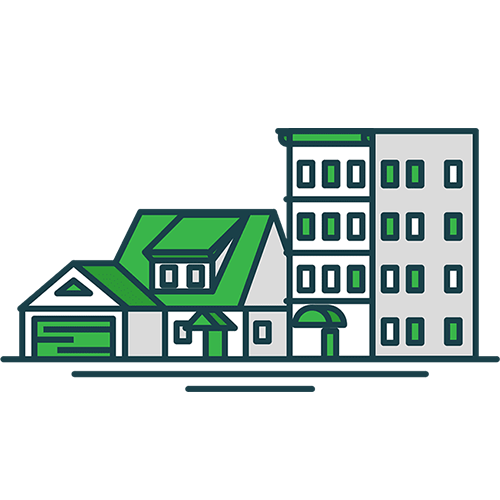 Home Protection Is Just a Click Away
We partner with the nation's top home insurance companies so you can get an excellent policy at an affordable price.
The editorial content on Clovered's website is meant to be informational material and should not be considered legal advice.
Similar Articles