Does Homeowners Insurance Cover Fences?
Homeowner
/
Does Homeowners Insurance Cover Fences?
Your fence is one of the most fragile things on your property, often being the first thing uprooted by heavy wind storms like hurricanes and tornadoes. It also seems to find a way to locate itself directly under falling trees — whether it's yours or your neighbor's tree.
But even though fences are fragile, that doesn't mean they're cheap. It's quite the opposite. An average fence that wraps around only your backyard could cost upward of $6,000 to have professionally built and installed.
After spending that much money, you're likely wondering if homeowners insurance covers your fence. Let's take a look at the many different scenarios of fence damage and if your homeowners policy will be there to help you get through it.
Does Homeowners Insurance Cover Fences?
Yes, homeowners insurance covers damage or destruction to your fence under the other structures coverage portion of your policy. This coverage extends to a number of covered perils like hurricane and tornado damage, vandalism, fire or smoke, rioting and civil disturbances, lightning and even some objects falling from the sky.
Other Structures Coverage for Fences
The other structures coverage portion of your homeowners insurance policy helps protect structures on your property that aren't connected with the actual build of your home.
While many homeowners insurance claims that involve other structures coverage are related to fence damage, this portion of your policy is also responsible for covering things like sheds, gazebos, swimming pools, detached garages, carports and even a treehouse you built for your kids — or for yourself.
The amount of other structures coverage you have in your homeowners policy is typically directly correlated to the amount of dwelling coverage you have. Other structures coverage is usually defaulted at around 10% of your dwelling coverage.
So if you carry $200,000 in dwelling coverage to protect your home's structure, the 10% default would give you $20,000 in other structures coverage. This policy maximum can usually be increased or decreased based on the actual amount of insurance you need.
The $20,000 — or whatever your policy maximum is — would cover any other structure that's damaged up to that policy maximum. If you sustain more than $20,000 in damage to things like your fence, shed or detached garage, you'd be stuck paying for the remainder out of your own pocket.
Commonly Covered Perils for Fence Damage
The covered perils under your homeowners insurance policy depend on what type of policy you have. Under an HO-1 policy, which is a named-peril policy, you'll have coverage for vandalism, theft, damage caused by vehicles and airplanes, rioting or civil disturbances, fire or smoke, lightning, wind or hail storms, explosions and volcanic eruptions.
If you have an HO-2 policy, you'll be covered for all of the previous perils plus damage caused by snow, ice, sleet and electrical currents, as well as a few other perils. One thing you may or may not have coverage for is if your neighbor is the one who's at fault. So let's take a look at that unfortunate scenario.
What Happens if Your Neighbor Is at Fault?
Things can get a bit trickier if your fence is damaged by your neighbor while they're cutting down a tree, doing landscaping or something else. While your homeowners insurance policy should still cover your fence if your neighbor is at fault, you probably wouldn't want to file a claim under your policy.
If they have any form of home insurance, including a renters policy if they're tenants, their policy will pay for the damage to repair your fence. If they don't want to get their insurance involved, they'd still be liable to pay for the repairs themselves.
However, if they don't have home insurance and can't afford to pay for the damage, you could always file a home insurance claim with your own policy to reimburse you for the damages. But that may not be wise because it'll count as a claim against your policy and may increase your homeowners insurance premiums over time.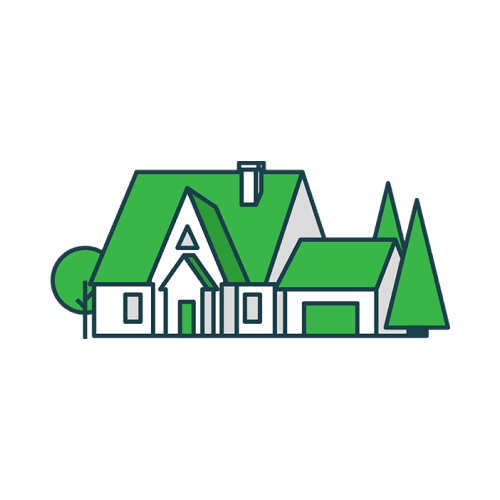 It's Time to Switch Your Homeowners Insurance
We partner with the nation's top homeowners insurance companies so you can get a custom policy at an affordable price.
The editorial content on Clovered's website is meant to be informational material and should not be considered legal advice.
Similar Articles