Does Car Insurance Cover Pothole Damage?
Auto
/
Does Car Insurance Cover Pothole Damage?
In short, potholes are caused by traffic and water. Melting snow or rain seeps through tiny cracks in pavement and accumulates underneath. If it can't drain, repeated freezing and thawing of the trapped water lifts and bends the pavement from underneath. The pressure of traffic from above weakens the road further until it eventually gives way into the space caused by the water underneath it.
Potholes can cause serious damage to unsuspecting cars and serious headaches for unfortunate drivers. But, you may be relieved to hear that car insurance should cover pothole damage in many cases. And, if it doesn't, you may be able to receive reimbursement through other means.
Keep reading to find out more information on pothole damage insurance claims and how to tell if a pothole damaged your car.
Is Pothole Damage Covered by Insurance?
Car insurance can cover pothole damage as long as you have collision coverage. Collision coverage is a common element of full coverage. Most drivers on the road have some form of full coverage, and if you've financed your car, you're required to have it.
To legally drive, you must carry your state's minimum mandated amount of liability insurance. Liability coverage looks out for other drivers on the road by putting you (i.e., your insurance company) on the hook for bodily injury or property damage you cause to others in a crash.
The government doesn't require full coverage, but lenders will make you maintain it over the life of your lease or payment cycle if you've financed your car. Full coverage consists of protection for your vehicle in an accident. This includes comprehensive coverage if your car gets damaged while not being driven, including from things like theft, vandalism, or mother nature.
It also includes collision coverage, which covers repairs to your vehicle after an accident, regardless of who's at fault. This includes single-car accidents, like if you collide with a tree, mailbox, or telephone pole on your own. Typically, hitting a pothole also falls under collision coverage.
How to Tell If a Pothole Damaged Your Car
Potholes can cause significant damage to your steering, suspension, alignment, tires, and more. If you can catch signs of pothole damage promptly, you can get it inspected by a mechanic to determine the extent of the repairs before turning to your insurer.
Getting multiple estimates isn't a bad idea. You should be sure that the suspected damage is greater than your auto insurance deductible since your carrier won't cover repairs if they cost less than your deductible.
Signs of pothole damage include:
Bulging or bubbling tire sidewalls

Missing hubcap

Visible rim or tire damage

Car pulling to one side while driving

Steering wheel vibrations

Weird noises coming from car or exhaust
If you see signs of pothole damage right after running over one, you should take pictures of the damage and the pothole as soon as possible. You should also note when and where it happened. The more information you have for a potential car insurance claim, the better. It will help the process go smoothly for you and your provider.
Is Hitting a Pothole an At-Fault Accident?
Car insurance companies tend to consider hitting a pothole an at-fault accident unless you have clear evidence that someone or something else (like another car) caused you to hit the pothole.
While hitting one pothole probably won't affect your premiums, at-fault accidents are more likely to raise your rates in the future.
It may seem tough, but hitting a pothole is usually more your responsibility than anyone else's. As a driver, you're responsible for observing the roads and being cautious and aware. And, it falls well under the umbrella of collision coverage as a single-vehicle accident.
Tips for Pothole Damage Insurance Claims
To avoid pothole insurance claims, drive extra cautiously during and after severe weather, namely snow or ice storms. Note if pothole damage to your car exceeds your deductible. And, if you don't want to deal with your insurance company, know that you can file a claim for pothole damage reimbursement from your local government in some cases.
Repeated snow and ice increase the chances of potholes in the road. You may want to drive more slowly on the road after your area has experienced a lot of winter weather. Keep a distance from the car in front of you and watch for puddles. Make sure your tires are properly inflated and your windshield is clear so you can see.
As we touched on earlier, if you do suffer pothole damage, recognize if it's eligible to be covered by your auto insurer. If the damage amounts to less than your deductible, you'll have to pay out of pocket.
Your deductible is the amount you pay when filing a claim before your provider steps in to cover the rest of the bill. But, if the pothole damage to your vehicle is lower than your deductible, your carrier won't have anything to pay. Common car insurance deductibles are $500 or $1,000.
How to Get Reimbursed Without Pothole Insurance Coverage
If you don't want to invoke your car insurance for some reason, know that you can file a pothole damage claim with the city, county, or state in some cases. When hitting a pothole on a government-owned road, the relevant municipality might be liable for damage the pothole causes if they fail to maintain their street properly.
Government reimbursement for poor road conditions varies by location. In some places, the process may be more straightforward than in others. But, if you believe the government was negligent in their road maintenance, as in they knew about a dangerous pothole and didn't do anything about it, you may be able to get reimbursement from them.
Look up pothole damage reimbursement as it relates to your city or state and see what recourse you have. For example, here is the North Carolina state pothole claim page and the Atlanta resource for pothole tire damage and more in that city.
Getting refunded from the government might take a while, so you'll probably have to pay out of pocket for the repairs initially, then receive pothole damage reimbursement from them later on.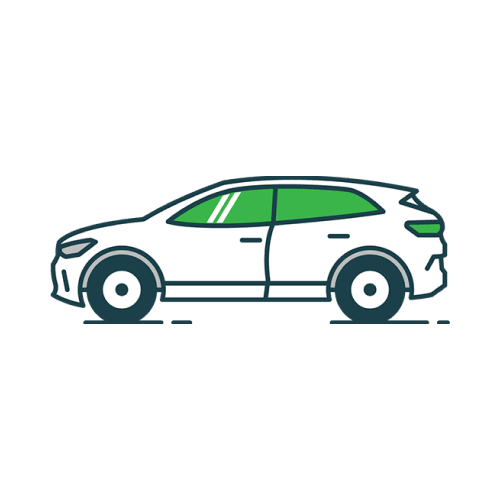 Ready to Save Money on Auto Insurance?
Rethink your auto insurance premium with a free quote from the nation's top companies.
The editorial content on Clovered's website is meant to be informational material and should not be considered legal advice.
Similar Articles