What You Can Expect After Filing a Home Insurance Claim
Insurance 101
/
What You Can Expect After Filing a Home Insurance Claim
Filing a Home Insurance Claim
When filing a home insurance claim, you'll need to take 5 steps into account to set yourself up for the greatest chance at success. While there may be some push and pull between the steps, and every step may not pertain to you, these are the six steps you should take when filing a home insurance claim.
Document and Protect Your Property

Initiate the Claim with Your Insurance Provider

Schedule Time with Your Home Insurance Adjuster

Consider Moving out of Your Home Prior to Repairing the Damage

Close the Claim
After documenting the damaged or destroyed property, protecting the rest of it and filing a claim with your home insurance company, you'll be assigned an insurance adjuster to help you through the claims process.
Working With Your Adjuster
The home insurance adjuster is the official liaison between your insurance company and the claim you filed. Typically, the home insurance adjuster is tasked with documenting the extent of damage that your home and property have sustained and reporting it back to the insurance company as a part of the claims process.
While your top priority may be your own home, it's important to recognize that your adjuster may be dealing with multiple cases at once. If the damage to your home is the result of a natural disaster, their workload may be even more intense because many other homeowners in the area are likely filing similar claims.
It's not uncommon for the property damage insurance claims process to take between 18 and 24 months from start to finish. Don't be shy about following up with your adjuster, asking questions when you're confused and documenting all of your communication along the way.
Understanding How Claims are Paid
Knowing what to expect from your adjuster can make your expectations about the process far more reasonable. But understanding how claims are paid is likely what you're really after. Here are a few ways your home insurance claim might be paid and what they mean for you.
Getting Reimbursed for Your Claim
Your home insurance won't just write a check for you to spend willy nilly. You'll have to prove you actually made those repairhttps://clovered.com/what-is-loss-of-use-coverage/" target="_blank" rel="noopener">forced to temporarily move out of your home.
These expenses are things like a hotel or rental property of equivalent value, extra tolls and gas due to a longer commute, pet boarding because you couldn't bring your furry friend with you and so much more. But you'll have to pay for these things upfront and submit the receipts to your insurer to qualify for this coverage.
Approving Contractors for Repairs
In order to have damages covered to their total amount, your insurance provider may require you to seek estimates from their approved contractors.
While you can get estimates from your own contractors that may be higher or lower than the provided estimates, insurance companies typically have appointed excellent contractors that do quality business.
While you may have a friend who's a licensed contractor and willing to strike a discount for the work, that doesn't mean you'll get the extra money deposited into your pocket. Making sure you get proper estimates for the work, especially if you live in an older or historic home where it may be tough to find replacement pieces, is a pivotal part of the claims process.
Piecing Your Life Back Together
The last step of the home insurance claims process is often the most undervalued. Piecing your life back together after a claim can be tough, especially if it was a substantial claim due to significant damage.
But knowing about certain disaster relief programs, having an adjuster who understands and getting your life back to normal are crucial pieces of the claims process.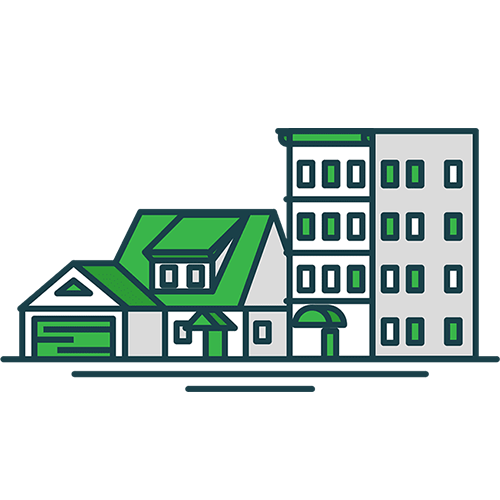 Home Protection Is Just a Click Away
We partner with the nation's top home insurance companies so you can get an excellent policy at an affordable price.
The editorial content on Clovered's website is meant to be informational material and should not be considered legal advice.
Similar Articles