Does Renters Insurance Cover Fire Damage?
Renter
/
Does Renters Insurance Cover Fire Damage?
Fire damage is one of the most commonly covered perils under a renters insurance policy, along with theft and water damage. Your renters insurance should cover many cases of fire damage. But what exactly is covered, and how will you get reimbursed? Let's take a look.
How Does Renters Insurance Cover Fire?
Your renters insurance should cover damage to your personal property if it was caused by a fire. Many instances of fire damage are covered, and you should be protected whether the fire originated from your place or from somewhere else. Most cases of smoke damage are also covered.
Some instances of fire damage that should be covered include electrical fires, stove fires, a cigarette igniting your place, or a candle left burning too long. External fires like a wildfire or a fire in your neighbor's place that wrecks your stuff should also be covered.
You're protected from most instances of fire as long as they were sudden or accidental. If you intentionally started the fire, your insurer won't help you.
Three areas of your renters insurance plan could help you out in case of a fire: personal property protection, liability protection, and loss of use coverage.
Personal Property Protection
Renters insurance is designed to protect your belongings. If your stuff gets burned in a fire, your provider should reimburse you up to your policy's limits. This includes your furniture, television, clothes, art, jewelry, computer and whatever else you own.
How exactly your insurance company reimburses you depends on your plan, though. You can have actual cash value coverage or replacement cost coverage for your personal belongings. If you have replacement cost coverage on your renters insurance, your insurer will pay you exactly what you paid for the damaged item after it was damaged.
If you have actual cash value, your insurer will pay you what the item was worth, minus depreciation. How providers factor depreciation varies by company, but the older the item is, the less you'll get paid for it.
When choosing a renters insurance policy, you'll usually have the option to get actual cash value or replacement cost coverage. Since replacement cost pays out more, it's typically the more costly of the two.
Even with replacement cost, your insurer could still put limits on how much you can receive for some individual items. For example, some very expensive jewelry or electronics may only be covered up to a few thousand dollars instead of their whole worth.
Your renters insurance also contains liability coverage that can come into play. For example, if you mistakenly caused a fire that injured someone else, your renters insurance could cover some of their medical and legal costs. 
Or, if the fire causes property damage to your neighbor's apartment unit or house, your renters policy liability protection could pay for some of their property damage if they pursue damages from you. Again, this is predicated on the fire being accidental. 
If a fire renders your apartment or house uninhabitable, your renters insurance would cover the expenses associated with staying somewhere else temporarily as long as you have loss of use coverage in your plan.
The loss of use section of your policy, also called additional living expenses, would cover costs if you had to move out of your rental due to a fire. Your provider should reimburse you for a hotel stay, food, gas, groceries and more up to your policy's limits while you're out of your home. 
Does Renters Insurance Cover Fire Damage to the Apartment or Building?
Remember, renters insurance is designed to protect your belongings. It includes very little coverage for the structure of the dwelling you're in since you don't actually own the property. So, if a fire damages the exterior or structure of your rental, like the patio, windows, roof, ceiling, or floor, but spares all of your stuff, you can't turn to your renters policy looking for home repairs.
But, if you cause a fire that damages the property or injures someone, as mentioned earlier, your landlord or their insurance company could pursue you for compensation, in which case the liability coverage of your renters insurance could help you out.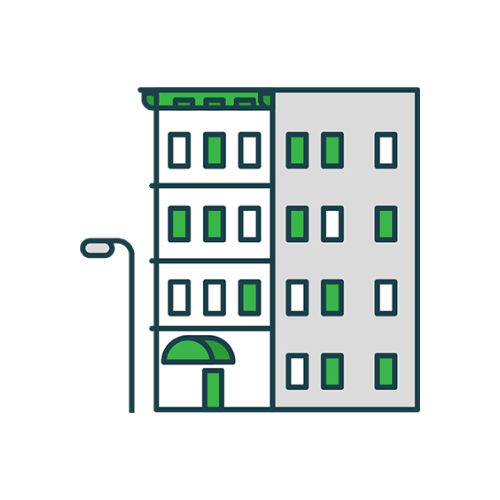 Protect Your Belongings With Renters Insurance
Averaging just $12 per month, renters insurance can protect your belongings for the cost of a few cups of coffee.
The editorial content on Clovered's website is meant to be informational material and should not be considered legal advice.
Similar Articles