Understanding Homeowners Insurance vs Renters Insurance
Insurance 101
/
Understanding Homeowners Insurance vs Renters Insurance
On the surface, it seems simple: Homeowners insurance is for homeowners, and renters insurance is for renters. But what actually makes the two different? Why is the one suited for homeowners while the other is suited for renters?
There are other questions that might be hard to answer on your own, too. For instance, if you're renting a house, do you need home or renters insurance? Are there any cases when you might need both? We'll explore the answers to these questions and more.
What's the Difference Between Homeowners Insurance and Renters Insurance?
The big difference between homeowners and renters insurance is the scope of coverage each provides. Homeowners insurance covers the dwelling, meaning the structure of the home itself, while renters insurance doesn't. That's because when you own a home, the whole building is your responsibility to repair or replace if it's damaged. A renter, whether renting a house or an apartment, is only responsible for repairing or replacing their own belongings, not the building itself.
So, those are the differences, but homeowners and renters insurance have a lot in common, too. They both cover your personal property, such as furniture, clothing, electronics, and other belongings. They also include liability coverage, which helps pay for medical and legal expenses if a guest gets hurt on your rented or owned property, resulting in a doctor visit and/or a lawsuit.
The following table shows a quick comparison of homeowners and renters insurance. Follow the links to learn more about each type of coverage.
Homeowners Insurance vs. Renters Insurance Cost
It's important to note that the average costs given above are just that – averages. The actual cost of insurance varies by hundreds of dollars across state lines and for homes of different types and sizes. The only way to know how much homeowners or renters insurance would cost for you is to get a quote from an insurance agency or provider.
Is Renters Insurance Cheaper Than Homeowners Insurance?
Yes, renters insurance is cheaper than homeowners insurance by a lot. But that doesn't necessarily mean that renters insurance is always cheap, per se. In some states, the average cost of renters insurance is more than $300 per year. And if you own a lot of valuable property, you might need more than the average amount of coverage, which would add more to your costs.
Contents Insurance vs. Renters Insurance
Knowing the difference between contents insurance and renters insurance is another thing that might help you while you're searching for the right kind of policy for you.
Contents insurance, aka home contents insurance, covers all the contents of a particular home or property, no matter who they belong to. So, this kind of policy would cover your (the renter's) belongings in your house or apartment as well as anything the landlord keeps on the property, such as a lawn mower or other maintenance tools. But that's all contents insurance is good for. It doesn't provide any liability, loss of use, or medical payments coverage.
Renters insurance, on the other hand, only covers the property that belongs to tenants of the insured house or apartment. It protects you, the renter, in a lot more ways than contents insurance, though, because it does cover liability, loss of use, and medical payments.
Contents insurance for renters isn't the best idea because it leaves you totally unprotected in the event that someone gets injured on your property. If you're going to pay for an insurance policy, we highly recommend renters insurance over contents insurance to make sure you're fully covered.
Can You Have Homeowners Insurance and Renters Insurance?
Yes, you can have both homeowners and renters insurance at the same time. But adding renters insurance to a homeowners policy is only necessary if you own one property and rent another. There's absolutely no reason to pay for both types of insurance on the same property.
For example, let's say you own your home, but you also rent an apartment in your name for your adult child. In this case, you would need homeowners insurance for your home and renters insurance for the apartment. You may be able to bundle the homeowners and renters insurance together to save on premiums for both.
Does Homeowners Insurance Cover Renters?
No, most homeowners insurance policies don't cover renters. There's a different type of insurance, called landlord insurance or rental property insurance, to cover the structure of a home that's being rented to a tenant outside of the homeowner's household.
The difference between rental property insurance and homeowners insurance is that with homeowners insurance, the person insured on a policy lives in the home. With rental property insurance, the person insured on the policy – the owner of the home – doesn't live in the home.
Different insurance providers have their own rules about this kind of scenario, so you'll have to contact your insurance agent or insurer for details.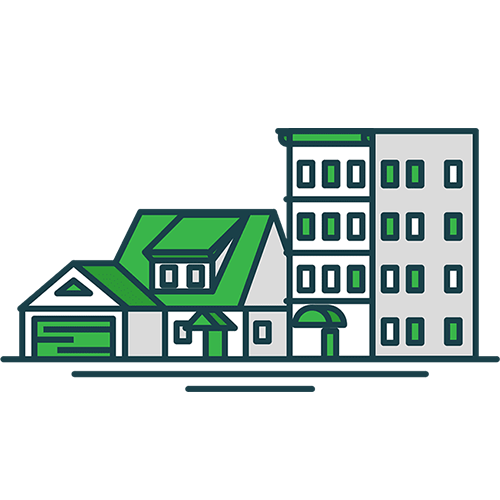 Home Protection Is Just a Click Away
We partner with the nation's top home insurance companies so you can get an excellent policy at an affordable price.
The editorial content on Clovered's website is meant to be informational material and should not be considered legal advice.
Similar Articles