10 Bits of Information Needed for a Home Insurance Quote
Insurance 101
/
10 Bits of Information Needed for a Home Insurance Quote
If you don't know anything about home insurance, getting a policy may seem like a daunting task to undertake. You just may know that you need it and that's all. Well, getting home insurance is actually pretty simple. There are a few things you'll need to know before you start to make getting a quote an easy process.
What Is a Home Insurance Quote?
Information Needed for a Home Insurance Quote
1. Type of Property You Live In
The type of property you live in is crucial because it determines what type of home insurance you need. Depending on your situation (whether you're renting, buying or becoming a landlord), you'll need to purchase homeowners, renters, condo or landlord insurance.
It may seem a little bit complicated at first, but at Clovered, we'll automatically pair you with one of these policies when you enter the questions into our quoting engine.
2. Your Role at the Property
Are you the owner of the property? Do you own the property but don't live there full time? Are you renting from someone who owns the property? Are you living with or married to the owner of the property?
All of these home insurance questions will have different outcomes as to which home insurance policy you receive. But don't worry, this is one of the easiest questions on the list. Simply state your role and we'll do the rest.
To properly pair you with a home insurance quote that fits your needs, any online quoting engine or insurance agent will need your full name, phone number, email and property address. Don't worry, your information is safe and secure with us.
4. Background Information
Things like past bankruptcies, foreclosures and criminal history actually have a pretty large impact on your home insurance future because they're deemed as risks by the insurance industry. If you've filed for bankruptcy in the past, it may signal a risk of non-payment to insurance companies and mortgage lenders.
One really big impacted area is whether or not you've filed a lawsuit against an insurance company in the past. Filing a lawsuit against an insurance company (whether it was auto, health or another industry) can actually have a strong correlation between a home insurance company deeming you to be too high a risk or helping you with a policy.
Have you ever filed a home insurance claim before? If so, your prospective home insurance company will likely need to know all about it. Knowing a person's claims history can help to spot people who seek to abuse the system or it can spot a home or person that may be too risky to insure.
6. Animals on the Premises
The same goes for non-domesticated animals and exotic pets, such as reptiles, with a tendency to cause harm to people or the home. For instance, if you have a pond full of alligators on your property, that's usually a red flag for home insurance companies (and maybe even some neighbors).
7. Home's Construction Information
There are certain pieces of crucial information about your home that insurance companies will need to know before writing a policy. These include the year your home was built, its square footage, number of levels, if you have a basement and the types of foundation (open, slab, crawl space, etc.), construction (frame, masonry, etc.) and roofing (aluminum, tiles, shingles, etc.)
These aspects of your home are extremely important because it lets home insurers know if there are certain parts of your home that are outdated or if it will cost an arm and a leg to repair or replace your home if a loss were to occur.
8. The Year Your Home's Systems Were Built or Replaced
Back in the early- to mid-1900s, lowering the cost to build a home sometimes outweighed the safety of a home. So if your home is filled with outdated systems, it's more likely to be involved in a home insurance claim. With more risk comes fewer companies that will offer you insurance.
The same can be said about a roof's age and type. A home with a 35-year-old roof will certainly carry much more risk than a 5-year-old roof. So always look into the roof replacement year before buying a home.
9. Home Safety Discount Info
Here comes the fun. Let's talk about getting you some discounts because it's really easy to do. Safety features in your home like centrally monitored burglar and fire alarms can get you some pretty decent discounts on your home insurance premium.
A hip roof can help to reduce the amount of wind pressure put on your home and impact-resistant windows and doors can stand up to the rigors of high-powered winds. Each should get you a discount on your premiums, but you'll need to know which elements your home has.
How much did your home cost to build or buy? How much would it cost to repair or replace? How much coverage do you need for your home, personal belongings and other structures on your property? For homeowners, each of these factors will affect the amount of coverage you need and the price you'll pay.
Getting a home insurance quote online is easy, fast and free with Clovered. Just put the previous information into our quoting tool and we'll do the rest.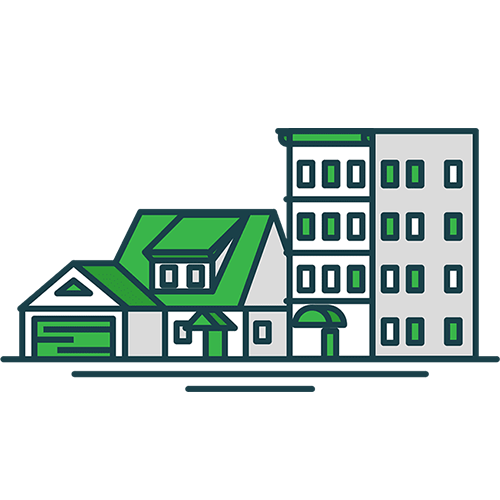 Home Protection Is Just a Click Away
We partner with the nation's top home insurance companies so you can get an excellent policy at an affordable price.
The editorial content on Clovered's website is meant to be informational material and should not be considered legal advice.
Similar Articles
5 Min Read