Does Getting Home Insurance Quotes Affect Your Credit?
Homeowner
/
Does Getting Home Insurance Quotes Affect Your Credit?
You've probably heard bad things about getting your credit pulled. Indeed, it's not always a good thing. But, it's important to understand the difference between a hard credit pull and a soft credit pull, and why you don't have anything to worry about if a home insurance company wants to check your credit.
Read on to learn how home insurance companies use your credit, and how getting quotes isn't bad for your score.
Does Getting Home Insurance Quotes Affect Credit?
No, getting home insurance quotes won't hurt or affect your credit at all. You can get as many quotes as you want without any negative impact on your credit because insurers do a soft pull of your information that won't show up to lenders. Only hard credit pulls affect your credit score.
Homeowners insurers often check your credit before giving you a policy because they believe it's an indicator of your ability to pay your premiums on time. Also, people with lower credit scores are more likely to file claims. More on that later, though.
So, when you're getting home insurance quotes, a carrier may check your credit to get the most accurate prediction of your premium possible. When this happens, insurers are doing a "soft pull" of your credit information. Soft pulls don't affect your credit because there's no actual money exchanging hands or being lent. It's for background or informational purposes.
There are two types of credit checks: hard inquiries and soft inquiries. Hard credit checks are done by financial institutions before a lending decision. An example of a hard pull would be one done by a mortgage lender before a home loan or one by a credit card company for a new credit card. Hard credit pulls affect your credit because they indicate you're trying to borrow money. Other lenders will be able to see when you tried to get more credit.
Soft credit checks occur when you're not asking for money. Getting insurance quotes is one example. Background checks for employment could be another instance when you get a soft credit pull.
Since you can get as many insurance quotes as you want without buying a policy, an insurance company's soft pull of your credit won't affect your credit score. Soft pulls may show up when you check your credit personally, but they won't be visible to lenders.
When shopping for homeowners insurance, it's encouraged that you get multiple quotes. The only way to know you're getting the best deal is to compare your options from several companies. Your credit won't be affected regardless of how many quotes you receive.
Homeowners Insurance and Credit Score
Generally, having a high credit score is better for your homeowners insurance rates than having a low credit score. It indicates you have good lending and repayment practices, which is favorable to your insurer. And, having a high credit score is also indicative of having a high credit-based insurance score, which often directly impacts your premium.
Even though insurers look at your credit score, they may not use it directly. Many Insurance companies use something called a credit-based insurance score (CBI) that's derived from your credit score to create a number more geared towards assessing your risk of potentially filing a claim.
Credit-Based Insurance Scores
A credit-based insurance score is affected by the same factors that your credit score is, but the number is usually different since the formula to create it is a bit different. For example, credit scores usually range from about 300 to 850. Credit-based insurance scores can range from anywhere between 200 to just under a thousand.
A credit-based insurance score is calculated by weighing your outstanding debts, length of credit history, timely repayment history, and a few other things. Every insurer has a different way of calculating a CBI, meaning it's not very useful to know yours since it'll vary from company to company. As a result, carriers typically don't have a way for you to check your CBI.
But, the good news is having a high credit score usually means you have a higher CBI. Thus, if you have good credit, you shouldn't have anything to worry about.
If you have bad credit, you probably have a lower CBI, which means you're more likely to have a higher homeowners insurance rate. Carriers believe that those with a bad CBI are more likely to file a claim.
Not everyone has to worry about credit-based insurance scores, though. Some states have banned companies from using them to determine premiums. California, Maryland, Massachusetts, and Michigan have made efforts to restrict or ban the use of credit scores in determining homeowners rates or getting a home insurance policy.
If you live in a state where insurers are allowed to consider your credit score, it's important to remember that your credit is just one of many factors. You won't be denied purely off of the information in your credit report. And, the ways you would improve your credit score are largely the same ways you'd improve your credit-based insurance score.
So, making payments on time, paying down long-standing debts, and limiting hard credit checks will improve both measures over time, and can eventually help lead to lower home insurance rates.
Are There Homeowners Insurance Companies That Do Not Check Credit?
The companies that use credit-based insurance scores, and the extent to which they use them, vary by state. If you have bad credit, your best bet to find affordable homeowners insurance is to diligently shop around and compare rates.
As mentioned previously, a handful of states have outlawed or restricted the use of credit scores in home insurance premiums. You may still be in luck even if you don't live in one of these states. For example, although it's a few years old, this article states that seven insurance companies in Florida, including Citizens, don't use credit scoring.
A qualified insurance agent may be able to find you a carrier that doesn't heavily weigh or even consider your credit when determining premiums. Also, some insurers may only consider your credit to see what discounts you qualify for, and they won't use it against you if your score is low.
Like we said, though, one of the best ways to verify you're getting the best deal on homeowners insurance is to compare quotes from multiple providers. That way, you can see side-by-side how one company's coverage, limits, and rates stack up against another's.
At Clovered, we make this easy. Our online quoting tool is designed to help you find the coverage you need at the price you want. And, our licensed agents are always there to help you out if you need it.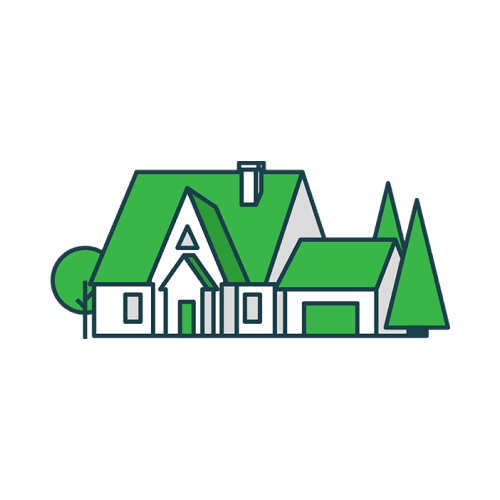 It's Time to Switch Your Homeowners Insurance
We partner with the nation's top homeowners insurance companies so you can get a custom policy at an affordable price.
The editorial content on Clovered's website is meant to be informational material and should not be considered legal advice.
Similar Articles