Flood
/
How Much Is Flood Insurance in Florida?
How Much Is Flood Insurance in Florida?
12
Florida can be a coastal paradise known for its beaches and sunny weather. But, the pros come with some cons. The seasonal threat of devastating hurricanes, consistent year-round rainfall, and powerful tides can cause flooding to many properties.
Due to the great potential for flooding, Florida has more flood insurance policies in force through the National Flood Insurance Program (NFIP) than any other state. The NFIP has also paid out more money for claims in Florida recently than in any other state, over $297,288,516 worth, according to their reports from the latest fiscal year.
How Much Is Flood Insurance in Florida?
The NFIP is operated by the government, so it was able to keep costs low and run at a net loss to provide a relatively affordable option for everyone. But, private flood insurers have sprung up as technology has improved over the years to form a much more competitive flood insurance market today. The NFIP is still incredibly popular in Florida, though.
What Affects the Cost of Flood Insurance in Florida?
Here's a look at some of the most important contributing factors that will affect the cost of flood insurance policies in Florida:
A key factor in determining your rate is the elevation of your house. Whether you know it or not, your local government typically has a flood elevation certificate for your property.
The NFIP looks at this document to determine how high your house is compared to how high potential floodwaters would be if your property flooded. This is called your home's Base Flood Elevation (BFE).
Generally, the higher your house is above the BFE, the less you'll pay for flood insurance since your home has less of a chance of getting damaged by floodwaters.
The Deductible and Coverage You Choose
The NFIP has strict policy limits of $250,000 worth of dwelling coverage and $100,000 of personal property coverage. If you want this maximum coverage, you'll likely pay more than someone who only needs $100,000 of dwelling protection and $25,000 of personal property coverage.
Private flood insurers offer higher policy limits, which can come in handy, but know that the more coverage you need, the more you'll pay. Private companies can offer limits north of $1 million for both the structure of your house and your belongings.
Your deductible also plays a role in your premium. When getting quotes, you choose the deductible you want to pay. With the NFIP, it'll likely be $1,000 or $1,250, but with private insurers, you can choose a much higher one. Some companies offer deductibles of tens of thousands of dollars. Generally, the higher deductible you choose, the lower your premium will be since, with a higher deductible, you're electing to cover more costs out of your pocket.
The Federal Emergency Management Agency (FEMA) is responsible for the NFIP. To determine flood rates across the country, FEMA creates flood zone maps for every section of every state. The flood zones are organized by their risk, which is the chance a zone experiences floodwaters in a given year.
You can imagine how maintaining accurate flood maps for the whole country could be an enormous job. As a result, many of FEMA's maps are out of date, and the zones are changing fairly regularly. Be sure to keep track of changes to your flood zone, which you can do on FEMA's website. Your local city or county website will likely have information about flood insurance and zones, too.
The Cost of Flood Insurance in Florida Flood Insurance Zone X
According to FEMA, zone X is a low-risk flood zone. Flood insurance won't be mandated by your mortgage lender in this area. In this zone, you're more likely to pay closer to the state average of around $500 for flood insurance yearly. Again, this depends on the factors we mentioned above, though.
Unsurprisingly, flood zone X is more prevalent in inland areas of Florida and properties away from any bodies of water. The NFIP has over 500,000 active flood policies in X flood zones in Florida.
The Cost of Flood Insurance in Florida Flood Zone AE
Zone AE is a common high-risk zone in Florida. Flood insurance in an AE flood zone will almost always cost more than a similar policy in an X flood zone. You'll likely be playing more than $1,000 a month for a policy in an AE flood zone, although it depends on the factors mentioned above. If you have a mortgage on your house in this zone, a lender will require you to get a flood policy.
Properties right along the Atlantic and Gulf coasts are likely in AE flood zones, as well as properties along rivers and the Intracoastal. Also, almost all of the Florida Keys are in a VE or AE zone.
How to Get Florida Flood Insurance Quotes
Clovered allows you to get a policy through the NFIP or a private insurer. To get a Florida flood insurance quote, you'll need some information about the building you want to be covered and any past flood claims you've filed. We partner with some of the country's top flood insurance providers so we increase the chances of finding coverage that suits you best.
In addition to higher policy limits, private insurers can offer replacement cost coverage for your things, which the NFIP can't, and private companies have a shorter waiting period for a policy. With the NFIP, you must wait 30 days after buying for your policy to kick in. This may not be the case with a private insurer. Keep this in mind when getting a quote for flood insurance in Florida.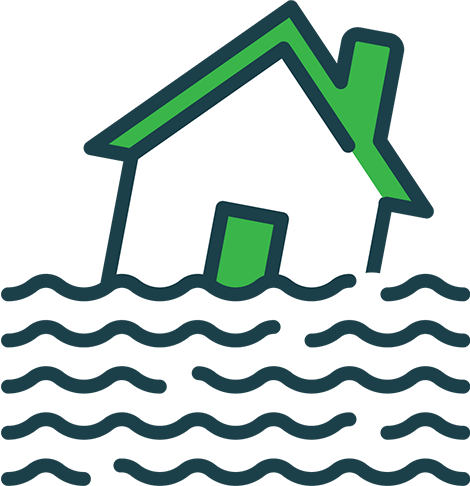 Stay Above Water With Flood Insurance
Do you want to pay for costly and common flood damage yourself or have an insurance policy pick up the tab?
Similar Articles