Insurance 101
/
What Is a Policyholder?
When you're reading about insurance, you'll find a ton of jargon words thrown around as if everyone knows what they mean. One of the most common and important of those is "policyholder." If you're new to the insurance game, read on to learn what a policyholder is and what it means for your insurance coverage. 
In insurance, the policyholder is the person who actually owns an insurance policy. They are the person who purchases the policy in the first place and pays the premiums. They're also the only person (or people, if there's more than one policyholder) who can make adjustments to the policy or cancel it.
While the policyholder is essentially in charge of the insurance policy, they're not the only person covered by it. Other people in the policyholder's household – a spouse or child, for example – can be included in insurance coverage without being specifically named on paper. These other insureds just don't have the power to adjust the policy. 
Read on to learn more about policyholders and the other types of people included in an insurance policy. 
Who Is the Policyholder on Your Insurance?
The policyholder's name is on your insurance's declaration page (the first page of the policy that outlines your coverage). This goes for homeowners, auto, renters, and any other kind of insurance policy. 
On homeowners insurance, the person who owns the home will be the insurance policyholder. For auto insurance, it's the owner of the vehicle. For renters, it's the person whose name is on the rental agreement. If you own your own business, you or the business itself may be listed as the policyholder.
If you're legally married, and you and your spouse own your home or vehicle together, you may both be listed as policyholders on the declaration page. Usually, you'll only see multiple policyholders in the case of a married couple.
Other people besides the policyholder can be included in an insurance policy without being named specifically. But of course, since insurance policies are almost never laid out in laymen's terms, the paperwork isn't going to use the word "people." 
To help you figure out what the heck your policy is talking about, here are the technical terms used to describe the different categories of people covered by your insurance. 
The named insured is the same as the policyholder. This is the person (or people) whose name appears on the declaration page. 
Anyone else who is automatically included in your insurance policy without being specifically named is known as an "insured." Your insurance coverage applies to insureds just like it applies to you, but they don't own the policy and can't make changes to it. 
Most homeowners and renters insurance policies automatically include the following people as insureds:
Immediate relatives (spouses, children, siblings, parents, or grandparents) of the policyholder who live with the policyholder 

Any minors under the care of the policyholder or under the care of one of the policyholder's relatives in the household 

Children who are away at college

, as long as the insured home is still their official permanent residence, they're full-time students, and they're under the age of 24 
Anyone else who lives with the policyholder – a roommate, boyfriend or girlfriend, cousin, etc. – is not automatically covered by most insurance policies. They must be added as additional insureds to receive coverage. 
You can choose to add extra people to your insurance who aren't automatically covered. These extra people that you list on your insurance policy are known as "additional insureds." You might add a roommate or an aunt who lives with you as an additional insured to your home or renters insurance. 
It's important to know that car insurance is different from home and renters insurance. Most of the time, your auto insurance policy doesn't automatically include anyone other than the policyholder. You'll have to add anyone who regularly drives your car, including your spouse and children, as listed drivers on your auto insurance policy in order for them to be covered.
Whether we're talking about home, renters, or auto insurance, adding extra people usually increases your premium. Basically, the more people you add to your insurance, the more you'll have to pay. 
Can Your Insurance Change Policyholders?
In some cases, it's possible to transfer an insurance policy from one person to another. Ask your insurance company to help you through the process of switching. 
Some situations when you would be able to switch policyholders include:
Selling your car:

You can usually transfer your insurance policy to the new owner of the car temporarily so they can drive the car before they get a policy in their own name. 

Switch to someone else in your household:

If another member of your household – such as your spouse, domestic partner, or roommate – wants to take over responsibility for the insurance bills, you may be able to transfer your policy to their name. 

A policyholder dies:

If the person who was the policyholder on your insurance dies, you can then transfer the policy into your name or the name of someone else in your household. 
Insurance doesn't have to be complicated. With Clovered, an online independent insurance agency, you can find the best insurance for your home, apartment, condo, car, boat, RV, or rental property without all the hassle. Use our easy online quoting tool to compare policies from different providers in minutes.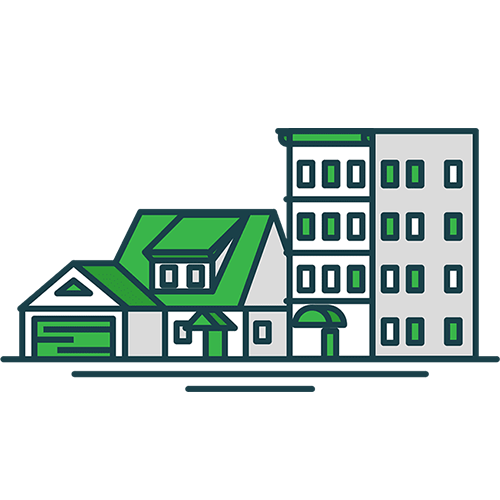 Home Protection Is Just a Click Away
We partner with the nation's top home insurance companies so you can get an excellent policy at an affordable price.
The editorial content on Clovered's website is meant to be informational material and should not be considered legal advice.