8 Types of Boat Insurance Coverage Options You Need to Know
Boat
/
8 Types of Boat Insurance Coverage Options You Need to Know
Boat insurance is highly customizable. Although there are many different add-ons and aspects of coverage, the standard protections that come in a boat insurance policy are pretty similar no matter what type of vessel you have.
Let's take a look at all the different components of boat insurance you might encounter and how they'll impact your policy.
5 Types of Boat Insurance
Although there are many types of boats, there aren't that many different types of boat insurance. Most large carriers are usually comfortable covering most kinds of watercraft. Sailboats, yachts, jet skis, pontoons, dinghies, and bass boats are all typically accepted, and all of them have similar insurance policies and aspects of coverage. 
There are only a few boat types that need specialty insurance. You may need to search a little harder to find an insurer that wants to cover houseboats, liveaboard boats, and yachts that are over 50 or 100 feet in length.
With that said, the types of coverage you're likely to see in most boat insurance policies, regardless of vessel type, are:
Liability coverage

Collision coverage

Comprehensive coverage
Liability insurance is designed to financially protect you and other boaters on the water. If you cause an accident, having liability coverage will enable your insurer to cover the resulting expenses so you don't have to pay out of pocket to remedy the damage that you've caused. 
Typical liability limits start at $100,000, but your carrier will likely recommend you get at least $500,000 or $1,000,000 of protection. Expenses can rack up quickly after an accident, and you don't want to be caught short when you need it after a serious accident. Liability coverage for boats is usually made of two distinct sections, and may be required in some instances.
2. Property Damage Liability Coverage
As the name implies, the property damage portion of liability insurance covers repairs to someone else's property that you may be responsible for after an accident. For example, you could damage someone's boat or dock after you crash into it. Your insurance company can cover their repairs.
Also, property damage liability for boats oftentimes includes coverage for wreckage removal and fuel spill cleanup costs. If you're legally required to remove your sunken boat after you've crashed, some insurance companies will cover the costs to do so up to your property damage liability limit.
3. Bodily Injury Coverage
Bodily injury liability protection covers medical expenses and bills if you injure someone in a boating accident. This can include loss of wages if they're forced out of work for some time, too.
Liability insurance can be purchased as a standalone policy or included as a crucial part of a complete boat insurance plan. Many marinas and shipyards require you to get at least liability coverage before they allow you to store your boat.
It's important to note that liability insurance doesn't protect the value of your vessel at all. It only covers the damages you may cause to others. It won't pay to repair your boat or cover injuries to yourself after an accident. To protect your own watercraft, you'd need a full-coverage boat insurance plan, which typically includes comprehensive and collision coverage.
4. Collision Coverage for Boats
Collision coverage financially safeguards your boat after an accident. It enables your insurance company to pay for the repairs of your vessel. Some providers may consider collision coverage a separate part of policies, while others may include protection from collisions as a peril in a comprehensive boat insurance plan.
Either way, collision coverage is based on the value of your boat. Your insurer can reimburse you for the damages to your vessel depending on how you've outlined the value of it in your policy, which we'll go over a little later.
Depending on your carrier, boat insurance collision coverage can protect you from a variety of accidents, whether you're at fault or not, and whether you've crashed into another boat, hit a rock or a submerged object, or collided with someone's property.
5. Comprehensive Coverage
A comprehensive boat insurance policy protects your vessel from the damage it can sustain other than through a crash with another boat. This includes theft, vandalism, and fire damage. It also typically covers damage you could suffer from hurricanes, flooding, and hail, although the specifics of protection from these hazards varies by carrier.
Having a comprehensive boat insurance plan is the best way to protect your vessel from the damages it can incur whether you're using it or not. You likely can't get comprehensive boat insurance without getting protection from collisions. So while the two aren't exactly the same, it's not common to get one without the other.
Common comprehensive boat insurance deductibles range from $250 to a few thousand dollars. It depends on what you're comfortable paying before you want your insurer to cover the rest of the expenses.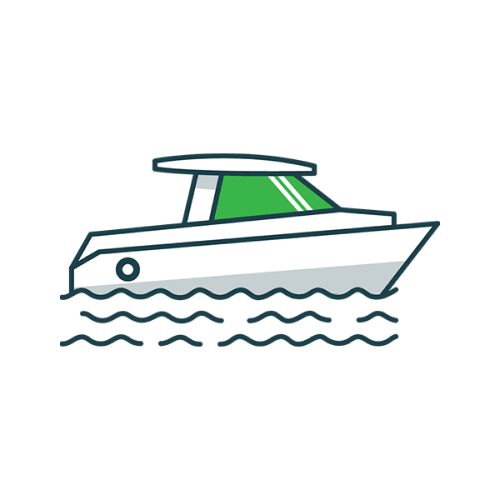 Keep Your Vessel Afloat With Boat Insurance
Don't get sunk by unexpected damages.Keep your vessel safe with a policy from one of the nation's top carriers.
2 Boat Insurance Coverage Options
Now that we've explained the common components of a policy, let's look at some of the options within those coverage aspects you'll need to consider when you're getting boat insurance.
6. Actual Cash Value vs Agreed Value Boat Insurance
Perhaps the most important part of your boat insurance is how your boat is covered in case of damage. For comprehensive policies, you choose how you want the insurance company to value your boat. This valuation determines your reimbursement after a claim. The two most common ways to cover your boat are with an agreed-upon value policy or an actual cash value policy.
An agreed-upon, or hull-value, policy is what it sounds like. You and your insurance company agree on a cost for your boat, and that is what your provider will reimburse you in case of a total loss.
For example, if your boat is worth $60,000, you can agree to cover your boat for $60,0000 (you wouldn't want to cover your boat for less than what it's worth).
The agreed-upon value is based on a fair market value of your vessel, including its motors, fixtures and equipment. The cost of sails, rigging, anchors, and some electronics are factored into its value. 
The number you decide on usually lasts for the life of the policy. So, let's say you bought your boat this year for $60,000, and you get an agreed-value insurance plan right after you buy it for that amount of coverage. Ten years later, you total your boat. Even though in ten years your boat may not be worth $60,000, you're still eligible to receive that amount since you've covered your vessel with an agreed-upon value policy.
Actual cash value, on the other hand, factors in depreciation when reimbursing you for your boat. With an actual cash value policy, your insurer will determine the current market value of your boat (or the damaged parts) at the time of damage and recoup you accordingly, no matter what you paid at the time of purchase. 
For instance, if you file a total loss claim for a $60,000 boat you bought ten years ago with an actual cash value policy, you'll receive substantially less than $60,000. 
Since agreed-upon value doesn't factor in depreciation and wear and tear, it always results in higher reimbursement. As a result, it usually costs more than an actual cash value policy.
Some carriers also offer a total replacement cost option. If your boat gets damaged or totaled, your insurance company will buy you a brand new one. This is usually limited to boats less than a year or two old, after which time the policy may convert to an agreed-upon value plan. Unsurprisingly, total replacement is usually the most expensive coverage type.
7. Uninsured Boater Coverage
Since boat insurance isn't mandatory, unfortunately not everyone you encounter on the water will have coverage. After an accident, this could be a huge issue if the person doesn't have the funds to cover the damage they've caused. With uninsured boater coverage, you don't have to worry about this.
Uninsured boater coverage covers injuries you or your passengers sustain in an accident when the at-fault party doesn't have liability insurance.
Remember, liability coverage pays for accidents you could cause to others, not injuries that happen to you. Medical payments on your policy, which we'll discuss in a bit, would cover you and your passengers, but it usually has relatively small limits. In a serious accident, your medical payments likely won't cover the whole bill.
Uninsured boater coverage, on the other hand, could foot the total expenses. You choose the amount you want, and its limits are typically always higher than medical payments limits. Uninsured boater insurance limits may start at $25,000 and go as high as hundreds of thousands of dollars. 
Uninsured boater coverage is included in some policies, but may be an optional add-on on others. Uninsured boater coverage may also be grouped together with underinsured boater coverage, which means the coverage can kick in if an at-fault boater doesn't have enough insurance to cover the damages he or she causes so neither you nor the other boater has to pay out of pocket if the insurance falls short.
8. Boat Insurance Medical Payments
Medical payments in boat insurance are a part of your policy that covers injuries you or your passengers might sustain in an accident related to your boat. Remember, liability insurance only covers injuries other parties suffer that you cause. Medical payments protect you.
Medical payments can cover many types of injuries, from those suffered in a collision with another moving vessel to an unexpected slip and fall. Medical payments can cover expenses like hospital fees, ambulance rides, x-rays, and surgeries. 
Medical payments coverage usually starts at $1,000 and is typically capped at a few thousand dollars on a boat insurance policy.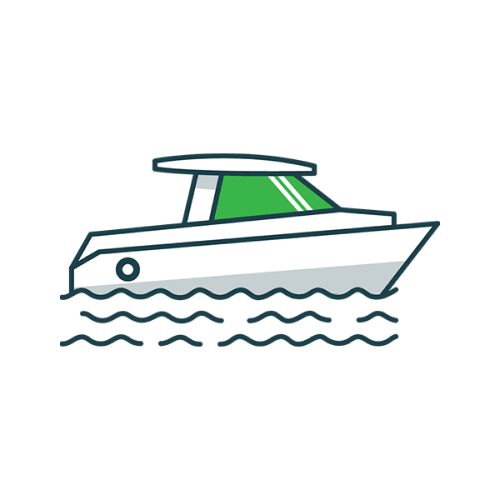 Keep Your Vessel Afloat With Boat Insurance
Don't get sunk by unexpected damages.Keep your vessel safe with a policy from one of the nation's top carriers.
The editorial content on Clovered's website is meant to be informational material and should not be considered legal advice.
Similar Articles