What Is Uninsured Boater Coverage?
Boat
/
What Is Uninsured Boater Coverage?
Boat insurance has a lot of different add-ons and coverages available to you, and every provider is a bit different in its offerings. One coverage you might come across is called uninsured boater coverage.
Let's break down uninsured boater coverage so you understand how it can help you and why it may be in your best interest to get it.
What Is Uninsured Boater Coverage?
Uninsured boater coverage is a type of boat insurance that covers injuries caused by uninsured boaters. If someone without insurance crashes into you and injures you or your passengers, your uninsured boater coverage can cover the medical bills and expenses related to the accident.
In policies, an uninsured boater may be defined as an owner or operator who is legally responsible for the accident and doesn't have a liability policy. Usually, another boater's liability insurance would cover any injuries they cause to you. But, if you're in an accident where the at-fault party doesn't have any insurance, your uninsured boater coverage can step in and pay for medical expenses.
Liability Coverage vs. Uninsured Boater Coverage
If you're unfamiliar with liability coverage, it's important to understand it so you know how it differs from uninsured boater protection. Liability coverage can be a stand-alone policy and is the most basic form of boat insurance you can get. It covers bodily injuries and property damage you cause to others. It doesn't cover your injuries or boat damage in an accident.
Uninsured boater coverage, however, is an add-on to a more comprehensive boat insurance policy. However, it's used to repair damages to your boat and pay for injuries onboard your boat if you're in an accident with another boater, they don't have insurance and you're not at fault.
So, in an ideal world, if a boater hit you and injured you and your passengers, their liability insurance would cover your injuries. But, if the person who hit you doesn't have liability insurance, your uninsured boater coverage would come into play to protect you.
Uninsured Boater Coverage Limits
In your policy, the limits for your uninsured boater coverage typically read one of two ways: as split limits per incident, or as combined single limits per incident. Split limits mean your insurer will cover each person in an accident or each occurrence of property damage up to a certain dollar amount per incident.
Combined single limits, on the other hand, provide a set number for both bodily injury and property damage. For instance, if you had $500,000 of CSL uninsured coverage, your insurer would pay up to $500,000 for any combination of injuries or damages per incident.
Also, uninsured boater coverage usually comes with underinsured boater coverage. Having underinsured boater coverage means your carrier can step up to cover costs after an accident if the expenses exceed the at-fault party's insurance limits.
For example, let's say someone hits you and causes $400,000 in damages, but that person only has $300,000 in insurance coverage. Having underinsured boater coverage will enable your insurer to pay the remaining $100,000 that the at-fault person couldn't cover.
Uninsured Boater Coverage Clause for Exclusions
There are some exclusions to be aware of for uninsured boater insurance. You won't be covered if you've been hit by a boat you own, like if you let someone borrow one of your boats and you end up colliding. Your insurer also won't reimburse you for any purposeful damage.
It also won't help you out if you've agreed to some sort of settlement with the person who hit you without the insurance company's consent. For example, if the person that hit you agreed to pay you back for the damages themselves, you can't then also turn to your insurance company for a payout.
Your provider also likely won't cover you if you were using a personal boat for commercial use when the accident happened. Any business use of your vessel, like a chartered fishing trip, typically needs a type of commercial insurance policy.
It's important to realize that uninsured boater coverage only reimburses you for accidents or injuries you or your passengers sustain. Uninsured boater coverage doesn't protect against physical damage to your vessel. Other parts of your comprehensive boat insurance plan do that.
How to Avoid a Boat Accident With No Insurance
Unlike car insurance, boat insurance is never required by law. So, it's a lot more common to come across a boater with no insurance than it should be. An accident involving any number of boats can carry an extremely high price tag for damages, especially when injuries are involved or the boat sinks. Being in a boat accident with no insurance can financially sink you.
It's much better to be safe than sorry. Having the right boat insurance is a safety net that can alleviate your worries when things go badly. You could be the safest and most responsible boater on the water, but unfortunately, you can't control the actions of others. Boat insurance is a wise investment to protect yourself, your boat, and your passengers.
At Clovered, we can pair you with a boat policy that's right for you, including uninsured boater coverage if you see fit. We exist to make insurance-related decisions easier, and our team of licensed and experienced agents wants to pair you with the coverage you need at the price that works for you.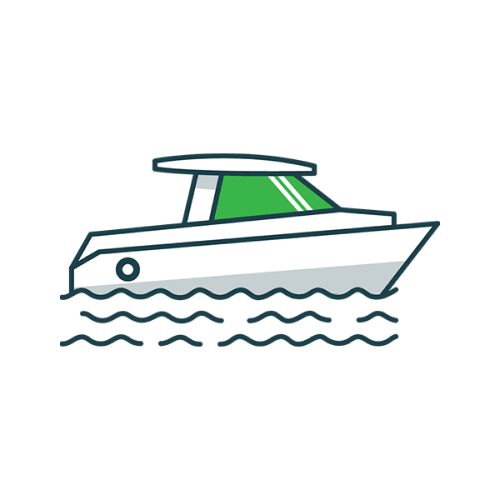 Keep Your Vessel Afloat With Boat Insurance
Don't get sunk by unexpected damages.Keep your vessel safe with a policy from one of the nation's top carriers.
The editorial content on Clovered's website is meant to be informational material and should not be considered legal advice.
Similar Articles