What Is Proof of Insurance on a Vehicle?
Auto
/
What Is Proof of Insurance on a Vehicle?
Every time you drive, you need three things with you: license, registration, and proof of insurance. Every state (except New Hampshire and Virginia) requires you to have car insurance to legally operate a vehicle. You'll need to show your proof of insurance if you get pulled over or if you get into an accident.
Needless to say, proof of insurance is important in preventing a bad scenario from getting even worse. Let's go over what exactly proof of car insurance is and how you can get proof of insurance if you don't have any.
What Is Proof of Insurance?
Proof of insurance is what it sounds like: documentation that you have an up-to-date and active car insurance policy. Proof of insurance is usually presented as a physical ID card, but a letter or a digital copy may also work.
Proof of insurance shows details about your car insurance policy, like your provider's name, your name, the effective date of the policy, and some details about your vehicle (make, model, and vehicle identification number, usually).
Forty-eight states require you to have a minimum amount of insurance to legally drive. The mandated coverage is called liability insurance, and it protects you from paying out-of-pocket to cover property damage or injuries you may cause someone else in an accident. Even though your proof of insurance doesn't typically state your liability coverage limits on it, it's understood that you have the state minimum amount when you present your card.
You may also use a proof of coverage letter as your proof of insurance. Proof of coverage letters get mailed to you with your insurance card after you get a policy. They show the same information that's found on a card.
Why You Need Proof of Car Insurance
Proof of car insurance is vital if you get pulled over by a police officer. The cop needs to verify that you're driving legally. You'd also need proof of insurance after an accident to exchange information with the affected parties.
The penalties for not having any proof of insurance on you after you get pulled over usually consist of a fine between $20 and $1,500, depending on what state you're in, for a first-time offender. If you're repeatedly caught, you'll face license and registration suspension as well as possible jail time.
If it's discovered you don't have any insurance after an accident, your license or registration will be immediately suspended, and you'll be personally responsible for all the damage you've caused. Depending on the severity, the expenses could easily range from tens of thousands to hundreds of thousands of dollars for hospital bills, property damage, loss of wages, and more — not to mention the repairs to your own vehicle.
How to Get Proof of Insurance
You should receive proof of insurance from your provider when you get your policy, and you can contact them to get another if you lose yours. Insurance companies usually mail ID cards and coverage letters to you, and they may also make a digital version of your insurance card available online.
Right after you get your policy or make your first payment, your carrier should send you proof of insurance. They'll often send more than one insurance card for you to have, in addition to a coverage letter. You should also be able to ask your insurer to email or fax you a card if you need it.
You'll also get a new insurance card every time you renew or make changes to your policy. You always need a new one when you renew so your proof of insurance has the right effective dates. It's important to remember to replace your old proof of insurance in your car with your new one when you get it.
Most major insurers make a digital version of your card available online, too, likely through your account on their website or app. Every state by law accepts digital proof of insurance (on your phone, for instance) except New Mexico. Although New Mexico doesn't ban it, it just hasn't made an official ruling on it yet.
You're likely ok presenting digital proof of insurance if you get pulled over in New Mexico, but be aware that an officer may have the right to deny you depending on the circumstance. That's why it's always smart to keep physical proof of insurance in your car at all times.
In some cases, you might also need to show proof of insurance to a new provider if you're getting a new policy. Usually, an insurance company will contact your previous insurer for your relevant information, but it wouldn't hurt to have a backup of your proof of insurance on hand to verify that you had maintained coverage and didn't allow it to lapse before getting your new policy.
How to Show Proof of Insurance to the DMV
Most states require you to have insurance before you register your vehicle. Insurance companies usually file your insurance with your state's Department of Motor Vehicles (DMV) to verify you have coverage. But, if there's an error or your license gets suspended, you may need to take an extra effort to show proof of insurance to the DMV.
If you cancel your policy or let it lapse, your insurer must notify the DMV. If the DMV doesn't have proof of insurance for your vehicle, your registration may get suspended. To get your car reinstated, you'll need to get or have car insurance. Then, send proof of that insurance to the DMV as soon as possible.
You should be able to show proof of insurance to the DMV electronically or by phone, although it might depend on your state. You may also be able to mail a part of your coverage letter and an insurance ID card to your DMV.
For instance, in New York, you can provide proof of insurance online through the DMV portal, or by mail. In California, you can do it online through their website, by email, by phone, in person, or through the mail. Be sure to look up your state's process for registering your vehicle and submitting proof of insurance.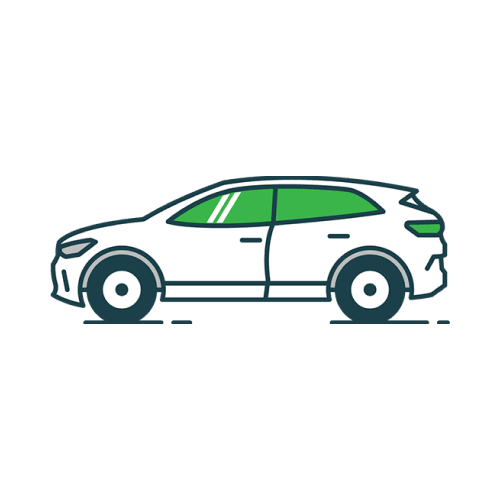 Ready to Save Money on Auto Insurance?
Rethink your auto insurance premium with a free quote from the nation's top companies.
The editorial content on Clovered's website is meant to be informational material and should not be considered legal advice.