11 Auto Insurance Facts and Myths You Should Know
Auto
/
11 Auto Insurance Facts and Myths You Should Know
Sprinkle in some inaccurate auto insurance myths being passed off as auto insurance facts and you could wind up debilitated by the decision to purchase a policy.
But worry no more, we consulted our agents and customers to find out the most common myths that people believe and pass off as facts, and we debunked them so you never have to wonder again.
1. Red cars cost more to insure
The saying that red cars cost more to insurance — than any other color under the rainbow — is just absurd. Sure, the color red has been associated with the terms danger and fast, but those terms aren't reflected in the world of auto insurance.
If you're a safe driver, it doesn't matter whether you have a red, white, blue or purple car. You're going to pay the same amount in premiums. So, no, red cars don't cost more to insure than any other color.
2. Auto insurance can drop you at any time
One of the scariest auto insurance myths that have been circulating for years is that your auto insurance can drop you after you get into an accident, get a speeding ticket or during the midst of your previously agreed-upon contract. That's also false.
State laws prohibit auto insurance companies from canceling your policy before your term has ended unless you're caught participating in fraud or you just haven't paid your auto insurance premiums. But if you pay your premiums on time and don't commit fraud, you'll keep your auto insurance for the duration of the initial agreement.
By abiding by these laws, auto insurance companies are holding up to their commitment to protecting drivers on the road. However, just because your auto insurance company can't cancel your policy after a speeding ticket or accident, that doesn't mean they have to renew your policy when it ends.
3. You only need the state minimum amount of auto insurance
Yes, you're technically only required to have the state minimum auto insurance, that doesn't mean it's going to be enough to cover any accidents you're involved in. It just means you'll have to pay more out of your pocket if you're involved in an accident.
For instance, let's look at a severe auto accident that results in $30,000 in property damage and $150,000 in medical bills. Well, if you only have coverage for $25,000 in property damage liability and $100,000 in bodily injury liability, you'd have to pay $55,000 out of your pocket because you're not sufficiently covered.
If there's a lawsuit involved, or if the injuries are worse, you could wind up having to pay much more money or filing for bankruptcy because you'll never be able to pay all of it back. So even though Florida has different state minimums than New York, you should always opt for more than the state minimum when it makes sense.
Here Are Some Relevant State Minimum Coverages:
4. No-fault auto insurance means it's not my fault
No-fault auto insurance doesn't mean that the accident was not your fault. It means you're in a state that requires your own auto insurance company to pay for your medical expenses and lost wages (up to a set dollar amount) if you're involved in an accident — no matter who's at fault in the accident.
No-fault auto insurance only covers medically related bills, so it won't pay for any property damage if the accident is at fault. Additionally, it won't pay to repair your vehicle if another person is at fault and doesn't have auto insurance. That would be the duty of uninsured motorist coverage.
5. Advanced safety features save you tons on money in premiums
Just because many cars come equipped with intuitive advanced safety features these days, that doesn't mean those features will save you a ton of money on your auto insurance premiums. These features do make driving safer, but if you have a spotty driving record, all the safety in the world may not be enough to decrease your premium right away.
There are some safety features, such as GPS tracking and anti-theft devices, that can award you discounts on your premiums, but those discounts only have an impact on protecting your vehicle from being stolen — not making you a safer driver.
6. If you let someone drive your vehicle, damages will be covered by their insurance
If you get tired on a long road trip and let your friend drive or you simply let a friend borrow your car, you may want to think about the implications it can have on your auto insurance.
Your auto insurance policy protects your vehicle. Their auto insurance protects their vehicle. Just because they're driving your car, it doesn't mean their auto insurance will pay for any damages that occur.
Whoever is driving your car is covered under your auto insurance policy. So if your friend gets into a wreck in your car, your auto insurance will be the one taking the hit and, likely, suffering from increased premiums.
7. Business use of your car is covered by personal auto insurance
If you run your own business and use your car for any business-related uses of that car, you're not covered by your personal auto insurance policy. Business owners who use their car for business ventures, whether it's meeting up with clients or traveling or anything else, must have commercial auto insurance.
8. The older you get, the more expensive auto insurance is
Yes, age does have a strong correlation with the cost of insurance premiums, but that doesn't mean you'll pay more for insurance as you get older. It's quite the opposite. The average cost of auto insurance actually goes down every year from ages 17 to 64.
Once you hit 65, auto insurance premiums begin to increase, but there are a few discounts you can get at that age to balance out the increase in cost.
9. Your credit score has no relation to your auto insurance
Your credit score is one of the primary factors that determine your cost of auto insurance. There's a strong correlation between a higher credit score and being more responsible with money, so it means those people are more likely to make their payments on time and may be less likely to file an insurance claim.
10. My personal items are covered by auto insurance if they're stolen from my car
You may have heard stories about a friend of a friend having their laptop stolen out of their car in a parking lot or a phone magically disappearing into thin air from the car. Well, auto insurance won't pay to replace those items.
11. Added rental car coverage means I'm protected in rental cars
Purchasing rental car insurance is always a smart move because it reduces the risk of your auto insurance premium going up due to an accident in said rental car, but rental car coverage in your auto insurance isn't what covers damage to rental cars.
This coverage pays for the daily fee for you to rent a car if your vehicle was involved in an accident and you can't drive it.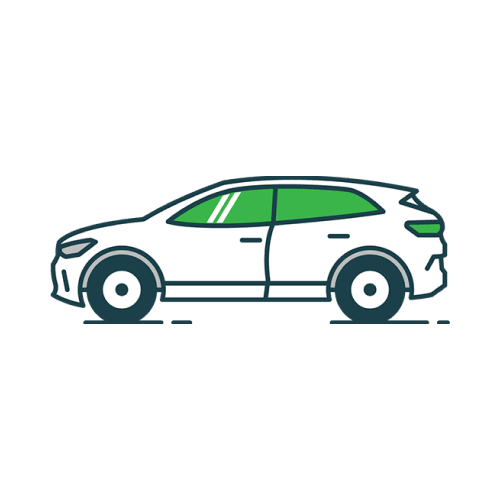 Ready to Save Money on Auto Insurance?
Rethink your auto insurance premium with a free quote from the nation's top companies.
The editorial content on Clovered's website is meant to be informational material and should not be considered legal advice.
Similar Articles