14 Types of Business Insurance for Every Company
Commercial Property
/
14 Types of Business Insurance for Every Company
When you're starting a business, there are many things you need to do to get your company up and running. There are supplies to buy, spreadsheets to create, buildings to see and people to visit. There are also many insurance coverages specific to your business you might not have known you needed.
Do you have disability insurance and workers' compensation insurance in case your employees are injured and can't work? Do you have flood insurance and property insurance in case a natural disaster or freak accident damages or destroys your property or belongings? Do you have data breach insurance and commercial general liability insurance in case sensitive information is stolen or your company accidentally puts out something slanderous?
Before opening your doors for business, it's a good idea to get to know all the different insurance options your business has at its disposal. Even if it's just for peace-of-mind sake, we'll walk you through the following 14 types of insurance necessary for business, which could help yours out of a future bind.
1. Small Business Insurance
Small business insurance is a term that's used to describe the many different coverage options every small business should have. From workers compensation and business interruption insurance to different types of commercial insurance and data breach insurance, there are many policies each small business should look into.
Throughout this list, you'll find a stream of options available to you and your small business to ensure both are protected for anything that life throws your way.
If you own a small business, there's a good chance you have loved ones at home who are relying on your income. Life insurance protects your family if you suffer an untimely death by ensuring they get paid if you pass away. Life insurance is easy to get and relatively cheap for young, healthy adults.
With life insurance, you pay a monthly premium for a set policy. Let's say you pay $20 per month for a $100,000 policy. If you happen to pass away two years into the policy, your family receives the $100,000. You can have as much life insurance as you want, but the more you have, the more expensive it gets. Either way, life insurance can help protect your family if you pass away. It's also great peace of mind if you don't need it.
Property insurance protects for your property and belongings while they're in the office. In the event of a covered peril, such as a hurricane or fire, property insurance will pay to repair or rebuild your property that was damaged or destroyed and repair or replace any belongings that were damaged, destroyed or stolen.
Every business needs property insurance. It's the last line of defense against extremely costly repairs or replacements that were unexpected. A policy can either reimburse the policyholder or cut a check to companies that help repair, replace or rebuild.
If you don't, you will have to buy private flood insurance. Either way, it's smart to have, because flood insurance makes sure you're covered in case a river overflows, snow and ice melt in the springtime or heavy rainfall piles up and damages your property or belongings.
Long-term disability and short-term disability insurance are designed to replace a person's income, up to a designated percentage of their annual or monthly salary, if they can't work. It's different from workers compensation because the employee doesn't have to have been injured on the job.
This one is strictly for the care of your employees. When your company buys disability insurance, it lets employees know that the business cares about them and their families. If the employee suffers a debilitating injury and can't work for an extended period, disability insurance will pay them a percentage of their regular paycheck.
6. Commercial Auto Insurance
If your small business owns any vehicles that carry employees, equipment or products your company makes, provides or buys, you seriously need to have commercial auto insurance. Commercial auto insurance protects any company cars owned by the business, as well as the contents inside each vehicle, including people.
If you don't own company cars, but your employees use their own cars for work, you may want to consider purchasing non-owned auto liability coverage. It can usually be easily added to a business owners policy and protects your business in the event an employee either has inadequate or no auto insurance.
7. Workers' Compensation Insurance
If you have W-2 employees on the payroll, workers' compensation insurance is one of those types of business insurance required by law. For good reasons, too. Workers compensation provides financial assistance to any employees who were injured on the job. When an employee receives workers compensation, they also waive the right to sue the business they work for.
Workers compensation is a great asset of protection for your company. It protects you and your business from any legal issues that may arise from injuries in the workplace. Even if you own a small office with contract desk workers, it's better peace of mind to purchase workers' compensation insurance. You never know when a bout of carpal tunnel could strike.
8. Errors and Omissions Insurance
Errors and omissions insurance is also known as professional liability insurance. Errors and omissions insurance protects for a company and its employees against negligent or inadequate work. It covers court costs and settlements that are a direct result of a claim made by any client who feels they did not receive proper work or representation.
The most common cases of errors and omissions insurance apply to law firms, general contractors and accounting. When people feel they received work that wasn't up to par, they can sue the business and settle out of court.
Errors and omissions insurance will ensure your company's money stays within the company. However, errors and omissions insurance does not provide the same coverage as commercial general liability insurance.
9. Commercial General Liability Insurance
Commercial general liability insurance is also commonly known as CGL insurance, business liability insurance or LLC liability insurance. Commercial general liability insurance protects your business against financial loss if your business, employees or products are found liable to have damaged property or caused personal injury.
It also protects your business against copyright infringements and advertisements that may have caused misleading, slanderous or libelous information. Every business, small or large, should have commercial general liability insurance. Even if you only have one incident during the lifetime of your business, the insurance premiums you've paid could offset the damages you may have to pay for an incident.
10. Data Breach Insurance
Data breach insurance protects your business against cyber hacks or breaches that release sensitive, non-public information. Whether your company is a tech company or a paper-based business that only has a few employees, you probably store sensitive data on your servers. A social security number, phone number or personal email address of an employee are considered non-public information.
Data breach insurance provides financial help for services relating to a data breach, including identity protection, legal fees and public relations. It's important to look into data breach insurance and purchase the necessary coverage to protect your business and its employees.
11. Directors and Officers Insurance
Directors and officers are typically subject to more scrutiny than the general workforce of a company. They're in the public eye and are the decision-makers that can have a heavy impact on the business' profitability. Directors and officers insurance covers damages and legal costs directors and officers may face because of a decision or action made on the job.
It also protects against shareholder suits due to a company's stock performance, failure to comply with regulations and regulatory claims, as well as a wide range of many more claims the company could face.
12. Business Interruption Insurance
Business interruption insurance is added to a property insurance policy that protects the business and its belongings from things like fires, hurricanes, tornadoes and other natural disasters. Have you ever wondered what happens to businesses that are temporarily closed by one of the aforementioned events? Well, the company still has expenses to pay and is likely not generating any revenue.
Business interruption insurance compensates your business for any lost income if employees had to vacate the property during a covered event. It bases payments on your financial record and time period in which the business was closed. Insurance companies will likely average out what your company would have made during the time it was closed and reimburses the company for those lost funds.
13. Business Owners Policy
A business owners policy is also known as BOP insurance. It's a package policy, geared toward very small businesses, that includes some of the previously mentioned insurance coverages. Instead of purchasing every policy you need, many small business insurance companies offer a package deal called a business owners policy.
But be sure to read through your entire policy before you decide you're good to go. Business owners policies typically only include coverage for buildings and contents owned or rented by the company, business interruption insurance and liability insurance. You will typically not find auto, workers compensation or disability insurance in these packages.
Umbrella insurance is basically like the coverage you need on rainy days. An umbrella keeps you dry in the rain and an umbrella insurance policy keeps your business assets safe during tenacious times. Your liability policies have limits. Umbrella insurance is designed to give you coverage over those specified limits.
Umbrella insurance may be able to exceed the coverages of your commercial general liability insurance, business interruption insurance, directors and officers insurance and any other liability insurance your business has.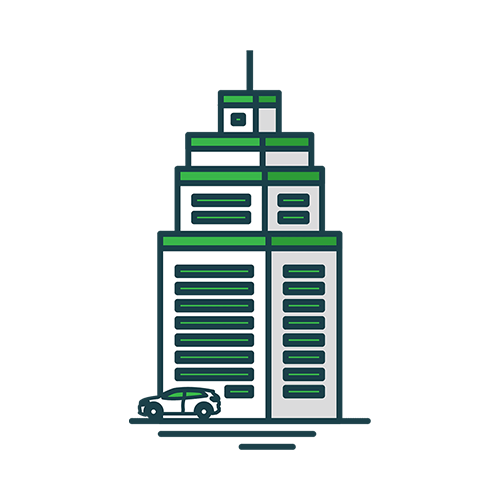 Protect Your Business Assets
Your business is your greatest asset, and you need to protect all the things that help drive customers with commercial insurance.
The editorial content on Clovered's website is meant to be informational material and should not be considered legal advice.
Similar Articles