Does Homeowners Insurance Cover Driveway Damage?
Homeowner
/
Does Homeowners Insurance Cover Driveway Damage?
You might not realize how essential your driveway is until it's not there anymore. As the primary gateway to your house, having a neat and functional driveway can enhance your home aesthetically or simply be required to get up the hill you live on top of.
Either way, it could be useful to know if, when, and how your homeowners insurance covers your driveway. Let's take a look.
Does Homeowners Insurance Cover Driveway Damage?
Driveways are usually included as a structure in your homeowners insurance policy that gets protected from financial loss. So, depending on the type of damage it incurs, your homeowners insurance should cover your driveway.
Your driveway is likely included in either the dwelling (Coverage A) or other structures (Coverage B) part of your policy. The dwelling coverage portion of your home insurance plan protects the structure of your house and everything permanently connected to it, like decks and porches. If your garage is part of your house, and your driveway is connected to your garage, it's likely a part of dwelling coverage.
Your driveway may lead to your detached garage or carport, in which case it might fall under the other structures portion of your plan, but it should still receive coverage. 
When Your Driveway Isn't Covered
Insurance doesn't cover every form of weather-related damage, though. Floods and earth movements are excluded from homeowners insurance and, unfortunately, these are some usual culprits of driveway damage.
If your driveway collapsed or shifted because the ground under it moved, you're likely not covered. Additionally, if your driveway was washed out by rain or ruined in another way by a flood, your provider won't reimburse you.
You also wouldn't be covered if the damage accumulated gradually over time, or someone who lives in the house caused it. For example, if you eventually wear out your driveway because you park and drive your car over the same area of it for years, your insurance won't assist you since you caused the problem due to regular wear and tear.
Asphalt driveways are common in many parts of the United States. They tend to crack over time if they're baking in the sun every day. They're also susceptible to damage if the ground under them moves as a result of water. These instances wouldn't be covered either since they weren't sudden, and the damage can be considered expected wear and tear.
Another unlikely but possible issue that could prevent coverage is if your driveway leads to a detached garage or shed that you conduct business from. Your insurer could consider it not a part of the structure of your house, but rather as part of your home business, which requires different insurance needs that a homeowners plan won't cover.
Does Homeowners Insurance Cover Driveway Replacement or Repair?
If your driveway was damaged by a covered peril, your homeowners insurance should reimburse you for a new one if you file a claim.
Let's say a tornado rips up your driveway, or a tree falls on it after a huge storm. Both of these instances are typically included in a homeowners plan. If the damage is more than your deductible, you could file a claim, and your insurer will reimburse you for either the whole driveway or replace the part that was damaged.
Your provider should also cover debris removal, which means disposing of the old driveway (or removal of the fallen tree that's on it) should be covered, too.
When it comes to the replacement of your driveway, you should make sure that you understand if your policy will cover the actual cash value of the driveway or its replacement cost. Some policies contain actual cash value coverage for other structures. The actual cash value will almost always pay for less than replacement cost since it factors in depreciation.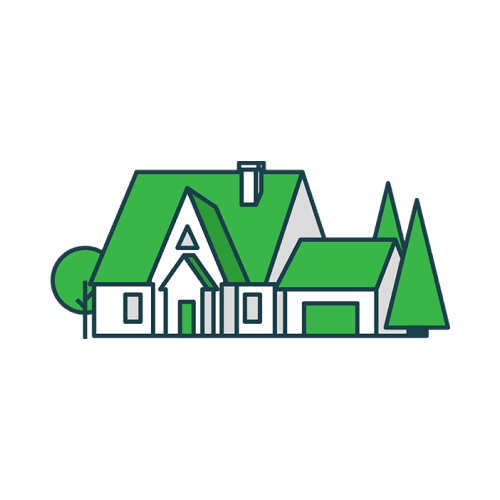 It's Time to Switch Your Homeowners Insurance
We partner with the nation's top homeowners insurance companies so you can get a custom policy at an affordable price.
The editorial content on Clovered's website is meant to be informational material and should not be considered legal advice.
Similar Articles