Does RV Insurance Cover Roof Damage?
RV
/
Does RV Insurance Cover Roof Damage?
Life on the road in an RV is a lot of sunshine and chasing the good weather. But even if your trajectory is toward the west, things can go south pretty quick. That's why it's important to know what's covered by your RV insurance policy, and what types of coverage you should have. Let's break down everything you need to know about your policy and roof damage to your rig.
Does RV Insurance Cover Roof Damage?
Yes, RV insurance covers roof damage caused by auto collisions, one-vehicle accidents, natural disasters and many other instances, but you must have the right coverage in place. For your rig to be covered by perils that insurers deem to pay out for, you must have collision and comprehensive coverage (full coverage) instead of simply having liability coverage.
All of the following, except the latter, is a unique part of full coverage RV insurance. If you have only liability coverage on your rig — whether you have a Class A, B or C — you won't be covered for any damage to your rig's roof. That's because liability only covers damage to other vehicles and medical expenses for other people if you're involved in an accident and deemed to be at fault.
If you're in an accident, whether it's your fault or not, collision coverage is designed to pay for damage to your RV, including any damage sustained to your RV's roof. If you're at fault in an accident, it can pay up to your policy's maximum (which should be the value of your RV). If you're not at fault, it can pay the difference between what the other's driver's insurance will pay and the actual damage to your rig.
Total Loss Replacement Coverage
Since RVs are worth much more than typical vehicles, collision coverage on your rig works a bit differently than it would on your daily driver. Depending on your insurer and the age and cost of your RV, you may be able to opt into extended protection called total replacement coverage.
If the damage to your roof (or your rig in particular) is so severe that your insurer deems it to be totaled, total replacement coverage can pay for a new or comparable model RV within the first four years on the road — even if it's value has decreased. During years five to seven, it can reimburse you the RV's original purchase price or its actual cash value. And after year seven, you'll have to settle for its actual cash value.
If you sustain roof damage to your RV that isn't due to a multi-vehicle accident, comprehensive coverage can kick in to repair your roof and any other part of your rig that gets damaged. This protection can help out if your rig sustains damage such as a covered roof leak, instance of roof delamination, a natural disaster like a hurricane or flash flood damages your roof, or if you accidentally go through an overpass that's not tall enough and you scrape your rig's roof.
Personal Effects Replacement Coverage
While personal effects replacement coverage won't directly cover roof damage to your rig, it will cover the contents inside your RV if that roof damage funnels inside, such as a roof leak allowing rainwater to seep in and destroy your personal belongings.
It can help reimburse you for the value of damaged personal belongings you keep inside your RV that also aren't built in or connected to it. Things like TVs, clothes and cooking materials would be covered. The limit is usually $5,000 per insurance claim, but you may be able to add an endorsement to your policy for up to $100,000 worth of coverage — which is important for those full-time RVers who keep more belongings in their rig.
Also not directly related to covering damage to your roof, towing and labor coverage can help bring your RV to the nearest body shop to get repaired if the roof damage is so severe that you can't drive your rig down the road.
The last coverage only applies if you're a homeowner. Not many people realize that damage to your RV, including roof damage, that occurs while your rig is parked on your property or at a local storage facility can be covered by your homeowners insurance policy.
The most common forms of roof damage covered by homeowners insurance would be if a natural disaster knocked a tree on top of your rig, a flash flood caused it to tip over, or a vandal decided to practice their graffiti on your rig's roof.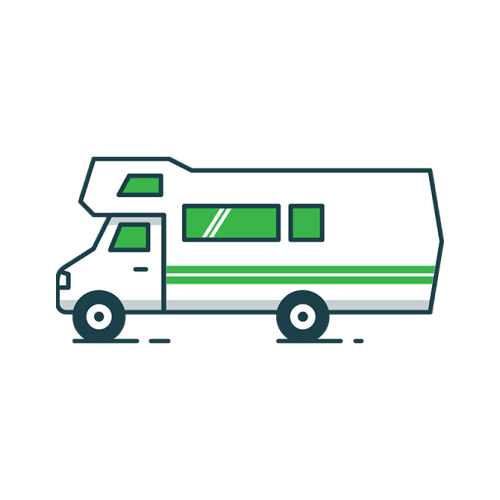 Protect Your Rig With RV Insurance
Cruise more and stress less with an all-types custom RV insurance policy that keeps you on the road longer.
The editorial content on Clovered's website is meant to be informational material and should not be considered legal advice.
Similar Articles