Does RV Insurance Cover Water Damage?
RV
/
Does RV Insurance Cover Water Damage?
Nobody wants to be preparing for vacation — or currently on the road — in their RV and suddenly spot a patch of water coming through the roof, walls or floors. But it does happen. Aside from accidents and breaking down on the road, water damage finding its way into your RV is one of the most commonly filed claims.
However, if you have the right RV insurance in place, you could be covered in many different facets if your rig sustains damage. Let's take a look at which coverages you'll need and when water damage is or isn't covered.
Does RV Insurance Cover Water Damage?
Yes, RV insurance covers water damage to your rig if you have comprehensive coverage on your policy and the water damage is considered a covered peril by your insurer. Personal effects replacement coverage will cover water damage to your belongings inside the RV, while roadside assistance, towing & labor and vacation liability can cover additional aspects relating to water damage.
Water damage will only be covered by your insurance company if it occurred suddenly and accidentally. So a flash flood in the desert, flood along the coastline, collapse of a structure due to rain or many other sudden scenarios would likely be covered. But you'll have to file a claim immediately. The longer you wait, the greater chance your claim will be denied because the water damage will be tougher to prove.
Comprehensive coverage is a part of full coverage RV insurance, which is required by lenders if you still owe money on a loan for your RV. It helps pay for cosmetic and mechanical issues on your RV for events that are out of your control, such as water damage.
Whether you're parked at a campsite or driving on the road, comprehensive coverage can cover you. Let's say you get caught in a storm that knocks a tree onto your RV, allowing rain to tunnel into the roof of your rig. That would likely be a covered peril and your policy's comprehensive coverage would likely kick in to pay for the repairs.
Personal Effects Replacement Coverage
But it's not just the cosmetic and mechanical issues caused by water damage that are covered. If you have personal effects replacement coverage in your policy, your personal belongings could also be covered.
This coverage is designed to help pay to repair or replace any personal belongings you keep inside your rig. So things like TVs, clothes and computers would be covered. Personal effects replacement coverage usually maxes out at $5,000 per claim, but some companies may allow you to add an endorsement onto your policy to increase coverage to $100,000. If you're a full-time RVer who keeps a lot of stuff in their rig, we suggest opting for more coverage via the endorsement.
While not directly related to water damage, towing & labor coverage could help you out if your rig sustains water damage to the engine and you need to be towed to a local shop. It could really help you out in a bind, as towing many miles in remote areas can easily cost thousands of dollars.
Plus, if your rig sustains water damage and must be taken into a shop while you're on the road, it can help pay for temporary short-term lodging and a rental car to get you back on the road quickly.
However, utilizing your homeowners insurance by filing a claim against it may increase your home insurance premiums. And depending on how much coverage you have, you may be underinsured if you have an expensive RV that sustains severe damage.
When Water Damage Isn't Covered by RV Insurance
Not all instances of water damage are covered. For your insurance to kick in, the damage must have occurred suddenly and accidentally and absolutely cannot be a result of one of the following scenarios.
If you're being reckless while driving, such as doing a river crossing to get the trailhead or leaving your windows down during a torrential rainstorm, your RV insurance likely won't cover those damages. That's because the damage was easily preventable and was caused by negligence on your behalf.
If you plan on camping out in the cold, you'd better make sure your RV is properly prepared to get through freezing temperatures. Your RV insurer likely won't cover many instances of damage caused by freezing weather, such as freezing or burst pipes.
Manufacturer errors or defects are never covered by RV insurance. Those issues would have to go through your warranty coverage or through the manufacturer itself.
Lack of upkeep and general negligence can lead to serious damage to your RV. And, like any other insurance policy, that damage is never covered by your RV insurance. If your carrier suspects that either is the culprit of damage, they'll negate your coverage for the claim.
How to Get RV Insurance That Covers Water Damage
With Clovered, getting sufficient RV insurance that covers water damage is a breeze. Simply fill out a few details about your rig in our online quoting form and one of our agents will pair you with a policy that fits your needs and your budget.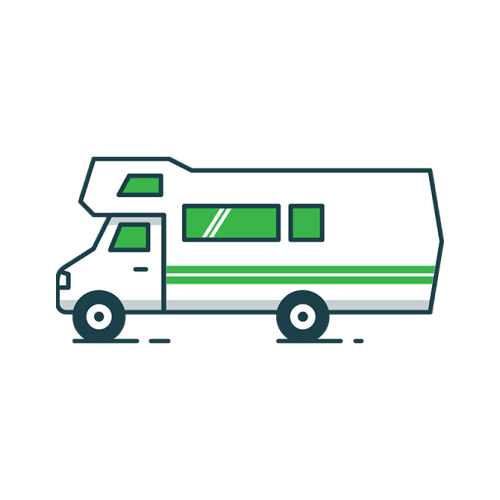 Protect Your Rig With RV Insurance
Cruise more and stress less with an all-types custom RV insurance policy that keeps you on the road longer.
The editorial content on Clovered's website is meant to be informational material and should not be considered legal advice.
Similar Articles