How Long Can an Insurance Claim Stay Open?
Insurance 101
/
How Long Can an Insurance Claim Stay Open?
No one actually wants to use their insurance. Contacting your provider usually means that something bad has happened that needs to be fixed. Whether it's filing a homeowners or car insurance claim, one of the main things on your mind is the money you'll need to get your life back to the way it was.
But how long will this take?
In every case they deal with, insurance companies have many legal, financial and logistical problems to work through. Let's see what this means for your claim and how long a claims process can take.
How Long Can an Insurance Claim Stay Open?
Unfortunately, there's no overarching mandatory time frame that a company must follow to settle a claim, whether it's home or auto-related. Certain states have concrete limits on how long an insurer can take, but it really varies on a case-by-case basis.
How long a claim stays open is affected by several factors, like company procedures, the complexity of the claim and state guidelines. Some claims are more straightforward than others, so they can be settled faster.
For instance, a payout in a one-car crash would probably be resolved quicker than a multi-car pileup with injuries. And a claim involving theft inside a home would likely be resolved quicker than if a house were to burn down.
How Long Does An Insurance Claim Take?
Insurance companies are clearly regulated by state law in many cases. In New York, for example, an insurer has 15 days to respond to a claim. And in Florida, a provider has 15 days to respond to a claim and 90 days to pay out an auto claim.
Some states are vaguer than others when it comes to time restraints on settlement claims, with the government just requiring the company to act as soon as possible or in a "reasonable" amount of time.
The lack of concrete deadlines is due to the complexity and variation in claims a provider deals with. It'd be harsh to restrict companies to exact time windows because almost every case is different.
Even though it may not seem like it at times, one of the reasons insurance companies can take as long as they do to file a claim is because it's trying to get decisions right. It can be in serious legal trouble if it doesn't.
Generally, your provider should get back to you within two or three weeks, but the ultimate decision on a claim can take weeks or months. There are some steps you can take to ensure your claim gets taken care of as quickly as possible.
Defining the Home Insurance Claim Process
It can be a scary thought to invoke your insurance, but sometimes it has to be done, especially if your home is uninhabitable as a result of damage. The claims process can be tricky but, ultimately, it's your best option to restore your home.
You should contact your insurer as soon as possible after the damage to file a claim and have all your pertinent information ready. One of the best things you can do is to communicate clearly with your provider and adjuster. Ask questions when you don't understand something and always provide relevant information.
You should know your policy's limits, deductible and understand how your different coverages come into play. For example, after a natural disaster has wrecked your home, it would be particularly useful to understand your dwelling coverage and how much loss of use coverage you have. 
It's always important to document all damage and save your receipts. A home insurance claim can take over a year to fully compensate you. If your home is being rebuilt or repaired, the processes of clearing debris, inspecting the property and coordinating with contractors can be lengthy ones — in addition to the actual construction itself.
Defining the Car Insurance Claim Process
As with a home insurance claim, it's generally best to file an auto insurance claim as soon as possible. After all, the sooner you file it, the sooner it could be settled.
States and companies do have limits on how long you can wait to file your claim and still be covered, though. This window can be as short as 30 days or up to several years, although it's not recommended to wait that long.
Then you should call your insurance company. They'll take you through the next steps, which will probably involve an investigation, an adjuster and, eventually, a reimbursement. This process can take weeks or months.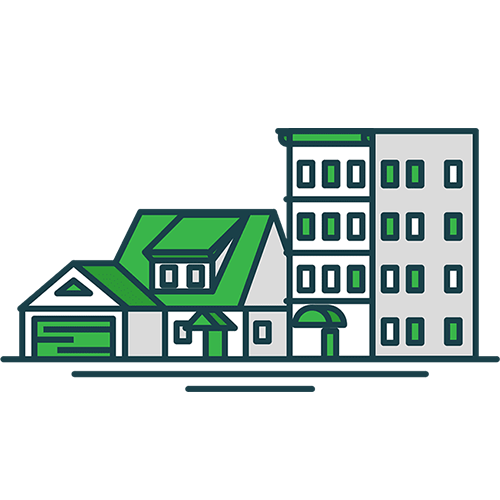 Home Protection Is Just a Click Away
We partner with the nation's top home insurance companies so you can get an excellent policy at an affordable price.
The editorial content on Clovered's website is meant to be informational material and should not be considered legal advice.
Similar Articles