How to Get Renters Insurance Online vs an Agent
Renter
/
How to Get Renters Insurance Online vs an Agent
Renters insurance is one of the cheapest types of insurance you can buy, and you can typically get it pretty quickly. It's wise for every renter to have a renters insurance policy even when it's not required. It's the best safety net to protect yourself and your belongings from financial disaster.
Keep reading to learn how to get renters insurance online and how long the process may take.
How Do You Get Renters Insurance?
Most large insurance companies offer quick and convenient ways to get renters insurance online. Additionally, if you or a family member has an insurance agent, they can help you get coverage quickly. Both methods of how to buy renters insurance have their advantages.
Getting Renters Insurance Through an Agent
Insurance agents are good for their industry knowledge and insight, but they may take longer and are less flexible. You can also build a relationship with an agent over time, and they can more easily help you in the future. It's always nice to have someone to turn to for questions and advice.
However, meeting with an agent will take a little longer. You can get renters insurance online in a handful of minutes while meeting with an agent can take over an hour.
Getting Renters Insurance Online
Getting renters insurance online is more flexible. You can stop and start a quote when you please. Also, most companies will allow you to adjust your coverages and see how your changes affect your premiums in real-time.
Our platform has the best of both worlds. You can adjust the aspects of your plan and see how the changes will raise or lower your expected premium as you make them, so you can really optimize your protection to fit your budget.
You can also reach out to one of our agents at any time during the process, and they can take the reins to get you the best renters insurance.
What Do I Need For Renters Insurance?
Your situation may determine exactly what information is needed for renters insurance, however, here's the information you'll want to have handy before finding renters insurance online:
Your new address

How much money your possessions are worth

Information about

your pets

(if any) that will be living with you

A list of everyone living in the unit

The accessibility of smoke and security alarms

Any pre-existing damage to the unit you'll be renting
Depending on which provider you decide to purchase a policy from, the company or agent assisting you may have additional questions before they can approve your application for renters coverage. They may ask if you have roommates you want to include, for example, or they ask if you want to add any endorsements.
As long as you have access to the details listed above, you shouldn't have any trouble quickly applying (and getting approved) for coverage to move into your new place.
How Long Does It Take to Get Renters Insurance?
The maximum time it takes to get renters insurance varies by state. You can get a quote in less than 10 minutes. However, depending on the carrier you choose, your policy could take up to three days to kick in due to the company's specific underwriting guidelines, which help determine risk when writing policies.
In Florida, for example, insurance companies can take up to 90 days to decide whether you meet their underwriting guidelines, although it shouldn't take nearly that long for renters insurance.
It's also good to know that you can cancel your renters insurance policy at any time, and your provider should give you a refund of the unused months' premiums. For a simplified example, let's say you had a 12-month policy that began in January, and you paid $20 every month. That would be a total of $240.
But, let's say you cancel your policy in October. Technically, you didn't use the protection for the final two months of the year, so your insurer can refund you $40, although some insurers have a cancellation fee or penalty.
How Long Does Renters Insurance Take to Kick In?
If your landlord wants to know how fast you can get renters insurance, you may be able to get a policy right away. You can show proof of insurance as soon as you buy, although it may take a little longer to be ab to file a claim.
With Clovered, you can choose your effective date – meaning you decide when you want your renters policy to start. You can make it as soon as a few days away, or you can choose to have your plan start over a month from when you bind.
If your carrier allows you to start the same day you buy, know that you may not be able to file a claim right away. Providers want to ensure that you're not purchasing a plan to claim pre-existing issues on your property.
How to Get Proof of Renters Insurance for Your Landlord
You should be able to get proof of renters insurance as soon as you bind and buy your policy. You can get proof of renters insurance by printing your declarations page, adding your landlord as an additional interest, or emailing them a copy of your policy.
But, if you put off looking where to buy renters insurance until your move-in date, you shouldn't have to worry too much. You should be able to get proof of insurance right after you buy, even if your plan doesn't kick in for a few days.
Sometimes, your landlord will offer coverage for you if you don't get your own policy. But, their insurance may only be liability coverage, and it may be a little more costly than if you found a policy on your own.
Getting proof of renters insurance is easy once you know how to find renters insurance and buy a policy. Your landlord may ask for a copy of the declarations page, or you can email them the whole policy. Sometimes, your landlord will ask to be added as an additional interest to your policy.
Indicating an additional interest is just an extra step for you when getting renters insurance, and it won't cost you any money. When someone is added as an additional interest on a policy, they can't file claims or change coverage.
They can only see whether the policy is active. So, some landlords will want to be additional interests on your renters insurance to verify that you maintain coverage for the life of the lease. They may not want you to buy coverage just so you can move in and then cancel it a month or two later.
Do You Need Renters Insurance Before Applying for Your Lease?
It's wise to have your renters insurance needs sorted out before you try to move into your apartment. But, if you don't know how to apply for renters insurance before you agree to a lease, you can get it online the same day you look for it. You'll be able to get proof of insurance in minutes.
Although landlords might require renters insurance as part of the lease, you don't need to get it before starting the application. Some apartments may have their own renters insurance they may enroll you in if you don't have any. If they don't, you should have a few days before completing the application and signing the lease to get a policy.
It's always better to get your own coverage, though. You can usually get your own plan any time and, when your renters insurance does take effect, notify the landlord that you've obtained your own policy.
Even if you don't know the exact apartment you're getting, you should know where to get renters insurance before moving in and how to buy renters insurance when you're ready. Take an inventory of your items to know what you own and how much it's worth. If you're going to have roommates, ask them if they'll be getting their own policy or if they want to be added to yours.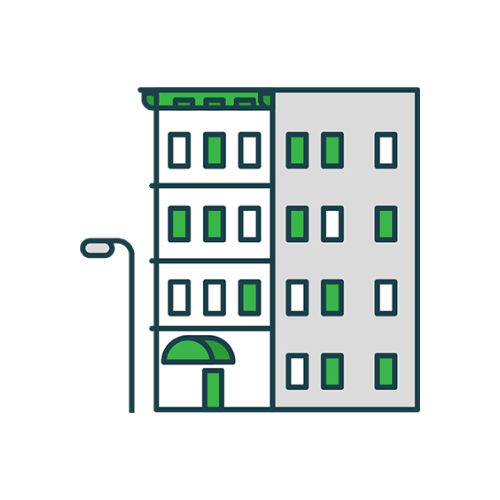 Protect Your Belongings With Renters Insurance
Averaging just $12 per month, renters insurance can protect your belongings for the cost of a few cups of coffee.
The editorial content on Clovered's website is meant to be informational material and should not be considered legal advice.
Similar Articles