Is Flood Insurance Transferable?
Flood
/
Is Flood Insurance Transferable?
Your home's flood zone designation can complicate the selling process and concern potential homebuyers. Homes in certain federally determined flood zones are required to buy flood insurance, which can seem like yet another obstacle before closing.
Fortunately, the Federal Emergency Management Agency (FEMA) has a process in place where an existing homeowner can transfer their flood insurance to a new buyer. This can save time and money for the prospective owner and help the existing seller make their home more appealing.
Is Flood Insurance Transferable?
Yes, flood insurance policies through the National Flood Insurance Program, FEMA's federally backed flood insurance, can be transferred from the initial property owner to the new one. It's usually referred to as "assuming" or "assigning" a flood policy.
The NFIP is the largest flood insurance provider in the country. If you're selling your home that has a current NFIP policy, or if you're buying a home where you know the owner currently has an NFIP policy, you can transfer the policy so the new buyer doesn't have to go through the process of getting a flood insurance policy from scratch.
From the FEMA NFIP manual, "The owner of an insured building may, with their written consent, assign a flood insurance building policy to the purchaser of the building. The seller must sign the assignment endorsement on or before the closing date. If the building is a primary residence, the insurer must validate the primary residence status at the time of assignment in order for the assignee to be eligible for the primary residence status."
It's good to know that FEMA also points out you can't transfer policies on buildings under construction or policies that cover contents only.
The Flood Insurance Transfer Form
Transferring the policy to the buyer has to be initiated before closing, so both parties should contact their insurers ahead of time. The policyholder, which in this case would be the existing homeowner, needs to send a policy assumption or flood insurance transfer form to FEMA. If your policy is written through a private insurer, you may send the form to your company, which will then communicate with FEMA.
For the flood insurance transfer form, you'll need both the seller's and purchaser's information, as well as the info for the new lender or mortgage company. FEMA will also need to know if the buyer plans to live in the home year-round, seasonally, or rent it. And they'll want to know if the buyer wants to make any changes to coverage.
Some Considerations for a FEMA Flood Insurance Transfer to Buyers
Just because the policy is getting transferred doesn't mean it stays the same. The new owner can add or reduce coverage as long as it falls under NFIP limits and satisfies lender requirements. Keep in mind that NFIP policies only offer up to $250,000 of dwelling coverage and $100,000 of personal property coverage.
Another perk of transferring flood insurance is the elimination of a waiting period for your policy to kick in. Usually, when you buy a flood insurance policy, there's a waiting period before your policy becomes active. For NFIP policies, it's typically 30 days, while private insurers may have a 15-day or shorter waiting time. If you assume a flood policy, there's no wait. The coverage continues uninterrupted from the old policyholder to the new policyholder.
You may also potentially grandfather in a better rate when you assume a policy. The home's flood zone designation could've changed from when the policy was initially purchased, which can raise rates. But, if you assume a policy, you may not experience a rate hike. You might also save money on getting an elevation certificate since there should already be one on file for your home.
If the buyer has an escrow account to pay for insurance premiums, the assumed flood policy will likely get escrowed, too. The only potential downside for the seller when transferring food insurance is if they paid their flood insurance premium in full annually. The NFIP won't issue you a refund for the period that you'll be missing out on.
For example, if you paid your yearly premium in January and sold your home in August, the NFIP won't refund your unused premiums for the last 4 months of the year. Instead, you may be able to work something out with the buyer of your home personally.
Can Private Flood Insurance Be Transferred?
Keep in mind that private flood insurance policies can't be transferred. If you're in the market for flood insurance from a private company, you'll need to get your own policy before you close on your home. It's best to compare rates from several providers, too, so it's best to do research on your own and find a company with coverages that suit your needs.
Flood insurance policies from private companies are much more customizable than NFIP policies. Private flood carriers can offer replacement cost coverage, coverage for other structures, and much higher limits for your personal property and dwelling.
If you're buying a home and you want more complete coverage than what the NFIP offers, we would love to help you. At Clovered, we partner with some of the nation's top flood insurance providers, and we're dedicated to finding a policy that works for you.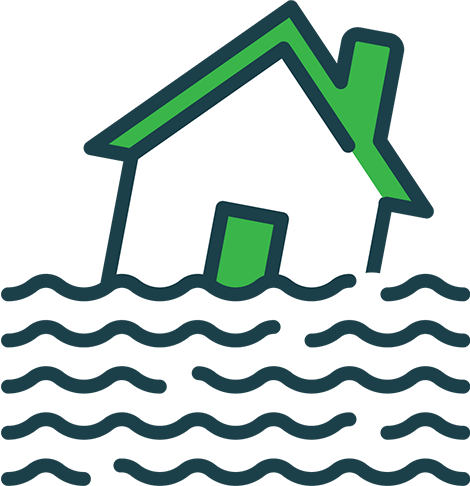 Stay Above Water With Flood Insurance
Do you want to pay for costly and common flood damage yourself or have an insurance policy pick up the tab?
The editorial content on Clovered's website is meant to be informational material and should not be considered legal advice.
Similar Articles