What Is Personal Property Replacement Cost Coverage?
Insurance 101
/
What Is Personal Property Replacement Cost Coverage?
When you're enrolling for any type of home insurance policy, you must choose to protect your belongings with one of two coverage types under the Coverage C portion of your policy: replacement cost or actual cash value. By all means, replacement cost coverage is the gold standard.
Yes, it may be more expensive than its actual cash value counterpart, but for good reason. Let's take a look at what you need to know before opting for one or the other.
What Is Personal Property Replacement Cost Coverage?
Personal property replacement cost coverage is the part of a home insurance policy that pays to repair or replace your personal belongings if they're damaged or destroyed by a covered peril. It's found in all types of home insurance, including homeowners, renters, condo and flood.
When choosing coverage for your personal belongings, you'll get to decide whether your personal property coverage will pay out on an actual cash value or replacement cost basis.
When filing a home insurance claim for property damage, your insurer will send a claims adjuster to your home to survey the damage that occurred, whether said damage will be covered and, most importantly, how much you'll receive for your belongings.
If your belongings were damaged by a covered peril — like a heavy windstorm knocking a tree through your window, a thief breaking in and stealing some electronics or a house fire that torches your furniture — your insurer will cover each item to its replacement cost.
With replacement cost coverage, your insurer will pay you the exact dollar amount you paid for an item when you purchased it. They don't factor in depreciation or use because this coverage is designed to help you get back on your feet by purchasing an item of similar value. This is a huge step up from actual cash value coverage, which factors depreciation into the valuation.
So if you bought living room furniture five years ago for $6,000 and it goes up in flames due to an electrical fire, your insurer will reimburse you $6,000 to replace it. The same can be said about a $2,000 computer you bought 10 years ago.
With replacement cost coverage, you should be reimbursed the value of the item no matter how long ago you purchased it and how much value you got out of it before it was damaged or destroyed.
However, it's extremely important to keep an inventory of everything you own and the price you originally purchased each item for. This helps take the guesswork out of any claim you may have to file, and it proves you actually purchased the item for the amount you're seeking.
How Does Replacement Cost Insurance Work?
Replacement cost insurance works more simply than actual cash value coverage. You must first document the damage to your belongings by taking photos or videos. Then you'll have to file a claim with your insurer. If you have a picture of the receipt, you're good to go.
If you don't have a receipt, your adjuster may have to do some digging to figure out the item's original value. It's also important to know that your insurer will only cover items that were damaged or destroyed due to a covered peril. If your insurer finds that a covered peril wasn't the culprit, your claim will be denied.
What Items Are Covered by Replacement Cost?
Items covered by replacement cost coverage are considered to be any of your personal belongings. These are things like furniture, electronics, clothing, kitchen utensils and appliances, tools, sports equipment, jewelry and much more.
Basically, many things that you bought, store in your home or on your property and aren't attached to or built into your home could be considered personal property. But high-value things like collectibles and jewelry see different coverage valuations.
When Do I Need a Personal Property Replacement Cost Endorsement?
You'll need a personal property replacement cost endorsement for higher-value items like jewelry, collectibles and computers. This endorsement simply increases the maximum claims payout on your policy for each item. Without an endorsement, these items will likely have a maximum payout that's below their value.
Something like jewelry usually has a $2,500 limit per item and collection. So if you have a piece of jewelry worth $5,000, you'll need to schedule it for that amount or risk being underinsured. Even if you have three pieces of jewelry valued at $1,000 each, you'd still be underinsured with a $2,500 limit per collection.
It's important to ask your insurer which items have lower limits and figure out what you need to schedule. The good thing with scheduling personal property is that you can do so anytime during your policy without having to alter the rest of your coverage amounts.
Is Personal Property Replacement Cost Worth It?
Personal property replacement cost is worth it in many instances. Think of it this way: can you afford to cover even 30% of the value of your belongings if you sustain a covered peril that destroys everything you own? If you can't, investing in personal property coverage is the way to go.
And with Clovered, getting a policy with personal property replacement cost already built in is easier than ever. Simply fill in a few details about your home and answer a few questions in our online quoting engine. Within minutes, we'll pair you with a policy that fits your needs and your budget.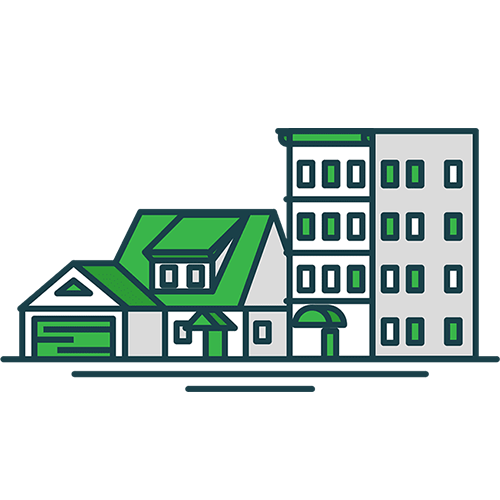 Home Protection Is Just a Click Away
We partner with the nation's top home insurance companies so you can get an excellent policy at an affordable price.
The editorial content on Clovered's website is meant to be informational material and should not be considered legal advice.
Similar Articles