Replacement Cost vs Market Value Coverage
Insurance 101
/
Replacement Cost vs Market Value Coverage
Ultimately, when you're getting a homeowners insurance quote, you decide how much to cover your home for. You always want to get enough coverage to sufficiently replace your home to its initial condition if needed in case of a total rebuild. In other words, you don't want your insurance to come up short when you need it most.
You need to understand the value of your property to accurately protect it. Understanding how much your house is worth means differentiating between two common valuation methods: replacement cost of a home and market value.
What Is Replacement Cost Coverage?
Replacement cost is a method of home valuation that values your home as the exact cost of repairing or rebuilding it to its current condition. It covers the cost to rebuild a house based on the materials and labor that went into it. It factors in the physical features of the home, like its square footage, its age, and the materials used in construction.
Your dwelling coverage, the primary aspect of homeowner insurance, is largely based on replacement cost. An inaccurate estimate of your house's replacement cost would throw off the amount of dwelling coverage you should have, which could compromise other parts of your policy that are based on a percentage of your dwelling limit.
You can also add endorsements to your policy that guarantee coverage beyond just the replacement cost. Ordinance or law coverage, for instance, covers the cost of bringing your home up to code when rebuilding it to comply with modern building standards that may have changed since your house was first erected.
How to Calculate Replacement Cost of a Home
Local contractors and insurance agents typically know how to calculate replacement costs and are typically willing to inform you how much it would cost to rebuild a house. When calculating the replacement cost of your home, these experts consider:
Square footage

Age of your home

Roof

type and materials

Exterior features –

pools

, garages, patios, etc.

Interior features – fixtures,

appliances

, etc.

Architectural style

Renovations
The national average cost to build a home varies. HomeAdvisor estimates that spending between $100 and $200 per square foot in 2021 means a 2,800-square-foot home costs $280,000 to $560,000 to build, with labor costs making up 40% of the expense.
To get a better idea of what it would cost to rebuild a home in your area, there are plenty of free online calculators to choose from. But, again, your best bet is either your insurance agent or local contractors or builders.
The cost of materials and labor has risen over time with inflation. For example, the cost to build a home in New Jersey in 1975 was just under $30,000 according to the New York Times. Today, it's in the hundreds of thousands of dollars.
For instance, the cost to build a home, from the foundation up, including the lumber, roof, and all the raw materials and labor that go into the floor, walls, paint job, and fixtures could cost you $250,000. To make a profit, the builders put the house on the market for $300,000. It ends up selling for $295,000. No matter what the house sells for, the replacement cost is $250,000.
But, this talk of the real estate market brings us to the second home evaluation method.
What Is Market Value in Insurance?
The other common valuation option, market value is the amount of money it would cost a new home buyer to purchase your home and land as it currently sits. So, market value is not what it costs to build your house, but rather what someone would pay for it before it was damaged or destroyed.
Market value coverage considers external factors when determining how much to insure your home for. Your location matters – the neighborhood, crime statistics, school zones, and more affect the land value.
For instance, a home in sunny South Florida a block away from the beach may have cost $300,00 to build, but could easily be selling for double that due to the desirable location and red hot real estate market in the state.
When it comes to rebuilding a home with market value coverage, the materials won't be the exact same as what your home was initially constructed with if these materials don't fit into the budget. Your insurer will rebuild your home with materials of similar quality to the best of their abilities given the amount of coverage your market value is worth at the time of the rebuild.

Replacement Cost vs. Market Value
To summarize, the replacement cost of a home is the amount it would take to rebuild the house based on construction materials and labor and excluding external factors like location and neighborhood. Market value is what a buyer would pay for a house and is not solely dependent on the cost of materials.
For many homeowners, replacement cost provides the most comprehensive insurance coverage. As long as you're regularly updating your provider on when you make improvements or modifications to your home, you'll never have to worry about insufficient coverage when you need it.
In some cases, market value coverage can make sense instead. With older or historic homes, the value of the bricks and mortar may not provide sufficient coverage in the event of a disaster. But always remember that market value can fluctuate, and there's a chance that using market value for your homeowners insurance could leave you short-changed.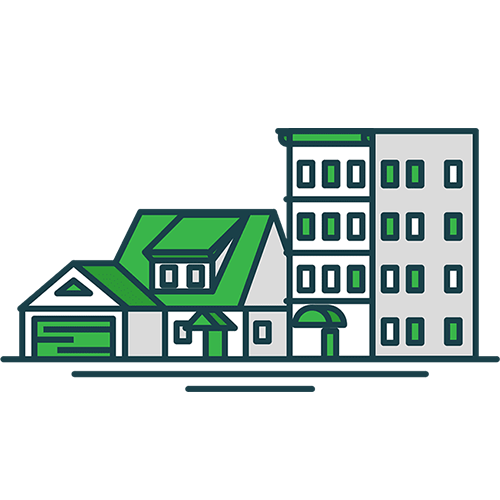 Home Protection Is Just a Click Away
We partner with the nation's top home insurance companies so you can get an excellent policy at an affordable price.
The editorial content on Clovered's website is meant to be informational material and should not be considered legal advice.
Similar Articles