RV Insurance Claims: 5 Steps to Take for Common Claims
RV
/
RV Insurance Claims: 5 Steps to Take for Common Claims
The feeling of taking less-than-stellar family photos on the road pales in comparison to sustaining damage or theft to your rig and having to file an RV insurance claim that disrupts your vacation and your mood.
However, if you have the proper RV insurance policy in place, your worries could soon fade away. Having full coverage RV insurance (liability, collision, comprehensive) can cover a multitude of incidents, including the theft of bikes, water damage to your rig, a single- or multi-vehicle accident, damage to your RV's awning and even flooding.
5 Steps to File RV Insurance Claims
While nobody wants to file an RV insurance claim, and they can bring about a lot of stress, it's imperative to remain as calm as possible throughout the process, treating any external party as you'd like to be treated. After all, stressing more about anything never really helps. So let's jump into the most important steps to take when filing RV insurance claims.
1. Ensure Safety & Call Police
The first and most important thing to remember about any RV insurance claim is to remain calm and ensure the safety of everyone involved, especially if you were involved in an accident. If possible, consult your family first to ensure they're OK. If you were at fault for the accident, you may also want to check on the passengers of the other vehicle after consulting your own passengers.
If you're filing a claim due to theft, you may want to carefully ensure the thief isn't still in your rig. After that, or checking on the passengers of an accident, you'll want to call the police. Doing this helps document the situation, which is especially important if you're not at fault.
The police will survey the scene and help your insurer determine who was at fault, what kinds of damage occurred and help diffuse any situation that has the potential to get out of hand. Depending on who was at fault, the damage may be covered by the collision or comprehensive portion of your RV insurance policy.
If you're filing a claim for another covered loss, such as a flash flood that caused damage to your rig at a campsite or trailhead, you'll still want to ensure the safety of everyone in your rig, but you won't have to call the police. Instead, you'll want to move on to step two.
After any damage or theft occurs, you'll want to document everything you possibly can. That means taking photos and videos of all the damage sustained to your rig, and other vehicles or property, if applicable.
If something like a flood or tornado occurred, it's wise to capture photos and videos of your surroundings as well. This will help prove the natural disaster did occur and it will help your insurer determine exactly how bad the incident was.
You'll need to submit all these photos and videos with your RV insurance claim, which will help your insurer make a final determination about the claim pay out you'll receive. If you need to fix something right away, such as sealing your leaking roof with a piece of plywood, document the before and after and keep all your receipts so you can be reimbursed.
3. File RV Insurance Claim
After going through the first two steps, the time will come when you need to file your RV insurance claim. Some companies allow you to file your claim online and submit all your documentation there, while others require you to call their claims line and speak with a real person.
Either way you file your claim, it will turn out the same way. It really just depends on how your insurer does things and if they possess the technology capable of building out an extensive claims-filing platform online for its policyholders.
From there, your insurer may put you in contact with a claims adjuster, whose job it is to survey the scene of the accident, the damage to your rig, review your claim and, ultimately, help decide on your payout.
4. Get Quotes From Multiple Body Shops
Your insurer may recommend a few auto body shops in your area they have partnerships with, but you don't have to go with those choices. However, it's always a wise decision to get repair quotes from multiple shops to ensure you're submitting the correct amount to your insurer.
One body shop could accidentally overlook some damage that another catches, so the first quote you get could be way too low. Or, unfortunately, one could overcharge you while another charges the average going rate. It's always wise to get multiple quotes because it helps your insurer see the average cost of parts and labor in your area — and helps you prevent getting short-changed on the claims payout.
5. Repair Your Rig and Hit the Open Road
After you've done the following four steps, the last thing left to do is get your rig repaired so you can get back to enjoying the open road, taking vacations to remote places, roasting marshmallows around the campfire and everything else you originally bought your RV for.
3 Common Types of RV Insurance Claims (Other Than Accidents)
Although single- and multi-vehicle accidents are by far the most common RV insurance claims to be filed each year, three other common RV insurance claims don't involve another vehicle and consistently top the list. Let's take at what they are and how you can help prevent them.
RV Water Damage Insurance Claim
Water damage to an RV is such a fickle thing. It can occur in many forms. Some are covered and some, unfortunately, not covered. If the water damage occurs due to a natural disaster, such as flooding or a tree damaging your roof and allowing rainwater to seep in, those should be covered. However, a busted pipe from your rig's internal water tank is probably not covered.
Even if you're unsure whether water damage to your rig is covered in a specific instance, it's still wise to snap photos and videos of the damage and whatever caused it in the first place. You can always consult your insurance agent about the claim before filing. That way if it's not covered, you won't have to file a claim and risk the potential of a premium increase.
RV Delamination Insurance Claim
Much like water damage to your rig, RV delamination claims are also very fickle in the sense that they may be covered sometimes, while other times you're left footing the bill. If the delamination occurs due to a covered peril, like a storm vandal, your insurer should pay to repair it. However, if it occurs due to something like sitting in the sun too long, it will likely be your responsibility to repair the damage.
Bikes Fell off RV Insurance Claim
Bikes stolen from your RV are most likely covered if you opted for the additional personal effects replacement coverage, which typically covers up to $5,000 worth of personal belongings not directly built into your rig. But bikes that fell off due to a user error may not be covered because your insurer may deem they were lost due to neglect.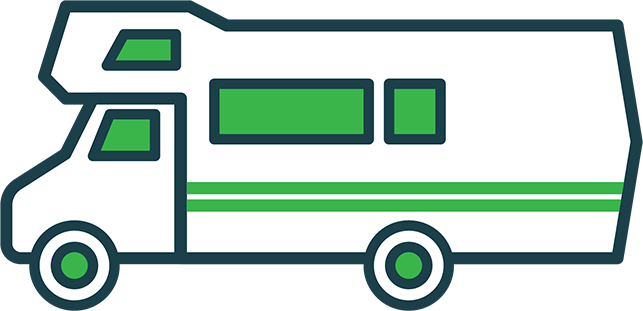 Protect Your Rig With RV Insurance
Cruise more and stress less with an all-types custom RV insurance policy that keeps you on the road longer.
The editorial content on Clovered's website is meant to be informational material and should not be considered legal advice.