Does RV Insurance Cover Awning Damage?
RV
/
Does RV Insurance Cover Awning Damage?
Your RV awning provides the perfect shade on sunny days or coverage for those dreary, rainy nights next to the fire pit. While it's a pivotal piece of your RV, travel trailer or converted van, it's also one of the flimsiest pieces of your rig. Luckily, RV insurance can help cover damage to your awning in some situations. Let's find out more.
Does RV Insurance Cover Awning Damage?
RV insurance covers awning damage if the damage was caused by one of the covered perils by your insurer, such as getting into a single- or multi-vehicle accident, vandalism, or damage caused by a natural disaster like a hurricane or flood. But for your awning to be covered, you'll need to have collision or comprehensive coverage.
Both collision and comprehensive coverage protect against different elements of damage, one involving incidents that aren't directly caused by the driver and the other covering incidents caused by other drivers. Both are considered to be full coverage. So your RV's awning damage will never be covered if you strictly have only liability coverage on your rig.
The good news is that lenders require full coverage RV insurance if you financed your RV and still owe money on it. They do this to protect their investment, but it also helps you along the way. While you still owe money on your RV, your lender is still the rightful owner, holding the title until you pay them back in full. If you get in an accident and your RV is considered totaled, your lender will collect the insurance claim payout, take out what they're owed and leave you with the rest.
The cost of full coverage RV insurance will depend on whether you're a part-time or full-time RVer. Part-timers use their RVs less, so their premiums are likely less expensive. Those who spend more than 150 nights per year in their RV, are considered to be full-time RVers and are, therefore, required to have full-time RV insurance that calculates the increased risk of damages.
But now let's take a look at the three coverages that could have your back if your RV's awning is damaged on the road or while you're at home.
Utilized while you're driving or parked somewhere, collision coverage is designed to pay for damages to your RV, including the precious awning, if you're involved in a multi-vehicle accident. It usually kicks in when you're at fault for the accident, but it can be used when another driver is at fault, too.
RVs tend to cost a lot of money, so many drivers on the road may not have sufficient insurance to cover the entire cost of your rig's repairs. If you're at fault in an accident that only damages something like the awning, roof and maybe causes a bit of delamination, your collision coverage would likely pay to repair the damages after you've met your deductible.
Comprehensive coverage is the portion of an RV insurance policy that's utilized for instances of one-vehicle accidents and incidents that are considered to be out of your control. This can include something like side-swiping an object that rips off your awning, a hurricane that sends a tree barrelling into your awning or a vandal stealing the awning for themselves.
While this coverage does protect your awning from a multitude of perils, it also protects your entire RV. So the coverage would extend to the structural components of your rig, including things like the windshield, roof and siding.
The coverage depends on where your rig is parked. If it's stored in a detached garage, shed or under a carport, damage to the awning and the rest of the RV would likely be covered under other structures coverage. This coverage can typically reimburse you for up to 10% of your homeowners insurance's dwelling coverage amount. So a $300,000 home would likely have $30,000 worth of coverage.
If your rig isn't parked in or under one of the aforementioned structures, it would likely be covered under the personal property portion of your policy, which is set by you based on the value of your belongings.
When RV Awning Damage Isn't Covered
While RV awning damage is likely to be covered by either your RV or home insurer in all the instances mentioned above, there are some scenarios when you won't have coverage. For instance, if your awning breaks off due to wear and tear, a manufacturer defect or failing to secure it properly to your RV, your insurer won't foot the bill. Lack of maintenance is also a common instance of awning damage that isn't covered.
RV Awnings Insurance Claims
If you suffer a covered loss, all you need to do is file a claim with either your RV or home insurer, depending on where and how it was damaged. From there, they'll assess the damage, you'll pay your deductible and your insurer should cover the remaining costs to repair or replace your awning.
If your RV sustains awning damage and you're unsure of whether it can be covered, it's always best to consult your insurance agent before filing a claim.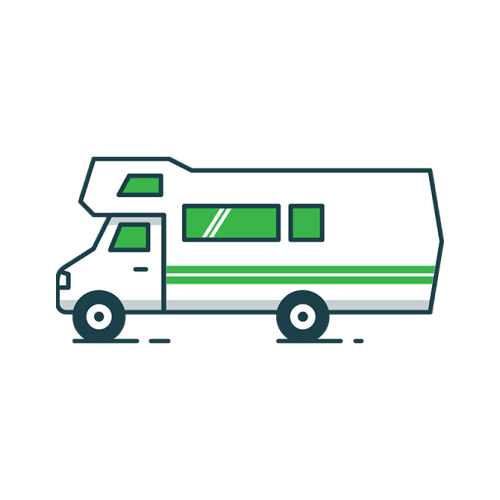 Protect Your Rig With RV Insurance
Cruise more and stress less with an all-types custom RV insurance policy that keeps you on the road longer.
The editorial content on Clovered's website is meant to be informational material and should not be considered legal advice.
Similar Articles