Does RV Insurance Cover Flooding?
RV
/
Does RV Insurance Cover Flooding?
From Utah's brutal flash floods and the Midwest's heavy rain-caused flooding to the coastal inland that surround the Gulf and Atlantic Coast, flooding is the most common natural disaster on earth and it affects the majority of the country. The worst part about flooding is it can be extremely unpredictable.
While floods are known to affect homes and personal belongings, the often-overlooked topic of conversation is flood damage to RVs. Luckily, RV insurance can help cover the damages, but you must have the right policy in place. Let's take a look.
Does RV Insurance Cover Flooding?
RV insurance covers all types of flooding — from flash floods to oceanic storm surge and overflowing bodies of water — if your policy includes comprehensive coverage. You can also be further protected by adding personal effects replacement coverage, roadside assistance, vacation liability and towing & labor coverages.
Lenders do this because they still hold the title to every RV with an active balance. If your RV were totaled by a flood, or another peril, requiring insurance is a sure-fire way to recoup the money they've got invested in the RV.
If you still owe money on your rig, it's totaled and you must file a claim, the insurance payout will go directly to the lender. They'll take out whatever money they're still owed and leave you with the rest — if anything is remaining. But even if you own your RV outright, we still recommend investing in all or a portion of the following coverages.
Comprehensive coverage is designed to cover natural disasters and other events that are deemed to be out of your hands. Since floods are considered natural disasters — abundantly occurring ones at that — your RV insurance's comprehensive coverage should cover your rig from a variety of flood damages.
If your RV is damaged by flooding, it can pay to repair the cosmetic and mechanical damages your rig sustains. It can also reimburse the value of your RV if it's considered to be totaled by the flooding.
So let's assume you're suddenly caught in a flash flood. If that flood causes somewhat minor damages to your RV's lamination, awning and exterior paint, you'd get a quote to repair them and your policy would likely reimburse you the full amount to repair each.
If the flooding causes more major damage, such as blowing out the engine and even tipping your rig on its side to cause roof damage, you'd also likely be covered for the full amount — assuming your RV coverage matches the value of your rig.
Even if the flood sweeps your RV into a ditch, causing it to be totaled by the insurer, you'd likely be covered. Car insurance also covers flood damage, and RV insurance is basically just expanded car insurance for a larger, more valuable vehicle.
Personal Effects Replacement Coverage
RVers, especially those spending more than 150 nights in their rig and considered by insurers to be full time, store more personal belongings in their rig than their everyday drivers. That's where personal effects replacement coverage comes into play. If added to an RV insurance policy, it typically covers up to $5,000 worth of personal belongings on your rig.
Depending on your policy and insurer, you may also be able to add an endorsement to your policy that gives you up to $100,000 worth of coverage for your personal belongings. This coverage only protects personal belongings that aren't built into your rig. So things like bikes and bike racks, clothes, TVs, computers, mattresses, cooking equipment and satellite dishes may all be considered personal effects.
So if you keep two expensive bikes hooked up to an expensive bike rack on the back of your rig, those three items alone could easily top more than $5,000. We highly suggest creating an inventory of your belongings, similar to a home contents list of your personal possessions, to figure out exactly how much coverage you need.
If floodwaters seep into your rig and destroy most of the personal possessions you keep inside — and hooked to the exterior — you'll want to have enough coverage to replace everything so you're not coming up with the difference out of your own pocket.
If said covered flood leaves you stranded on the road with a blown-out tire or a dead battery, your policy's roadside assistance (or the person driving the assistance vehicle) can quickly become your best friend.
Instead of paying thousands of dollars for a tow, especially if the flood occurs in a faraway place without services, roadside assistance can send someone to your rescue. Although not required by most lenders, it's an added coverage that you may want to think about investing in.
Towing & labor coverage is designed to save you the aforementioned thousands of dollars in towing expenses if the flooding causes damage to your rig's engine and you have no other option than to get it towed to a local shop. It can also help pay for some designated labor expenses related to repairing your RV.
This coverage is especially pertinent to those RVers who spend much of their time in remote places. After all, suffering immovable damage from a flood out there can be extremely costly and extremely dangerous.
But wait, there's more. Vacation liability coverage can provide you up to $10,000 to be used toward finding a rental RV or vehicle, hotel or another rental unit if the flood damage occurs at a designated campsite and your RV needs to be repaired.
Flood insurance is a grey area when dealing with RVs. While a policy from the government's National Flood Insurance Program will nearly never cover damage to your RV, some private insurers could cover your RV the same way they cover personal belongings if your rig is damaged by flooding while it's parked on your property.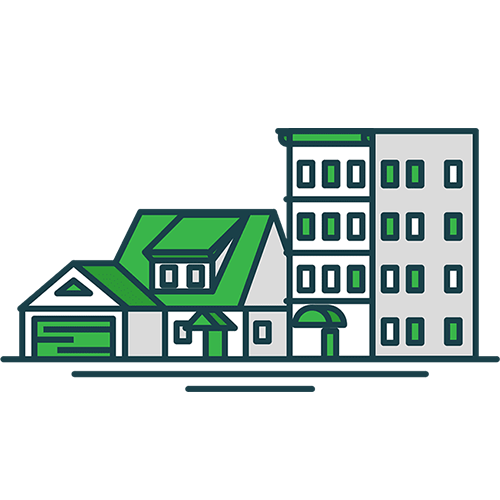 Home Protection Is Just a Click Away
We partner with the nation's top home insurance companies so you can get an excellent policy at an affordable price.
The editorial content on Clovered's website is meant to be informational material and should not be considered legal advice.