What Happens When a Car Is Considered a Total Loss?
Auto
/
What Happens When a Car Is Considered a Total Loss?
With about six million accidents every year in the United States, car crashes are an unfortunate part of everyday life. A serious one can total your car, causing more stress to an already bad situation.
A scenario like this is why you have insurance, right? If your car is totaled, your provider may alleviate some of the financial burden if you have the right insurance coverage. Let's take a look at how your insurer determines a total loss and what happens afterward.
What Happens When a Car Is Considered a Total Loss?
If your car has been considered a "total loss," the insurance company has determined that it's worth more to repair your damaged car than to reimburse you for another one. What happens next depends on fault and your insurance coverage.
Collision coverage will pay for damage to your car after you've been in an accident, no matter who's at fault. While collision coverage isn't mandatory by law, like liability insurance is, most lenders will require you to get it if you're financing or leasing your vehicle. Your car can be deemed a total loss under both coverages.
What exactly constitutes a total loss varies by state. Some states have different formulas or thresholds they use. For example, a car that an insurer would consider totaled in Nevada might not be a total loss in Florida. In Nevada, if the damages to your car amount to 65% of its actual cash value, the insurer will consider it totaled. In Florida, the threshold is 80%.
No matter where you are, though, it's a safe bet that if your repairs cost more than what your car is worth, you've got a total loss on your hands.
Insurance's Total Loss Payout
No matter how it becomes a total loss, the payout process for your car will be similar. Your insurer will reimburse you for the actual cash value of your car.
In short, the actual cash value of your vehicle is what your car was worth when it was totaled, depreciation included. It's determined by your provider, who will take into account factors like age, condition, mileage and resale value. You can get recouped for a total loss up to the policy's limit.
If you own the car, you'll receive a total loss payout for it after an adjuster determines its actual cash value. If you leased your car, the payment will go to your lender.
It's possible that the amount you receive from your total loss claim isn't enough to completely pay off the car payments you had left on your vehicle. Unfortunately, an insurer isn't responsible for paying off your car loan, and losing the car doesn't void the loan. You're still obligated to make the payments, which is why many people invest in gap insurance.
If you don't have extra cash on hand, paying off the rest of this loan could send you into debt. This could make an already unenviable situation worse. Fortunately, many providers offer gap coverage to avoid this scenario.
After you've received your total loss payment, your insurer may take ownership of your car. They'll likely try to salvage it to recoup some of their money, but you won't be involved in this process since you've already been paid.
Car's Total Loss When You're Not at Fault
Sixteen states in the country have "no-fault" auto insurance laws: Delaware, Florida, Hawaii, Kansas, Kentucky, Maine, Maryland, Massachusetts, Michigan, Minnesota, New Jersey, New York, North Dakota, Oregon, Pennsylvania and Utah.
The "no-fault" in a no-fault state mostly pertains to injuries suffered in car accidents. It means you're covered by your own insurer, not the other driver's liability insurance, for medical expenses related to a crash. No-fault laws are designed to keep small injury claims between drivers to a minimum.
However, this doesn't apply to vehicle damage claims. Even in a no-fault state, you can file a claim with the other driver's insurer for car damage.
There are other ways your car can become irreparable to an insurer other than being involved in a crash. Your provider could deem your car a total loss if it was stolen and never recovered.
It's also possible that your car got totaled while it was parked due to a flood, hurricane, or a freak accident. For example, downed power lines or a fallen tree could wreck your car while it's just sitting in your driveway.
If this happens, you'd need comprehensive coverage to seek compensation from your insurer. Comprehensive coverage protects your car from damages it can sustain while parked. This can include theft, vandalism, damage from animals and severe weather.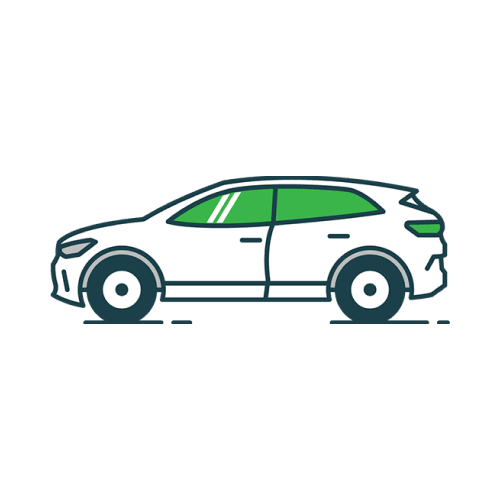 Ready to Save Money on Auto Insurance?
Rethink your auto insurance premium with a free quote from the nation's top companies.
The editorial content on Clovered's website is meant to be informational material and should not be considered legal advice.
Similar Articles