What Is a No Fault State?
Auto
/
What Is a No Fault State?
If you live in a no fault state, that means your car insurance works a little bit differently than the rest of the country's. To find out what kind of coverage you need and what happens with your insurance after an accident, you have to understand no fault states and no fault insurance. This guide explains everything you need to know.
What Is a No Fault State?
A no fault state is a state with auto insurance laws that require your insurance company to cover your medical expenses that result from a car accident, even if the accident wasn't your fault. No fault laws also restrict when you can sue an at-fault driver.
So, what happens if you have a car accident in a no fault state? You'll file a claim with your own insurance to cover your medical bills, no matter who caused the accident. In the same way, any other drivers involved in the accident will file a claim with their insurance for their medical expenses. 
Unfortunately, as with many things in the world of insurance, no fault insurance laws can be confusing. Read on to demystify the process of how auto insurance works in no fault states. 
What Does No Fault Insurance Mean?
In simple terms, no fault insurance is the part of your car insurance policy that covers your own medical expenses and those of any passengers in your car at the time of an accident, no matter who is at fault. No fault insurance is more commonly called personal injury protection (PIP) insurance. 
If you live in a no fault state and own a car, you are required by law to have PIP insurance. That's because, in a no fault state, you (and your own insurance company) are always responsible for your medical bills after an accident. Even if the other driver is at fault, their insurance won't be able to help you pay for your medical expenses (up to a certain point–but more on that later). 
Don't confuse PIP insurance with liability coverage. Liability coverage is the part of your auto insurance policy that helps pay for damage to another person's property (and their medical expenses, if you aren't in a no fault state) if you are found legally responsible for a car accident. 
What Does No Fault Insurance Cover?
No fault insurance (aka PIP insurance) covers:
Your medical expenses 

Your lost wages because of injuries sustained in an accident 

Your funeral expenses, if necessary

May cover other expenses you have to pay as a direct result of an accident (such as paying for child care if you're incapacitated and unable to look after your children yourself)

All of the above for any passengers in your car who are injured in an accident 
PIP insurance only applies to insurance claims related to medical expenses. This portion of your insurance policy does not cover damage to your vehicle, someone else's vehicle, or personal property.
In case of an accident where you're at fault, your auto insurance should include collision coverage to help pay for damage to your vehicle and liability coverage to help pay for damage to other people's property. 
States With No Fault Insurance
The following states (plus the territory of Puerto Rico) are currently classified as no fault states:
Kansas

Kentucky

North Dakota

Utah
Residents of the 12 states listed above are required by law to have PIP insurance as part of their auto insurance policy. They're also subject to restrictions on when they can sue another driver in the event of an accident. 
Of these states, Kentucky, New Jersey, and Pennsylvania are what's called "choice no fault states" because you have the choice to opt for a no fault policy or a traditional tort policy (the kind of insurance used in at-fault states, which we'll cover in another section). In choice no fault states, you choose which kind of policy you want when you first purchase your car insurance. 
Even if you don't live in a no fault state, PIP insurance may be available or even required as part of your auto insurance policy. This is where things can get a little tricky. Your logical instincts may tell you that "no fault insurance" is only for "no fault states," but this is not the case. 
The following states aren't really no fault states, but they still require all drivers to have no fault (aka PIP) insurance. These states are classified as add-on states because they simply added PIP coverage requirements onto traditional car insurance laws:
Arkansas

Delaware

Oregon 

Texas 
The difference between no fault states and add-on states is that, in add-on states, you're free to file a lawsuit against an at-fault driver without any restrictions. 
There's one more category you should know about. The following states offer PIP insurance but don't require that all drivers have it:
South Dakota

Washington

Wisconsin 
If you live in one of these states, you may choose to pay for PIP insurance in order to simplify your insurance claims process and get money for your medical expenses faster, without having to wait for another driver's insurance company to pay out. 
Who Pays for Car Damage in a No Fault State?
When it comes to car damage, auto insurance works the same way in no fault states that it does everywhere else. Someone takes the blame for the accident–you, the other driver, or a combination of both–and whoever is at fault has to foot the bill for vehicle and property damage. 
If you are the at-fault driver, you'll file a claim on your own insurance. Your policy's collision coverage will help you pay for damage to your own vehicle, while your liability coverage will help pay for damage to anyone else's vehicle or property. In this case, you'll have to pay your policy's deductible. 
If another driver is at fault, you can file a property damage claim with their insurance company. For this kind of claim, you'll need proof that the other driver is at fault: pictures of the accident, eyewitnesses, police reports, etc. The other driver pays their deductible, and their insurance helps you pay for any damage to your vehicle or property. 
If the at-fault driver is uninsured or underinsured and their insurance doesn't cover all your expenses, you have the option to sue for the remaining damages. No fault laws only restrict lawsuits regarding medical expenses, not property damage. 
Can You Sue in a No Fault State?
Yes. No fault insurance laws exist to reduce the number of lawsuits over car accidents, but there are still some cases when you can sue an at-fault driver for your medical expenses. 
In order for you to sue, your injuries must meet your state's no fault threshold. There are two different kinds of thresholds: verbal or monetary. 
A verbal threshold is a physical description of how permanent or severe an injury is. Injuries that meet the verbal threshold often include things like permanent loss of a bodily function, permanent and severe disfigurement, and death, but the exact qualifications vary by state.
If your injuries are bad enough to meet your state's verbal threshold, you are permitted to sue the at-fault driver. Florida, Michigan, New Jersey, New York, and Pennsylvania have a verbal threshold. 
A monetary threshold is a set dollar amount your medical expenses must reach before you're allowed to sue. Again, the exact dollar amount varies by state. Hawaii, Kansas, Kentucky, Massachusetts, Minnesota, North Dakota, and Utah have a monetary threshold. 
Remember, no fault laws only apply to medical expenses, not property damage. If the cost of repairing your vehicle or property exceeds the amount that the at-fault driver's insurance gives you, you're allowed to sue them for the remainder of the cost without meeting a threshold first.
The opposite of a no fault state is a tort state. You can think of tort states as "at-fault states" if that makes it easier. In a tort state, the driver found legally responsible for the accident is also responsible for all the associated costs. 
If you get in an accident in a tort state and it isn't your fault, the other driver's insurance will cover your medical expenses and property damage repairs. In case the other driver is uninsured or their policy doesn't cover all your expenses, there are no legal limits in these states on when you can sue for damages. 
All 38 states not listed above as no fault states are tort or "at-fault" states.   
Are you rethinking your auto insurance coverage? Clovered is an independent agency here to help you compare policies from different providers online. In minutes, you can find the right car insurance for you and your state–for the right price.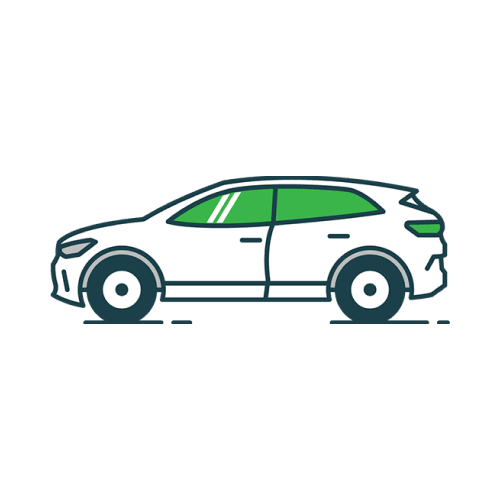 Ready to Save Money on Auto Insurance?
Rethink your auto insurance premium with a free quote from the nation's top companies.
The editorial content on Clovered's website is meant to be informational material and should not be considered legal advice.
Similar Articles