What Auto Insurance Coverage Should I Have?
Auto
/
What Auto Insurance Coverage Should I Have?
If you've leased or financed your vehicle, there's a good chance your auto insurance coverages will already be chosen for you. But if you own your vehicle outright, you still have the pick of the litter as to which coverages you select and which coverages you don't.
Either way, you'll still be responsible for deciding just how much coverage you enroll in. And there are certain scenarios that call for more and more expansive coverage. Let's take a look.
What Auto Insurance Coverage Should I Have?
Both liability coverages protect other vehicles and persons if you're involved in an accident and deemed to be at fault. Uninsured and underinsured motorist coverages protect your vehicle, you and your passengers if you get into an accident with someone who's either uninsured or doesn't have sufficient coverage.
Property Damage & Bodily Injury Liability Coverage
As we mentioned earlier, you're required to maintain property damage and bodily injury liability coverages in every state except two. So the vast majority of the U.S. population of drivers is legally required to purchase auto insurance.
These coverages kick in when you're involved in an accident that's deemed to be your fault. Property damage liability will help pay to repair or replace any vehicles or property, like mailboxes or fences. Bodily injury liability will help pay for medical bills of the injured parties, as well as lawsuits that arise from the injuries.
Uninsured & Underinsured Motorist Coverage
These two coverages are designed to kick in when you're in an accident with another driver who doesn't have any insurance at all, or just doesn't have sufficient insurance to cover the damage to your vehicle or injuries to you and your passengers.
While each works a bit differently, states have been stepping up recently to ensure more and more drivers are required to purchase this coverage. With more and more uninsured and underinsured drivers on the road, it's happening just in the nick of time.
Vehicles That Are Financed or Leased
Comprehensive coverage is designed to pay to repair or replace your vehicle if it's damaged or destroyed by something considered to be out of your control. The most common instances of this coverage kicking in is your vehicle getting stolen or being damaged by something like a falling tree due to a hurricane, tornado or another natural disaster, or being damaged due to a flood.
Personal Injury Protection or Medical Payments Coverage
Personal injury protection (PIP) or medical payments coverage may or may not be required, but they're similar, awfully affordable and necessary for many drivers. These coverages are designed to pay for the medical bills of anyone injured inside your vehicle after an accident — whether you were at fault or not.
Vehicles That Are Owned Outright
If you own your vehicle outright, you're likely only required to purchase the state-mandated minimum liability coverages. But just because that's all you're required to purchase, that doesn't mean that's all you need to purchase.
In fact, the state minimum coverages are put in place more to cover minor accidents than to cover the vast majority of accidents. So there's a good chance having only the state minimums will leave you vastly underinsured if you're involved in an accident.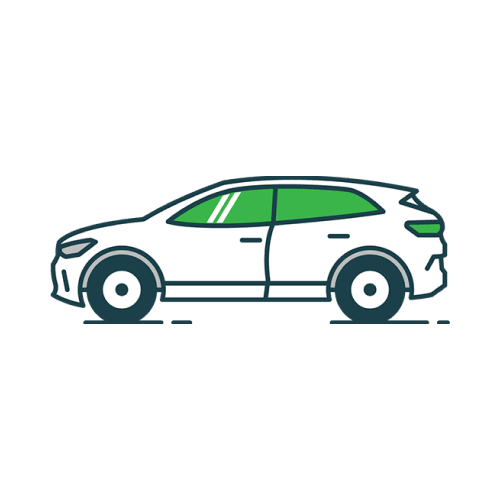 Ready to Save Money on Auto Insurance?
Rethink your auto insurance premium with a free quote from the nation's top companies.
The editorial content on Clovered's website is meant to be informational material and should not be considered legal advice.
Similar Articles