New Jersey Auto Insurance
Auto
/
New Jersey Auto Insurance
Whether you're moving to New Jersey from another state, just getting your driver's license in the Garden State or just searching for better rates your current company can provide for you, Clovered can help you find cheap auto insurance in New Jersey that meets and exceeds the state's minimum requirements.
As long as your vehicle is registered in the great state of New Jersey, you need to maintain liability coverage — and maintain state-mandated minimums for coverages from property damage to uninsured motorists. Given the number of vehicles stuck in rush hour traffic and the number of accidents that occur in the state each year, it's better to have more coverage than not enough.
New Jersey Auto Insurance Minimum Requirements
Failure to maintain New Jersey auto insurance minimum requirements mandated by law may result in serious consequences, including heavy fines and license suspension. Since New Jersey is home to a great number of people, vehicles and bumper-to-bumper rush hour traffic, it's always a wise idea to maintain more coverage than the state-mandated minimums shown below.
Bodily Injury

: $15,000 per person, $30,000 per accident

Property Damage

: $5,000 per accident

Uninsured Motorist

: $15,000 per person, $30,000 per accident

Uninsured Motorist

: $5,000 per accident

Personal Injury Protection

: $15,000
What Does New Jersey Auto Insurance Cover?
Property Damage Liability
This coverage helps pay to repair the damage you directly cause to another person's vehicle or their property if you're at fault. It's required by law in most states.
Collision Coverage
This coverage helps pay to repair damage to your vehicle if you're at fault in an accident that involves another vehicle or piece of property. It's required if you're financing or leasing your vehicle.
Comprehensive Coverage
This coverage helps pay to repair or replace your vehicle if it was stolen or damaged by something other than a collision, like a hailstorm, tree, fire or vandalism.
Bodily Injury Liability
If you're at fault in an accident that injures a passenger of another car or pedestrian, this coverage will help to pay their medical bills, legal fees and loss of income.
Personal Injury Protection
Whether you're at fault or not in an accident, personal injury protection (PIP) is a no-fault coverage that helps to pay for you and your passenger's medical bills. Some states make this coverage mandatory.
Medical Payments
This is similar to PIP coverage in that it may help to pay for the medical bills of you and your passenger if you're involved in an accident, whether you're at fault or not. It's different because MedPay is always optional.
Gap Coverage
If your vehicle is totaled in an accident, guaranteed asset protection (GAP) coverage helps to pay the difference between your vehicle's current worth and what you still owe on your auto loan.
Towing & Labor
An optional coverage, towing and labor may be added to your auto insurance policy to get you out of binds. This pays for a tow truck to pick up your vehicle and take it to the nearest repair shop.
Rental Car
You may add rental car coverage that pays for a rental car while your vehicle is in the shop. But nearly every auto policy also covers the vehicle and passengers when you're driving a rental car.
Uninsured Motorist
This coverage is within your own auto policy and helps to pay for repairs to your vehicle or for your medical bills if a driver who's at fault doesn't have auto insurance.
Underinsured Motorist
This coverage is also within your own auto policy, helping to supplement the remaining expenses to repair your vehicle and pay your medical bills if the other driver doesn't have sufficient coverage.
How to Get Cheap Auto Insurance in New Jersey
Just because auto insurance in the Garden State is expensive doesn't mean you have to settle for overpriced New Jersey auto insurance policy. With Clovered, you can get a free quote in minutes. We'll compile policies from many of the state's best insurers and provide you with a policy that meets your coverage needs at the right price.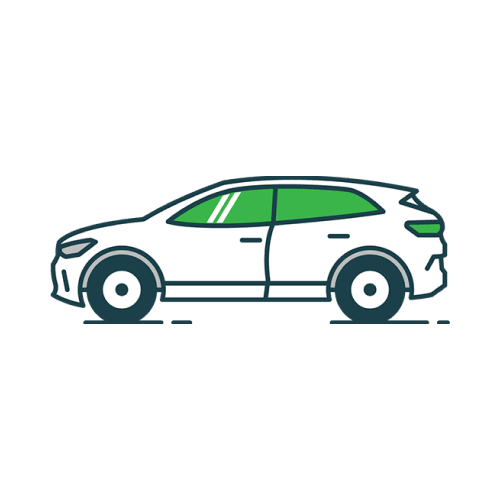 Ready to Save Money on Auto Insurance?
Rethink your auto insurance premium with a free quote from the nation's top companies.
The editorial content on Clovered's website is meant to be informational material and should not be considered legal advice.