Does Car Insurance Cover Fire Damage?
Auto
/
Does Car Insurance Cover Fire Damage?
There are hundreds of thousands of vehicle fires reported every year, according to the National Fire Protection Association. Their most recent figure for 2018 lists over 200,000 vehicle fires that caused hundreds of deaths, thousands of injuries, and over a billion dollars in property damage.
If you have the right coverage, fires should fall under the umbrella of your car insurance protection in most cases. Keep reading to learn about car fire insurance payouts and the type of policy you need for your car insurance to cover fires.
My Car Caught on Fire, Will My Insurance Cover It?
Your insurance should cover many instances of fire damage as long as you have comprehensive coverage, but you may run into issues if your negligence caused the fire. Liability insurance won't help you after a car fire.
Many drivers have full coverage for their cars. Full coverage protects the physical value of your car when you suffer damage. Collision and comprehensive coverage are the two most common components of full coverage. 
Coverage will vary by insurer, but your comprehensive insurance should cover sudden or accidental car fires like those caused by engine fires or unexpected mechanical issues unrelated to wear and tear. It could also cover damage from wildfires and arson. 
In many cases, your comprehensive insurance should cover your car fire if your vehicle sets alight randomly. Your provider will investigate the cause of the fire, and if needed, they can pursue the manufacturer for reimbursement for your claim behind the scenes. But, they should reimburse you first and leave you out of those negotiations. 
Car fires in the form of arson or vandalism should also be covered. Again, your insurer will investigate the fire, and you may need a fire report or report from the emergency services that responded to the fire when filing your claim.
In rare instances where your car sets ablaze after an accident, your collision coverage may come into play since the crash may have caused it. If someone hits you, that person's property damage liability insurance should cover you. If not, your collision coverage can reimburse you for the fire damage to your car.
Comprehensive coverage can also cover you if your car catches fire in your garage due to a fire that started in your home. Homeowners insurance won't cover your car in this scenario.
When Car Insurance Won't Cover Fire Damage
Your insurance may not cover a car fire if you don't have full coverage or if your insurer proves your negligence caused the fire. You also won't be covered under any circumstances if you try to commit insurance fraud relating to a car fire.
Liability insurance is the most basic car insurance coverage you can have. It financially covers accidents and injuries you may cause to someone else on the road, but it doesn't cover physical damage to your own vehicle. If you only carry liability insurance and not full coverage, your carrier can't reimburse you for fire damage to your car.
Your insurance claim may also be denied if your provider determines that your negligence caused the fire during the investigation. For example, as we mentioned earlier, leaving a lit cigar or cigarette on your seat that sets your car alight probably won't be covered. 
You may also risk denied coverage if you knowingly ignore a recall notice for a long time and not fixing the recalled part contributed to the accident. Recall notices often state whether a vehicle is safe to drive while you wait for repairs. If you knowingly exceed this window, your car becomes unsafe. You might have complications with your provider if the recalled part was at fault somehow.
How to File a Car Fire Insurance Claim
Insurance companies investigate car fires in-depth. If you experience a legitimate car fire, you should report the damage to your insurer as soon as possible. Acting promptly and providing as much information as possible can expedite a car fire insurance payout, but know that every claim will vary.
Due to the possibility of fraud, meaning someone intentionally setting their own car ablaze, insurance companies seriously investigate most car fire claims. Your provider will likely send an adjuster out to inspect the damage. The adjuster will verify the accuracy of your claim and determine levels of damage, depreciation, and more. You'll also need to submit an incident report when filing your claim.
You should provide a few things to your insurer to expedite your car fire insurance payout during a claim. Some pieces of information that can make the process go smoothly are:
Report from the fire department, police, or other emergency services that responded to the fire

Description of the incident, with pictures

Vehicle information, such as VIN, current mileage, and more

A list of any personal items lost in the fire
You may also need your title and receipts of recent repairs if applicable. You should also have your leasing company information on hand if you leased or financed your vehicle. Your lender will likely want to be involved in the claim and may be entitled to the payout you receive. 
What to Know About Car Fire Insurance Payouts
Car fires involving theft, arson, and other deliberate acts will likely warrant a special car fire insurance investigation to avoid fraud. Insurance companies never cover purposeful acts of destroying property. Your provider must be positive that the loss was accidental. If found trying to commit insurance fraud, your policy will be canceled, and you can face criminal charges.
If found to be legitimate, your insurer will issue you a car fire insurance payout at the conclusion of your claims process for the cost of repairs to your vehicle minus your deductible. Note that your comprehensive deductible may differ from other deductibles in your auto insurance plan.
Car fires often result in total losses after a significant fire. Providers declare that a car is a total loss if estimated repairs exceed a certain percentage of the car's fair market value. If this is the case, your insurer will reimburse you for your car's value at the fire's time, minus your deductible.
What Causes a Car to Catch on Fire?
Car fires can be caused by mechanical failures, manufacturer defects, driver negligence, and more. Electrical and mechanical failures are the most commonly reported causes of car fires, but many potential causes include:
Mechanical failures

Car accidents

Arson

Negligence

Garage fires
Several automakers have recalled models due to fire risks from faulty engines, gas tanks, brakes, and more. If your model has been recalled, your dealership or manufacturer should send you a letter advising you on the recalled parts and what steps to take. You're likely in line for a free repair to fix it at a local dealership.
Despite being commonly depicted in movies, explosions after car accidents are rare. Nevertheless, they do happen sometimes. They may be more likely in single-car and head-on crashes, according to the NFPA. Cables or fuses can break and spark, causing something to ignite.
Vehicles can also catch fire due to the direct actions of people. A blaze starting from a driver's lit cigar or cigarette is a form of driver negligence. Also, failing to perform routine maintenance on your car, like getting regular oil changes or adding coolant, can increase the chances of a fire.
Potentially the most sickening way your car could catch fire is through arson. Arson is deliberately setting someone else's property ablaze. In most states, arson is a felony punishable by fines and jail time. 
Insurers have encountered all these causes, and the insurance coverage for your vehicle varies by the cause.
What to Do if My Car Caught on Fire and I Have No Insurance
If your car catches on fire without insurance, you're pretty much out of luck. You will very likely have to pay for the damages yourself. You should research and verify the conditions of all vehicles before you buy them, and you should take proper care of your car. You should also always have insurance when driving.
Many new cars come with warranties that cover mechanical defects. If you experience a car fire caused by a part covered under warranty, you may be able to look to your warranty provider for coverage. Typically, warranties only come with new cars, though, and you need to have insurance before you buy a new car. So, if you don't have insurance, you probably don't have a warranty.
Furthermore, driving without insurance is illegal in almost every state. State governments require car insurance to protect all drivers on the road since car accidents are so common and costly. Getting caught driving without insurance can carry heavy fines and will likely result in your license getting suspended. As we touched on earlier, you also can't buy a car – new or used – from a dealership without showing proof of insurance.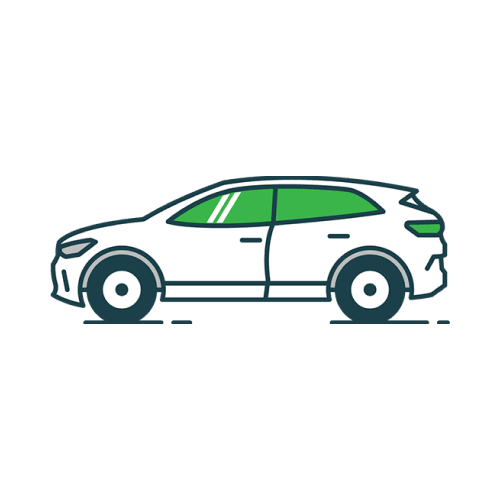 Ready to Save Money on Auto Insurance?
Rethink your auto insurance premium with a free quote from the nation's top companies.
The editorial content on Clovered's website is meant to be informational material and should not be considered legal advice.
Similar Articles