Auto
/
Does Car Insurance Cover Windshield Damage?
Does Car Insurance Cover Windshield Damage?
15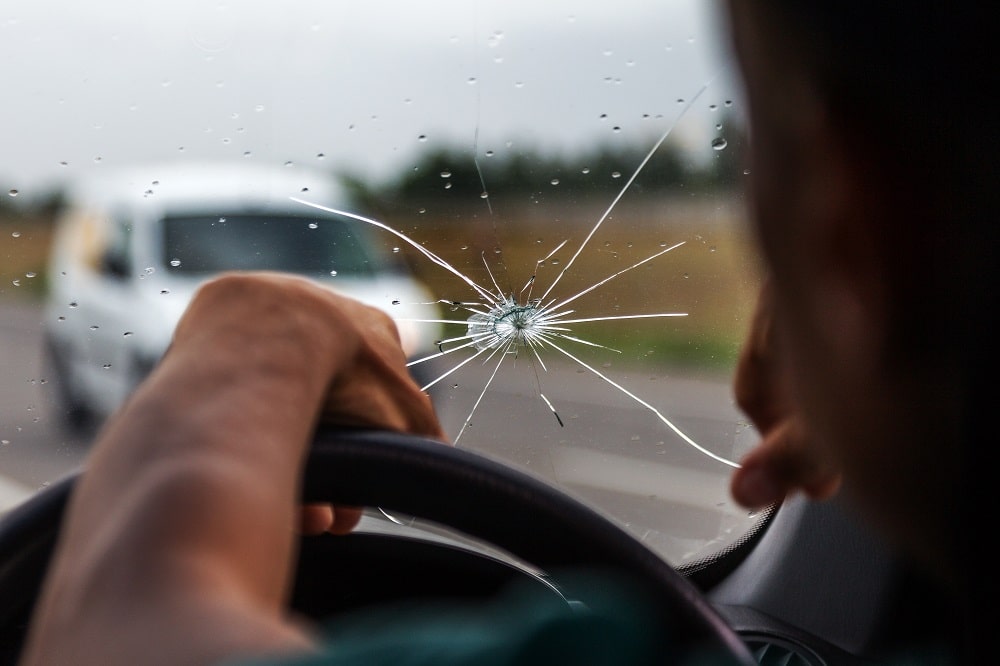 With the number of hours inside our vehicles seemingly always on the rise, it may just be a matter of time before you experience a windshield crack firsthand, via a rock kicked up from the highway or even a hail storm wreaking havoc on your vehicle.
The only good thing about windshield cracks and breaks is that many companies have popped up to specifically cater their business to mobile fixes. So fixing your windshield doesn't have to be a time-consuming event where you take your vehicle into a shop and wait a few hours. But what's covered by insurance? Let's take a look.
Does Car Insurance Cover Windshield Damage?
Yes, windshield damage is covered by your auto insurance as long as you have comprehensive coverage on your policy. Comprehensive coverage is designed to pay for repairs to your vehicle when the damage wasn't necessarily anyone's fault, such as a rock kicking up on the highway and cracking your windshield.
Liability coverage pays for the damage to another person's vehicle or property and anyone inside the vehicle if you're in an accident and it's your fault. So it could help pay for their windshield damage, but it won't ever pay for repairs to yours.
Collision coverage is designed to pay for repairs to your vehicle and those inside your vehicle if you're in an accident, whether you're at fault or not. So, if you're in an accident that cracks your windshield, collision coverage would then pay to repair or replace it.
Should I Use Insurance to Replace Windshield?
With the advent of mobile installation companies that come to you to fix your windshield, repairing and replacing a windshield has become cheaper in recent years. Depending on your vehicle, it will probably only cost $350 to $650 to fix or replace a cracked or broken windshield.
When you consider the average comprehensive deductible is $250 to $500 (which is separate from your regular auto deductible), the monetary difference may not be worth filing an auto claim. After all, filing any kind of claim against your insurance has a chance to raise your average premiums.
Let's take a look at some real-life examples. If your deductible is $500 and your windshield costs $650 or less to repair, there's really no point in filing an auto insurance claim for a windshield replacement.
You're still going to have to fork over $500 to your insurer and, even if it does cost $650, they'd only pay $150 toward your claim. It's a better idea to bite the bullet and spend the entire $650 so you don't have a claim filed that goes on your auto insurance score.
On the other hand, let's say your deductible is $250 and the new windshield costs $650 to replace. In that instance, you'd need to decide whether $400 (or potentially less) out of your own pocket is worth filing a claim. If the windshield is $400 or less, you may still be better off paying for it yourself.
However, if the windshield damage was due to hail or something else that caused extensive damage to your vehicle, it's probably better off filing a claim. After all, just replacing all the windows on your vehicle, including the windshield, can easily top $1,500 before you know it.
What Happens During a Broken Car Window Insurance Claim?
When you file a broken car window insurance claim, that claim goes onto your record, which finds a way on your auto insurance score. In layman's terms, the more claims you file, the more risky you seem to insurers. That's why it makes sense in certain scenarios to not file a claim.
Comprehensive coverage also protects your vehicle if it's been the victim of theft or vandalism. While each instance is different, it's best to get a quote for the damage before you file a claim with your insurer. If that quote isn't much more than your deductible, you're better off paying for the repairs out of your own pocket.
Comprehensive Car Insurance Windshield Coverage and You
If you're leasing or financing your vehicle, you'll likely be required to purchase comprehensive coverage anyway. This is because you don't technically own the entire vehicle. Your lender does. And they'll want to protect their investment while it's in your hands.
But even if you own your vehicle outright, you still may want to invest in comprehensive coverage, especially if your vehicle's value is more than $3,000. If you don't, your vehicle won't be protected against the elements out of your control, such as a hurricane, tornado, fire and a number of other things that can go wrong and are completely out of your control.

Ready to Save Money on Auto Insurance?
Rethink your auto insurance premium with a free quote from the nation's top companies.
The editorial content on Clovered's website is meant to be informational material and should not be considered legal advice.
Similar Articles