Does Homeowners Insurance Cover Mold?
Homeowner
/
Does Homeowners Insurance Cover Mold?
It doesn't seem to matter how well you clean or take care of your home, mold seems to spring up inside your home anyway. Unfortunately, if the mold wasn't caused by a covered peril within your homeowners insurance policy, you'll be stuck paying for the maintenance and removal costs yourself.
But if the mold was caused by a covered peril, you may be in luck! Let's take a closer look at some different mold scenarios that commonly play out in homes, including mold removal and remediation.
Does Homeowners Insurance Cover Mold?
Homeowners insurance will only cover mold damage if it grew as a result of a covered peril and occurred quickly. So a hurricane taking out your roof, which allows rain to come through and create mold throughout your home will likely be covered.
These mold-related problems are only covered if they're caused by sudden and accidental issues, which typically result from water damage caused by a burst pipe, improperly working air conditioner or something along those lines. However, while a burst pipe that creates mold may be covered by your insurer, mold that comes from an improperly working AC unit may not share the same coverage.
Most mold-related insurance claims are denied because the growth happened over time and wasn't caught quickly enough. Your policy has special guidelines for mold coverage, so it's best to consult with your agent to figure out exactly what's covered and what's not under your policy.
Mold coverage within your home insurance policy doesn't have the same high-dollar limits as other parts of your home insurance policy. While repairs and removal from mold damage could set you back many thousands of dollars, it's common that homeowners insurance policies have a maximum limit of $1,000 to $10,000 for mold remediation — which is used for removal and repairs.
However, you may be able to add an endorsement to your policy in high-humidity states like Florida that covers up to $50,000 per claim. You may need an add-on to your policy, but Florida, New Jersey, New York, North Carolina and South Carolina are currently the only states required to provide up to $50,000 per mold claim.
Does Homeowners Insurance Cover Mold Removal?
Mold removal is only covered if the mold developed due to a covered peril and the claim was filed within an appropriate amount of time. In this instance, and depending on which state you live in and the coverage you enrolled in, you'd have between $1,000 and $50,000 worth of coverage to remove the mold.
Does Home Insurance Cover Mold Remediation?
Mold remediation is also only covered if the mold was caused by a covered peril, such as a burst pipe exploding and causing mold to grow inside the walls of your home. While removal and remediation are similar, mold remediation coverage also applies to replacing any personal belongings that were damaged by the mold.
So let's say burst pipe created mold that was covered by your insurer. If that mold damaged the interior drywall and spread to the carpets and couch against the wall, your policy's dwelling coverage would pay to repair the drywall and carpets, while your policy's personal property coverage would pay to replace the couch.
Mold remediation can cost upwards of $30,000 or more, depending on the size and severity of an affected area within a home. It's important to always be on the lookout for any instances and scenarios that could cause mold to grow throughout your home.
If you smell a musty odor in certain areas of your home or notice water spots in the ceiling, walls or floors, it's important to call a professional as soon as possible so they can inspect the damages. If you spot damage but do nothing about it for an extended period, your home insurance company has the right to deny a mold insurance claim that otherwise would've been covered.
Does Insurance Cover Mold From Water Damage?
The most common scenarios of mold growth typically involve water damage in the home. If the water damage was caused by a covered peril, such as a burst pipe or a natural disaster allowing rain to pour inside your home, your homeowners insurance would likely cover the mold damage, removal and remediation.
When You Are Covered For Mold Damage, Removal and Remediation
If your insurance company deems the mold was caused by one of these covered perils, it will pay up to the policy's mold insurance claims maximum (between $1,000 and $50,000) to repair any damage the mold caused and to remove said mold from your home.
Your air conditioning unit malfunctions and begins

leaking water

into the walls of your home, causing mold to build up in the walls and the need for repairs and removal.

A

fire rips through your kitchen

and firefighters are called to hose it down, resulting in mold buildup during the repair process.

Your

water heater

explodes and spews water throughout the surrounding walls, causing mold to grow.
Luckily, if you have an adequate amount of homeowners insurance coverage, you should be protected in these scenarios. But you'll have to read the fine print of your policy and figure out how much your insurance company will pay for each mold claim.
When You're Not Covered For Mold Damage, Removal and Remediation
If the mold in your home grew as a result of negligence or a preventable instance, homeowners insurance won't cover mold damage, removal or remediation and you'll likely be stuck paying out of your own pocket.
Maintenance issues that could've been prevented, such as leaks and failing to humidify a home, are oftentimes deemed to be the responsibility of individual homeowners. Insurance companies will not pay for these types of mold insurance claims. Let's take a more in-depth look at some of those situations.
A homeowner lives in an extremely humid climate and goes out of town for a few weeks, failing to dehumidify their home and allowing mold to grow throughout the walls.

A faucet that has been leaking for quite some time and has now seeped into the walls behind the sink, causing mold to grow throughout.

Floodwaters enter a home and cause mold to grow in the floorboards or basement of a home. You'd need

flood insurance

for this.
What Insurance Companies Cover Mold Damage?
Many insurance companies provide similar coverage for mold damage, removal and remediation, but it must've occurred suddenly, accidentally and due to a covered peril. It's best to consult your insurance agent to see if your current policy protects against mold.
If you don't have a policy that covers mold, you can use Clovered's online quoting tool to get a policy that provides adequate protection for mold damage, removal and remediation. You just need to answer a few questions and you can have a new policy in minutes.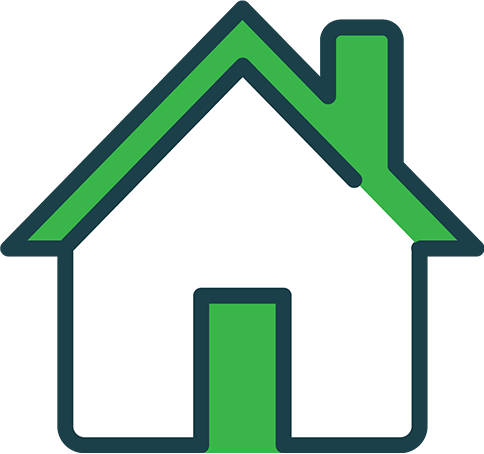 It's Time to Switch Your Homeowners Insurance
We partner with the nation's top homeowners insurance companies so you can get a custom policy at an affordable price.
The editorial content on Clovered's website is meant to be informational material and should not be considered legal advice.
Similar Articles