What Is an HO4 Insurance Policy?
Renter
/
What Is an HO4 Insurance Policy?
An "HO4 policy" is just fancy insurance lingo for renters insurance. Renters insurance, or HO4 insurance, is an insurance policy for people renting a home, apartment, or condo. It usually includes personal property, liability, and loss of use coverage.
Want to know how HO4 renters insurance works and whether or not you need it? Read on to learn all you need to know about insuring your rented home sweet home.
What Does HO4 Renters Insurance Mean?
At its most basic, renters insurance is a safety net that helps you pay to replace your belongings if they're stolen or destroyed in a fire, natural disaster, or a similar event that could totally wreck your livelihood. It also helps pay for medical and legal expenses if a guest is injured in your home and you're found legally responsible.
Just like with home insurance (or any kind of insurance, for that matter), you pay for renters insurance with a monthly or yearly premium. Then, if something happens to your belongings in an event covered by your HO4 policy, you can file a claim with your insurance company.
If they approve the claim, all you'll have to pay is your deductible (a small sum you have to front before insurance kicks in), and your insurance takes care of the rest of the cost to replace your things, up to your policy limit.
What Does an HO4 Insurance Policy Cover?
Most HO4 insurance policies include three types of coverage:
Personal property coverage

is the part of your insurance that pays to replace items damaged in a covered peril.

Personal liability coverage

is the part of your insurance that pays for medical and legal expenses if a guest gets hurt in your home.

Loss of use coverage

is the part of your insurance that can cover certain additional living expenses if your rental home or apartment is unlivable after a covered peril. For instance, loss of use coverage might

help pay for a temporary hotel stay

or increased gas costs if you have to live farther away from your job while you wait for your home to be repaired after being destroyed.
Unlike homeowners insurance, HO4 renters insurance doesn't include dwelling coverage, which helps pay to rebuild the actual structure of your home. Since you don't own the structure of your home if you're renting, you're not responsible for insuring it. That would fall to your landlord.
It's important to note that your renters insurance will only pay to replace your belongings or to cover additional living expenses if your home is damaged in a covered peril. Covered perils are certain events named in your insurance policy. Most HO4 policies cover these 16 perils:
Vandalism

Theft

Frozen pipes

Damage caused by vehicles

Damage caused by aircraft

Rioting or civil disturbances

Fire or lightning

Windstorm or hail, such as a hurricane or tornado

Damage from smoke

Damage caused by heating, air conditioning, or plumbing

Damage due to snow, ice, or sleet

Damage from water heater, including cracks, burns, or tears

Damage from electrical current, such as downed powerlines

Explosions

Falling objects

Volcanic eruptions
Every insurance policy is unique. Read your renters insurance paperwork carefully to make sure you're covered for all of the above perils. If a peril isn't specifically listed in your policy, you are not covered for it.
While we're at it, let's highlight some things HO4 insurance does not cover:
Certain natural disasters, such as

floods

,

earthquakes

, and sinkholes – you'll need a separate insurance policy for these if you live in an at-risk area

Injuries caused by a type of pet excluded from your policy, such as certain

dog breeds

or exotic animals

Damage to your rental property

caused by you or your pet

Medical expenses of anyone who permanently lives in your home if they get hurt on the property

Any costs exceeding the maximum amount of coverage outlined in your policy (so make sure you have

enough coverage

to replace all your belongings if necessary)
Even if your landlord doesn't require renters insurance, it's better to be safe than sorry. Renters insurance is relatively cheap, and it gives you peace of mind that you won't be stuck replacing everything you own out of your own pocket in case of a disaster.
How Much Does HO4 Insurance Cost?
Compared to home and auto insurance, HO4 insurance is super affordable. The average cost varies by state, but the national average is about $14 per month or $170 per year. For that, you get $20,000 of coverage on your personal property and $100,000 of liability coverage.
You can always add more coverage if you think you need it. Just keep in mind that the higher your coverage limit, the higher your premium will be.
Do you need a new renters insurance policy? Clovered has your back. As an independent agency, we can help you compare policies from different providers, so you can find the best coverage at the best price – and even better, we do it all online. Our easy-to-use quoting tool can give you no-pressure quotes on different policies with just a few clicks.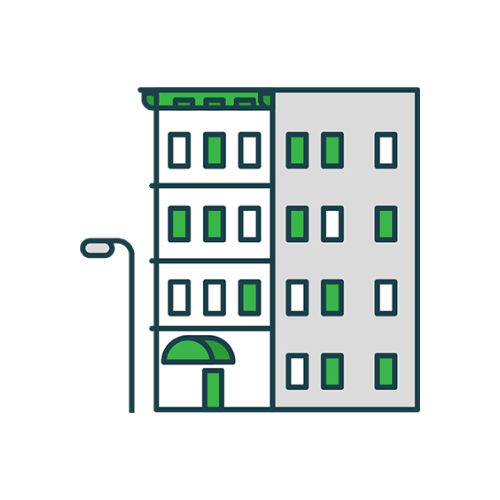 Protect Your Belongings With Renters Insurance
Averaging just $12 per month, renters insurance can protect your belongings for the cost of a few cups of coffee.
The editorial content on Clovered's website is meant to be informational material and should not be considered legal advice.
Similar Articles