Does Renters Insurance Cover Natural Disasters?
Renter
/
Does Renters Insurance Cover Natural Disasters?
Renters insurance covers some natural disasters. Your personal belongings are covered if they're damaged or destroyed by a hurricane, tornado, unexpected home fire, rain or hail. But natural disasters like floods, earthquakes and sinkholes are usually excluded.
Plus, if you opted for the additional loss of use coverage in your renters insurance policy, you could also be reimbursed for additional living expenses you incur if one of the covered natural disasters damages your rental, forcing you to temporarily move out while it's being repaired.
Unlike other home insurance policies for landlords and homeowners, renters can include certain coverages they think they'll need and exclude those coverages they may not need. Renters may also be vastly undercovered in many situations, so it's important to know what is and isn't covered by your policy. Let's take a look at all the different ways you may or may not be covered by your policy for natural disasters.
Personal Property Coverage
These possessions must be either kept inside your home or, if you rent a house, on the property. Coverage extends to items like furniture, clothes, electronics, kitchen utensils, lawnmowers and tools. You must choose to insure your belongings for their replacement cost or their actual cash value.
The coverage you choose not only dictates how much money you'll receive to replace your damaged or destroyed belongings, but it also helps to determine the price of your premiums. Replacement cost coverage simply pays you the same amount you paid for an item, while actual cash value factors depreciation into the item's value.
So let's take a look at a laptop that's destroyed by a covered natural disaster, such as a hurricane. If you bought that laptop four years ago for $1,000 and you have replacement cost coverage, your insurer will simply write you a check for $1,000 to replace it. However, if you have actual cash value coverage, your insurer will argue that the item's value has decreased since you purchased it and, therefore, is only worth $600.
If a natural disaster damages your home so much that it needs to be repaired or rebuilt, and you must temporarily move out during the process, loss of use coverage can reimburse you for additional living expenses you incur while you're temporarily displaced.
Renters are able to choose how much loss of use coverage they enroll in. We recommend enrolling in at least three months' worth of your rent just to be safe. So if you spend $1,000 per month in rent, you should probably get at least $3,000 in loss of use coverage. Keep in mind that the more coverage you get, the more expensive your premiums.
Windstorms like hurricanes, tropical storms and tornadoes can be extremely devastating. Luckily, renters insurance covers your personal belongings if they're directly damaged or destroyed by a hurricane, tropical storm or tornado. Also, if you must move out while your home is being repaired from the damage, your policy's loss of use coverage will kick in.
However, flood insurance for renters comes with similar coverage for both your personal belongings and additional living expenses. If you live in a flood-prone area and are located on the first through third floors, we strongly encourage you to purchase a flood insurance policy.
Renters insurance doesn't cover damage caused by earthquakes, even if you're forced to move out of your home. Although earthquakes aren't too common in the United States, we highly recommend purchasing earthquake insurance if you live in an area that's prone to them.
Sinkholes are most common in Florida and other areas across the country where large deposits of natural springs are located. However, similar to the ground movement caused by earthquakes, sinkholes are excluded in renters insurance policies — even in Florida.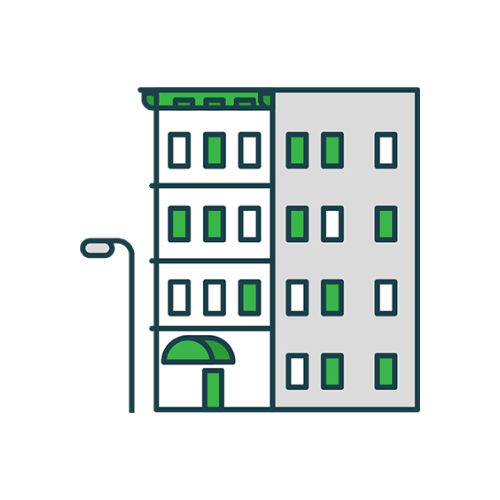 Protect Your Belongings With Renters Insurance
Averaging just $12 per month, renters insurance can protect your belongings for the cost of a few cups of coffee.
The editorial content on Clovered's website is meant to be informational material and should not be considered legal advice.
Similar Articles