Illinois Homeowners Insurance
Homeowner
/
Illinois Homeowners Insurance
From Joliet to Chicago and Springfield to Naperville, getting an Illinois homeowners insurance policy to protect your home, belongings, finances and peace of mind in the Land of Lincoln is extremely important.
We partnered with some of the top 10 homeowners insurance companies in Illinois to bring you the best property coverage at the cheapest prices. With our proprietary online quoting tool, all you need to do is type in your address, answer a few easy questions about your home and you'll be matched with a tailored quote in minutes.
We pride ourselves on trying to reduce the average cost of homeowners insurance in Illinois for all of our customers. That means you get coverage for everything you need and nothing that you don't. With options to choose from multiple quotes, multiple companies and the best prices, you won't want to wait any longer to insure your home.
What's Covered With an Illinois Homeowners Insurance Policy?
Homeowners insurance in Illinois covers the structure of your house, your personal belongings and much more, including unexpected incidents that could occur on your property. While you get to choose the amount of coverage you enroll in, the following six coverages come standard in every homeowners insurance policy.
Coverage A: Dwelling
This covers the actual structure of your home and the components that make it, such as the roof, siding, windows, countertops and flooring. Since it protects the actual home itself, the amount of Coverage A on your policy should be the equivalent, or slightly more, than your home's value.
Coverage B: Other Structures
Structures on your property that aren't connected to your househouse fall under this coverage. It includes things like fences, sheds and even satellite dishes. Coverage for these structures is typically up to 10% of the policy's dwelling maximum.
Coverage C: Personal Belongings
Coverage C is designed to protect the policyholder's personal belongings that are kept within the home. For homeowners, this coverage can pay to replace things like furniture, electronics, clothes and even items kept on the property, like lawnmowers.
Coverage D: Loss of Use
Arguably the most underrated part of every homeowners insurance policy, loss of use helps to pay for things like equivalent housing and extra everyday expenses if the policyholder's home is unable to live in after being damaged or destroyed.
Coverage E: Personal Liability
This coverage can provide financial protection for accidents that occur on the policyholder's property, damage to other people's property and dog bites. It can help pay for medical expenses, legal fees and property damage if the policyholder is deemed liable.
Coverage F: Medical Payments
Similar to personal liability, medical payments to others covers minor injuries that occur on the policyholder's property — whether or not they're found liable for the incident. Policies usually have between $1,000 and $5,000 worth of MedPay coverage.
Which Perils Are Covered by Homeowners Insurance in Illinois?
Although covered perils stay the same from state to state, that doesn't mean every state faces the same troubles. Illinois is no different. The Land of Lincoln faces tornadoes from all sides, flooding of the Mississippi River, torrential rains, house fires and even bouts of small wildfires through the state's dry season.
Luckily, your Illinois homeowners insurance policy can help protect your house, belongings and financial wellbeing if you are hit by an unexpected peril.
10 Named Perils Under HO-1:
Vandalism

Theft

Damage caused by vehicles

Damage caused by aircraft

Rioting or civil disturbances

Smoke damage

Fire or lightning

Windstorm or hail, such as a hurricane or tornado

Explosions

Volcanic eruptions
16 Named Perils Under HO-2:
(All 10 named perils under HO-1, plus the following)
Frozen pipes

Falling objects

Damage caused by heating, air conditioning or plumbing

Damage due to snow, ice or sleet

Damage from water heater, including cracks, burns or tears

Damage from electrical currents, such as downed powerlines
What's the Average Cost of Homeowners Insurance in Illinois?
The average cost of homeowners insurance in Illinois is about $1,400 per year, which is just above the national average. Of course that price differs greatly depending on a number of factors, including where you live in the state.
From top to bottom, Illinois is one of the tallest states in the U.S., and the majority of the state's population is congregated around the Chicago metropolitan area. Houses deep in the country and in smaller towns outside of Chicago tend to come with cheaper homeowners insurance prices.
While houses in the city and metropolitan area tend to have higher homeowners insurance premiums. One of the reasons is the stability of the housing market. Around Chicago, homes are typically more expensive, which means they need to be insured for more money.
Illinois homeowners insurance laws don't require you to maintain coverage, but we highly recommend always keeping adequate coverage. Even though the state doesn't require it, your lender will.
Average Cost of Homeowners Insurance in Illinois

: $1,400 per year
How to Get the Best Homeowners Insurance Illinois
No matter where you live in the Land of Lincoln or how much your home is valued at, Clovered is here to pair you with an Illinois homeowners insurance policy that meets your coverage needs and your budget.
Our easy-to-use online quoting platform compares quotes from multiple carriers so you always win. Just enter your address, answer a few quick questions and we'll have you on your way with a new Illinois homeowners insurance policy in minutes.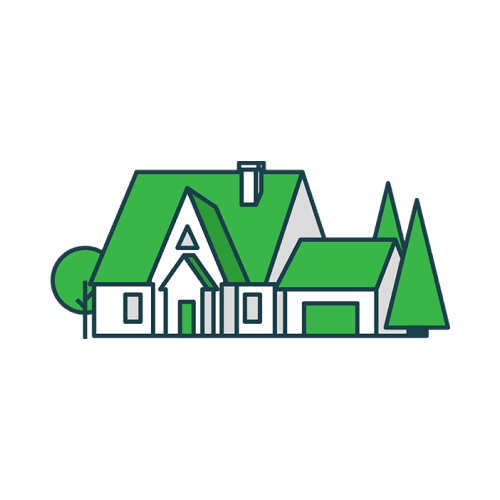 It's Time to Switch Your Homeowners Insurance
We partner with the nation's top homeowners insurance companies so you can get a custom policy at an affordable price.
The editorial content on Clovered's website is meant to be informational material and should not be considered legal advice.