How to Get Homeowners Insurance After a Lapse in Coverage
Homeowner
/
How to Get Homeowners Insurance After a Lapse in Coverage
While your homeowners insurance policy can lapse for a number of reasons, there are essentially two different kinds of lapses at the core of each policy. The first is when a lapse occurs and you catch it not long after. The second is when you let your coverage lapse, either on purpose or accidentally but fail to catch it in time.
Depending on which type of lapse you've incurred, you also only have two options for coverage. Let's take a look at each.
What Happens if My Homeowners Insurance Lapses?
Many insurers typically have a grace period, usually up to 30 days, from the date of the lapse due to a missed payment. If you pay during the grace period, you'll be able to keep the same coverage amounts. However, failing to make a payment within the grace period will result in your insurer dropping your policy and you losing coverage.
If your homeowners insurance policy lapses and you pay your past-due premium during the grace period, you may avoid having a lapse of coverage on your account.
However, if your home or possessions are damaged by a covered peril during that grace period, your insurer will likely deny your claim because you, technically, didn't have coverage during that time frame. This means you typically have no coverage on your home effective immediately on the day of the lapse.
Covered perils are things like hurricane damage, water damage or roof damage. Any of those instances, or more, that damage or destroy your home will leave you footing the bill for the repairs since you were delinquent on your homeowners insurance premium.
If you let your policy lapse and fail to make the missed payment during the grace period, you will no longer be insured by your current company. Instead, you'll be forced to shop around for home insurance and may have to purchase coverage from another carrier.
It's a general rule of thumb in insurance that the company you let your lapsed policy with will probably not insure your very next policy because they deem you to be too risky.
How to Get Homeowners Insurance After a Lapse in Coverage
If you're still within your current insurer's grace period, which is typically 30 days, you can simply pay any unsettled debts to them and your policy will usually continue the date of the payment without a lapse going on your record. However, if your coverage lapses and you miss the grace period, you'll be forced to get a policy from another insurer.
If you pay your homeowners premium through your escrow account, that account should automatically pay your premiums every month. The only way to miss a payment via escrow is if you haven't paid your mortgage or your lender used escrow to cover other expenses that haven't been paid.
If you stay up to date on your mortgage and escrow payments, you shouldn't have to worry about having a lapse in coverage. If you pay your premiums yourself, instead of through an escrow account, and are facing a lapse in coverage, your lender may take action.
Since lenders require homeowners insurance at all times to protect their investment, any lapse in coverage is dangerous for them. If your coverage lapses, they can legally purchase a homeowners policy to protect the home and force you to pay the premiums. This is called force-placed insurance.
The issue with force-placed insurance is that your lender likely won't shop around to find the best deals. And they'll want to ensure the house is covered to the amounts they want. So you'll likely have even higher premiums with forced-placed insurance than if you shopped around on a website like Clovered and purchased a policy on your own.
If you own your house outright, nobody is forcing you to have homeowners insurance because it isn't required by law. Although we always recommend keeping a policy on your home at all times. If you own your home outright and have a lapse in coverage, your options may be limited.
The insurer you had a lapse in coverage with will most likely not take you back until you've proved you can make payments. So you'll likely have to choose another carrier that operates in your state. You'll need to contact your agent or use Clovered's website with a few pieces of information about your living situation.
Since that lapse in coverage will go on your insurance score, it will likely raise your premiums. This is because insurers may find you to be riskier and fail to make future payments on time, too.
What Happens if You Don't Have Homeowners Insurance?
If you don't have homeowners insurance, you're playing a game of risk with your most valuable investment and possessions. If something like a windstorm were to roll through, damaging your roof, siding and some of your personal property, you'd be responsible for covering the cost to repair or rebuild your home.
And nobody has a few hundred thousand dollars sitting around that they're just waiting and wishing to pay for damages. If you have a homeowners insurance policy, you'll be covered for many of the most commonly filed claims — and more.
Home Insurance Companies That Accept Lapses
Finding a home insurance company that accepts lapses in coverage — and is affordable — is going to be tricky. The penalty for not having home insurance is all on you. You'll probably pay more for a policy. But our friendly agents at Clovered can help you find coverage that fits your needs and your budget.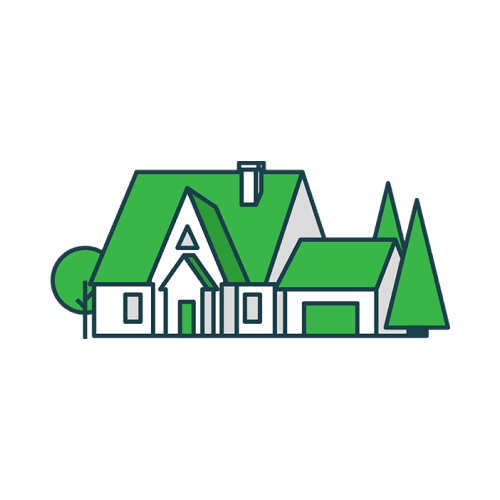 It's Time to Switch Your Homeowners Insurance
We partner with the nation's top homeowners insurance companies so you can get a custom policy at an affordable price.
The editorial content on Clovered's website is meant to be informational material and should not be considered legal advice.
Similar Articles