5th Wheel Insurance: How to Protect Your Camper Trailer
RV
/
5th Wheel Insurance: How to Protect Your Camper Trailer
Life on the open road is a great one. And having a 5th wheel to navigate the backroads and most remote places in America is one of the best ways to do it. While you're busy planning your trip, exploring spectacular scenery and enjoying quality times with the ones you love, the last thing you want to think about is whether your fifth wheel is protected.
That's where we come in. We'll break down everything you need to know about getting RV insurance for your 5th wheel so you can spend more time enjoying life and less time stressing out about it.
Do You Have to Have Insurance on a 5th Wheel?
Since 5th wheel travel trailers don't have engines and can't be driven, they aren't required by law to have their own insurance policy. Instead, the liability coverages from the auto policy of the vehicle towing the 5th wheel transfers coverage over to it while it's on the road.
However, the story shifts when it's unattached to the vehicle, such as when it's parked at your home or a campsite. In those instances, the liability coverages fail to transfer and the rig will, ultimately, be uninsured without a separate policy.
Under either instance, it's highly unlikely you'd have enough coverage to replace your RV if it were totaled by a covered peril like a hurricane or tornado anyway. So we always recommend investing in an RV insurance policy either way. So let's take a look at all the coverages you need to know about to properly protect your 5th wheel camping trailer.
Coverages Transferred From Vehicle Towing the 5th Wheel
In every state except New Hampshire and Virginia, vehicles are required by law to maintain at least the state minimum liability coverages on their auto insurance policy. While your 5th wheel is attached to the vehicle towing it, those coverages automatically transfer over. Here's how you're covered.
Bodily Injury Liability Coverage: This can help pay for medical bills for injuries to passengers of other vehicles or pedestrians if you're in an accident and deemed to be at fault. It can also help pay for legal fees if the injured party sues you. This coverage is broken down into two parts, commonly displayed as 25/50 on your auto policy.
That means you'd have up to $25,000 in bodily injury coverage per person and $50,000 per accident. So if you accidentally cut someone off via a left turn, causing them to ram directly into the side of your 5th wheel, the bodily injury liability from the auto policy of the vehicle towing it could pay up to those amounts for the accident.
Property Damage Liability Coverage: This coverage is designed to pay for repairs to another vehicle or piece of property, such as a house, if you're involved in an accident and deemed to be at fault. In the previous left-turn scenario, property damage liability coverage from the auto policy of the vehicle towing the 5th wheel would be the portion paying to repair the other driver's vehicle.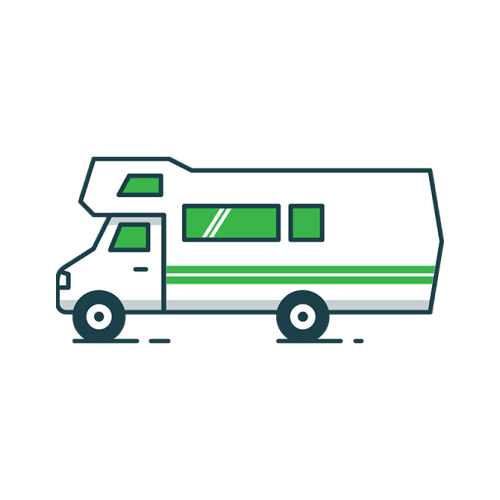 Protect Your Rig With RV Insurance
Cruise more and stress less with an all-types custom RV insurance policy that keeps you on the road longer.
Additional Coverages to Consider
Even though the two aforementioned liability coverages transfer to your 5th wheel while it's on the road, simply settling for those coverages will leave you vastly underinsured and unprotected. The following coverages are the four most important pieces you should consider purchasing — and they never transfer from an auto insurance policy to your 5th wheel or any other towable travel trailer like a truck bed or pop-up campers.
Without any of these coverages, you'd be stuck paying out of pocket to repair your rig and any personal belongings you keep inside of it that are damaged. With these coverages, however, you'd be protected for up to your policy's maximum, which would likely be the value of your 5th wheel at the time of the accident or loss.
Collision Coverage: This is designed to repair your 5th wheel if you're involved in an accident — whether you're at fault or not. In the previously mentioned left-turn scenario, liability coverage would pay to repair the other driver's vehicle, but it would repair damages to your 5th wheel. But collision coverage would be responsible for repairing your rig.
Comprehensive Coverage: This helps pay to repair or replace your 5th wheel if it was stolen and damaged or vandalized. Comprehensive coverage also pays to repair or replace your rig if it was damaged by something other than a collision, such as water damage, a hurricane, hailstorm, flood, crashing tree or fire.
Personal Effects Replacement Coverage: Since RVers typically travel with more personal belongings in their rig than they'd keep in their everyday driver, they need more coverage for those items. Enter personal effects replacement coverage, which can reimburse you for your damaged belongings that aren't built into your 5th wheel, such as bike racks, bikes, clothes and electronics.
Vacation Liability Coverage: This is another add-on, which helps financially protect you while your 5th wheel is parked at a designated campsite, excluding on public lands, and you accidentally cause an injury to someone else or damage someone's property.
Vacation liability coverage is basically the version of the two aforementioned liability coverages, but it's designed to kick in when your 5th wheel isn't connected to the vehicle that has been towing it.
When Is 5th Wheel Trailer Insurance Required?
Lenders do this to protect their investment. While you still owe money, your lender still holds the title. Therefore, requiring you to have insurance guarantees they'll recoup some of the lent money if you're involved in an accident that damages or destroys the 5th wheel.
How Much Is 5th Wheel Insurance?
While there's no universal 5th wheel insurance cost, it will likely cost less to insure than drivable RVs. It may cost from a few hundred dollars to a few thousand dollars per year depending on its value, how often you use it, where you use it, your driving history and many more factors.
How to Get a 5th Wheel Insurance Quote
By utilizing Clovered's easy-to-use online quoting form, getting multiple 5th wheel insurance quotes is quick and hassle-free. Simply fill in a few details about your rig and driving history, then one of our friendly licensed agents will run the numbers and provide you with a policy that fits your specific needs.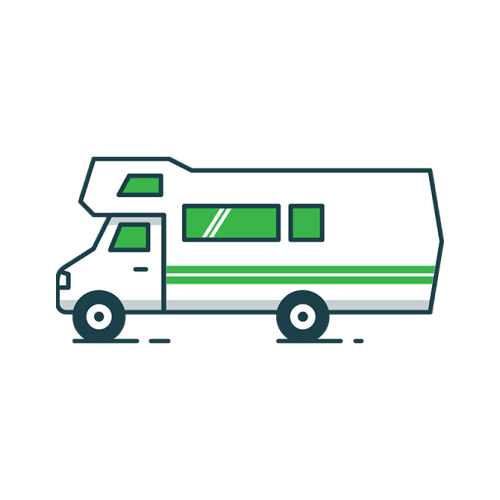 Protect Your Rig With RV Insurance
Cruise more and stress less with an all-types custom RV insurance policy that keeps you on the road longer.
The editorial content on Clovered's website is meant to be informational material and should not be considered legal advice.
Similar Articles