Renter
/
7 Most Common Questions About Renters Insurance
7 Most Common Questions About Renters Insurance
3.1K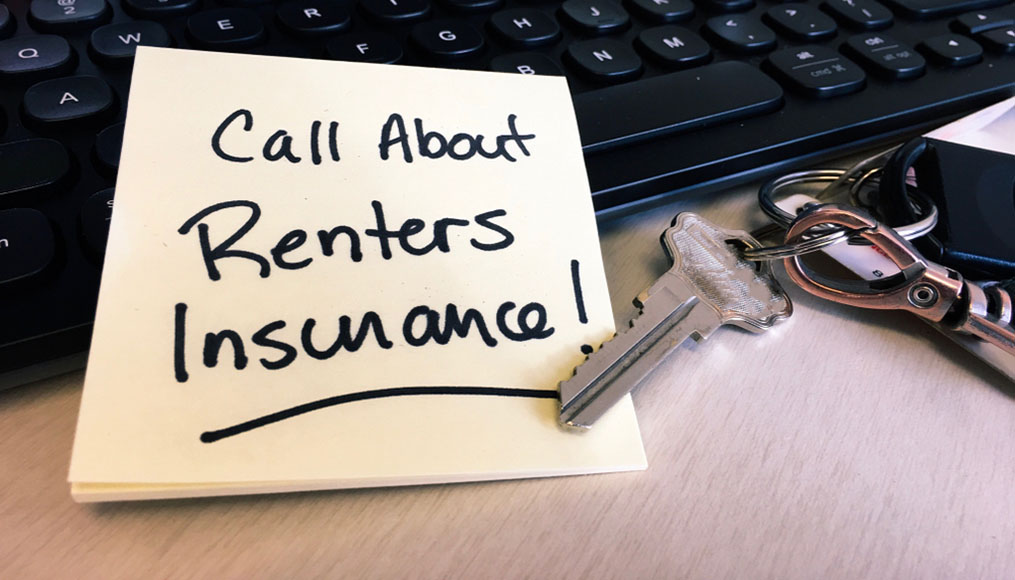 Renters insurance is an often-overlooked facet of life.
The majority of people who rent homes, apartments or condos don't have any level of renters insurance coverage at all.
In fact, a 2016 research study found that just 41% of renters said they had coverage.
That means if a natural disaster struck, or even a common accident such as a lightning storm, 59% of renters risk losing their possessions and livelihood due to an unforeseen event or accident.
1. What Is Renters Insurance?
Renters insurance is a policy that's designed to protect you, your personal property and your livelihood by covering costs that you're liable for, repairing or replacing your belongings, and providing additional living expenses if your rental home is deemed uninhabitable.
Renters insurance, also known as tenant insurance, helps minimize your financial risk in return for low monthly payments for insuring you to certain limits. It covers single-family homes, apartments and condos in which you rent and live in.
2. How Does Renters Insurance Work?
Renters insurance works by kicking in and paying for damages or expenses related to covered perils. In the event of a covered peril, such as an injury on your property or a lightning storm that damages your belongings, you can file a claim with your renters insurance company, which may pay or reimburse you up to your specified limits for each claim.
A basic policy typically comes with $20,000 in personal property coverage and $100,000 in liability coverage. Personal property coverage protects all your tangible belongings, from TVs and computers to couches and cooking utensils.
Liability coverage protects your finances due to injuries, including medical bills and legal expenses associated with them.
After an event occurs, you must file a claim with your renters insurance company. The company will then decide if the damage, destruction or injury was caused by a covered peril.
If it is covered, the company will cover up to your policy's limits for each property claim and each liability claim, minus your deductible, which is likely $500 or $1,000 per claim.
It's important to maintain coverage up to sufficient levels you'll need. Let's look at a few different scenarios and consider that you opted for the least expensive policy, which has a $500 deductible and provides you with $20,000 in personal property coverage and $100,000 in liability coverage.
Scenario One: Personal Property Claim
A storm creates a lightning bolt that hits your home and causes it to go up in flames. Your personal belongings, such as TVs, furniture, electronics and clothes, are all destroyed beyond repair in the fire. It would cost $26,000 to replace everything.
Since you only had $20,000 in personal property coverage, your insurance company would only pay $20,000 to cover your belongings and you'd be left paying $6,000 out of your own pocket.
Scenario Two: Personal Property Claim
A burglar breaks into your home while you're at work, stealing your hard-earned electronics, such as computers, TVs, cameras and a microphone for your newly launched podcast. The total cost to replace all your items comes out to $9,000.
Your insurance company writes you a check and you go purchase new items.
Two months later, a covered fire rips through your living room, damaging $18,000 worth of furniture, electronics and other personal belongings. Since you already received $9,000 from your insurance company two months ago, are you covered for this?
Coverage limits apply to a single claim and are not limited to amounts during the life of your term.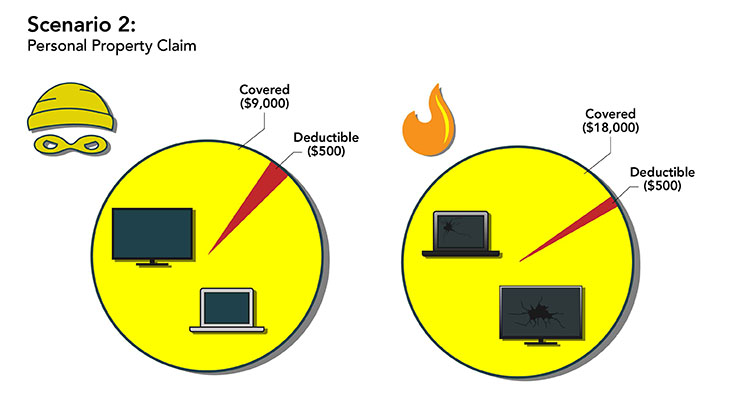 Scenario Three: Liability Claim
Your son and his friend, Adam, are in the backyard of your rental property playing a game. Adam slips in the grass and injures his arm. An ambulance takes him to the hospital, where he is given an X-ray and a cast to repair his broken arm.
Uh oh, Adam doesn't have health insurance and his parents can't pay the $12,000 hospital bill.
Since the injury happened on your property and you've been found liable, you're responsible for paying the bills.
Don't worry, you have $100,000 in liability coverage on your renters insurance policy, so the insurance company writes a check to Adam's parents and your hard-earned money stays in your pocket.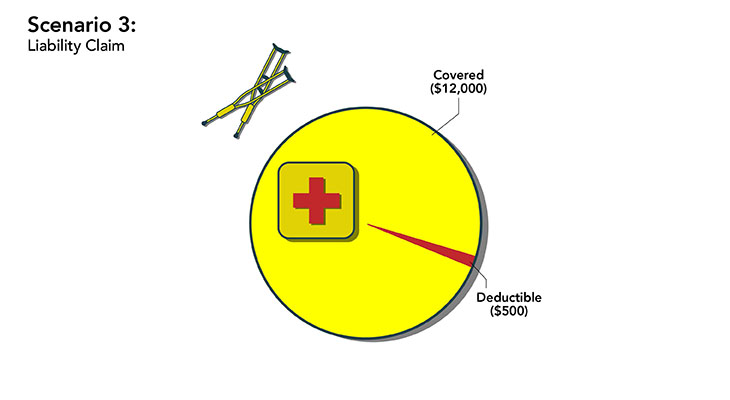 Scenario Four: Liability Claim
You're cooking a huge meal for a bunch of people during the holidays. Your friend, Amanda, is helping you by cleaning the dishes and preparing appetizers.
In your rush to get everything done quickly, you accidentally close the knife drawer on Amanda's hand, leaving her in need of serious medical attention.
She's rushed into reconstructive surgery and winds up with a scar that serves as a constant reminder of the incident. Her injury costs $28,000, which your insurance company pays. But then she sues you for damages, which totals $75,000 in legal bills, bringing the cost associated with the injury up to $103,000.
Luckily for you, your renters insurance covers up to $100,000 in liability coverage for each claim, so you're only stuck paying $3,000 out of pocket.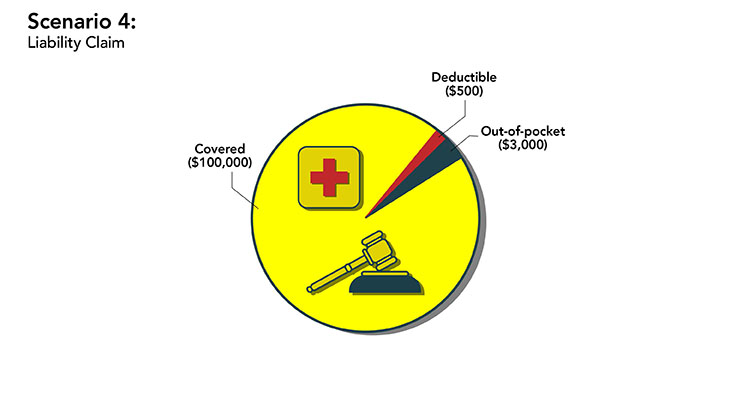 3. What Does Renters Insurance Cover?
Renters insurance covers your personal property, at home and sometimes away from your home, liability coverage that helps pay for accidental mishaps and additional living expenses in case your rental home was deemed uninhabitable by a covered peril.
Keep in mind that your renters insurance only protects up to the specified limits of your policy for all the following coverages.
Personal Property Coverage
Personal property coverage applies to all your personal belongings that were damaged or destroyed by a covered peril. Things like your computers, TVs, furniture, lawnmower, cooking utensils, jewelry and clothes are all covered up to your policy's limits.
It's important to take pictures of all your personal belongings, keep all receipts, if possible, and create an archived list of everything you own with purchase prices. These will come in handy if they've been stolen, destroyed or irreparably damaged and you need to file a claim.
Many policies have a maximum amount that can be paid for categories and single items.
For instance, if your policy will pay up to $2,000 for jewelry, but you own $7,500 worth of jewelry, you may want to consider increasing your limits.
The same goes for expensive items. If your reclining, living room furniture set you back $15,000 because of its massaging backs and your policy has a $20,000 personal property limit, you're not leaving much wiggle room and may want to reconsider bumping up your coverage limits or adding a rider for additional coverage.
| Common Covered Categories | Usual Claim Limits |
| --- | --- |
| Physical Currency (money & bank notes) | $200 |
| Luxurious Personal Items (jewelry & furs) | $1,000 – $2,000 |
| Personal Computers | $1,000 – $5,000 |
| All Other Electronics | $1,000 |
| Firearms & Its Ammunition | $2,500 |
| Collections (signed sports memorabilia, old-school records, etc.) | $1,000 |
| Upgraded Silverware & Goldware | $2,500 |
| Personal Heavy Machinery (watercraft, lawnmowers, trailers, etc.) | $1,000 – $1,500 |
| Sports Equipment & Musical Instruments | $500 – $2,000 |
| Costs Associated with Credit Card Theft & Forgery | $1,000 |
Let's get back into the scenarios. Let's say you have the same $20,000 personal property coverage and $100,000 liability coverage you had before. This time, we'll dig deeper to find out that your policy has a $2,000 jewelry limit and $2,500 limit per personal computer.
Scenario One: Personal Property Coverage Limits
A burglar breaks into your apartment, stealing $4,000 in watches, rings and necklaces, your high-powered gaming laptop worth $3,000, a TV valued at $800 and a gaming console worth $200. The burglar got away with $8,000 worth of your hard-earned belongings and you have $20,000 in personal property coverage.
No, unfortunately, you're not because your jewelry maxes out at $2,000 and your personal computer maxes out at $2,500.
Since your jewelry exceeded the limit by $2,000 and your computer exceeded the limit by $500, the insurance company would deduct $2,500 from the $8,000 and would only pay you $5,500.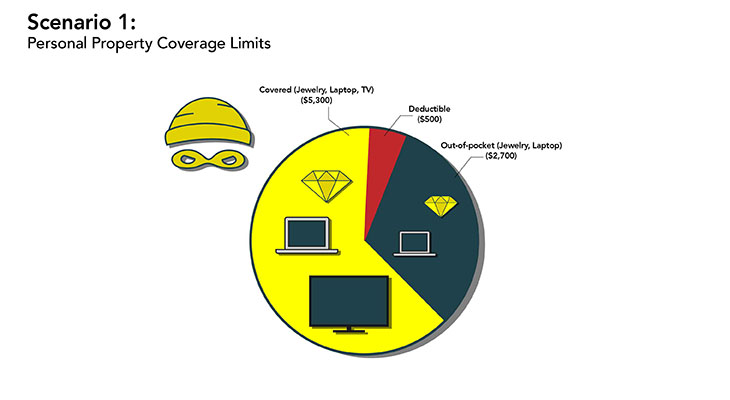 Scenario Two: Personal Property Coverage Limits
A covered plumbing mishap causes pipes to burst and spew water through your entire home, damaging everything you own. From clothes and jewelry to electronics and furniture, nothing is salvageable.
You just bought a new set of living-room furniture a few months ago for $7,500, you had $6,000 worth of clothes and shoes, $3,500 in jewelry, a $3,000 computer, a lawnmower in your garage that was $1,500 and two TVs that were $1,000 each.
Your losses total up to $23,500. Either way, you'd still have to pay $3,500 out of pocket.
Considering you underinsured your jewelry by $1,500 and your computer by $500, the insurance company would take note of that and it would be included in the $3,500 that's not covered.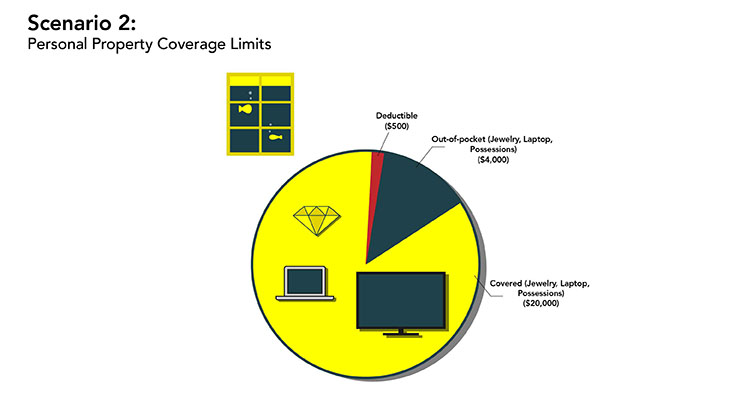 There are two types of personal property coverage you can also choose from: Actual Cash Value or Replacement Cost Coverage.
Actual cash value pays you the replacement cost of an item minus its depreciation. This price reflects the decrease of an item's value due to condition, age and other relating elements.
Replacement cost coverage pays you the full amount it costs to replace an old item with a brand new one. This coverage doesn't factor in depreciation, but premiums are more expensive for this type of policy.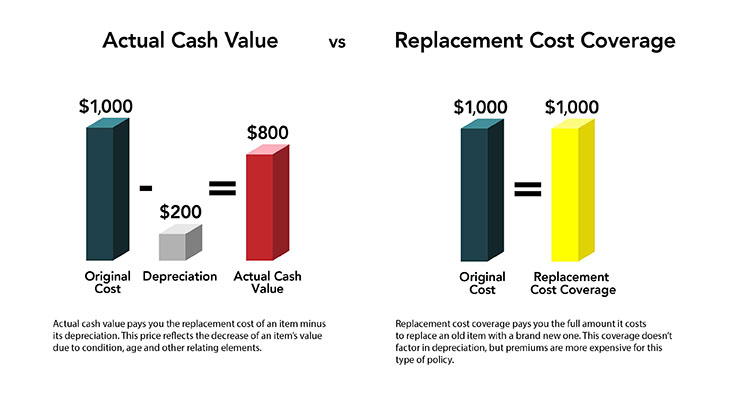 Liability coverage pays for medical expenses and legal bills if someone is injured on your property and you're found to be responsible. It also pays for repairs to another person's property that you caused accidentally.
Additional Living Expenses
If your rental home is damaged by a covered peril and left uninhabitable, your renters insurance could come in and save the day. Depending on the type of policy you purchased, your insurance company may pay for additional living expenses you incur while you're forced from your home.
These expenses include hotel bills, gas and food. Any perishable groceries that had to be discarded due to the peril are also covered. It's important to keep all receipts while you're unable to live in your home.
You will need to provide receipts to the insurance company to prove all expenses were incurred during the specified time you were unable to live in your rental home.
4. What Does Renters Insurance Not Cover?
Renters insurance typically doesn't cover any of your roommates' items, damage from flooding, any structural damage to the rental home whatsoever, bug infestations in the home, damaged or broken items due to wear and tear and certain injuries, like dog bites from an excluded breed.
5. Is Renters Insurance Required?
No, by law, you're not required to purchase renters insurance. However, your landlord can put an addendum in the lease agreement that requires you to purchase coverage.
While requiring coverage is not a very common occurrence within leases, Oklahoma outlaws the practice and California, New York, Virginia and Oregon have moved to regulate the requirement
6. Should I Get Renters Insurance?
Yes, you should get renters insurance. Renters insurance makes sure you're covered in case you need it and it gives you peace of mind when you don't need it. It's better to have renters insurance and not need it than to need it and not have it.
7. How to Get Renters Insurance?
Similar Articles