Is Hazard Insurance the Same as Homeowners Insurance?
Homeowner
/
Is Hazard Insurance the Same as Homeowners Insurance?
Hazard insurance is the same thing as homeowners insurance. Your mortgage lender just labels the dwelling portion of your policy (which protects the physical structure of your home) as hazard insurance and requires the coverage to ensure the home is protected against hazards like fires and hurricanes.
You see, if you've financed your home with a home loan, your lender still owns the home while you pay it off. In order to protect their investment — and ensure they get paid if the home is damaged or destroyed — they'll require you to get hazard insurance, which is simply the portion of a homeowners insurance policy that pays to repair or rebuild a house if it's damaged or destroyed by a covered peril.
Unfortunately, mortgage lenders only care about protecting their investment, not protecting you. Although they only require hazard insurance, you'll need a comprehensive homeowners insurance policy to protect your home, personal belongings and much more.
The good thing is that it's impossible to only get hazard insurance, as home insurance companies will require you to purchase some amount of coverage to protect the aforementioned items. While it's possible to skimp on coverage for things other than your home's structure, we highly recommend investing in, and keeping, adequate homeowners coverage while you own and live in the house.
What Is Hazard Insurance?
Hazard insurance is mortgage lenders' term for the dwelling coverage that's included in every homeowners insurance policy. Hazard insurance, aka dwelling coverage, protects your home's structure and things attached to it (like the windows, flooring, chimney and roof) against covered perils like hurricanes, house fires, tornadoes and water damage.
Hazard Insurance vs. Homeowners Insurance
While hazard insurance is technically the same as homeowners insurance, it covers a lesser scope of your life than homeowners insurance does. Hazard insurance, in mortgage lender terms, covers the physical structure of your house.
Homeowners insurance includes that coverage plus coverage for other structures on your property, your personal belongings, additional living expenses if you're forced from your home, liability concerns and medical payments due to injuries on your property.
Keep in mind that when your lender requires you to purchase hazard insurance, what you'll actually purchase is homeowners insurance, which includes all of the aforementioned coverages. Let's take a brief look at what each protects.
Dwelling (Hazard): This helps protect the structure of your house and everything attached to it — such as the windows, doors, roof, flooring and patio — if they're damaged or destroyed by a covered peril. This is also the only snippet of "hazard insurance" that your mortgage lender requires.
Other Structures: Not included as part of the hazard insurance required by your lender, other structures coverage protects structures located on your property that aren't attached to your house, such as a detached garage, shed and fence.
Personal Property: This coverage is geared toward your personal items, such as furniture, electronics and clothes. Many people own more than they believe, so it's important to create a home inventory to document all your items in case you sustain a covered loss. If you have expensive jewelry or electronics, you may need to purchase an endorsement or rider to ensure they're covered up to their full value.
Loss of Use: If you sustain a covered loss and you must temporarily move out of your house while it's being repaired or rebuilt, loss of use coverage will reimburse you for additional living expenses you incur, such as a hotel, extra gas money for longer commutes and pet boarding.
Liability: If someone is injured on your property and you're found liable, or if you cause damage to someone else's property, liability coverage can help pay for medical expenses, repair costs and even legal fees if the other party decides to sue you.
Medical Payments: Similar to liability, medical payments coverage is designed to pay for medical bills if someone is injured on your property. However, unlike liability coverage, you don't have to be liable for the injuries to utilize this portion of your policy.
Do I Need Hazard Insurance on My Mortgage?
Yes, if you maintain a mortgage on your house, your lender will require you to maintain hazard insurance (homeowners insurance) until your loan is paid in full. However, you'll still want to keep adequate homeowners insurance while you own and live in your house, as it's designed to help you financially if something goes wrong.
How to Get Homeowners Hazard Insurance
With Clovered's easy-to-use online quoting tool, you can get a homeowners insurance policy in minutes. Simply answer a few questions about your property and insurance history, and we'll do the rest. Since we partner with some of the top insurance companies in the nation, you can easily compare quotes from the top providers to get a policy that meets your coverage needs — and your budget.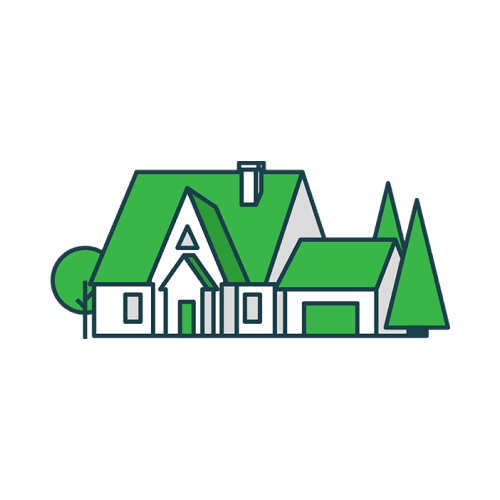 It's Time to Switch Your Homeowners Insurance
We partner with the nation's top homeowners insurance companies so you can get a custom policy at an affordable price.
The editorial content on Clovered's website is meant to be informational material and should not be considered legal advice.
Similar Articles